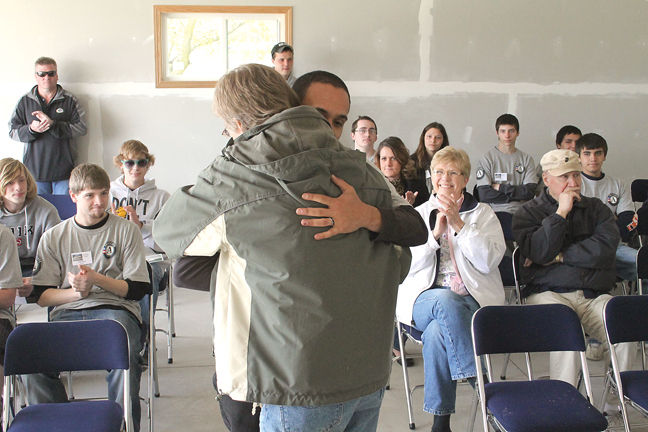 Ashley Sarnowski is the frame. Katie Hewitt is the porch light. And Justin Carpenter is a window.
The foundation of the cream-colored house at 412 Savannah Trail is the Wisconsin Fresh Start program.
"With our two hands we built the frame, a solid structure," said Sarnowski at the open house in Pardeeville. The 19-year-old cried on Friday when talking about her craftsmanship because a colleague wasn't present.
A photograph with a candle on a table read: "In Memory of Brittney Griffey, Fresh Start participant." The Portage native died on Dec. 11 from a car accident.
"It's kind of hard seeing the house done without Brittney here. All the memories come back of us building the house. I feel like blood couldn't have made us closer," Sarnowski said.
She moved from Milwaukee to steer her own life, Sarnowski said, and plans to attend culinary school. The frame of the house is similar to her, she said, solid and strong.
"I got my first apartment with this program. I love all the people I've met," she said.
The Renewal Unlimited Inc. Wisconsin Fresh Start program provides "at-risk" youths with education, employment skills, career direction, paid work and service experience which leads to self-sufficiency.
The program has been highly successful in Dane County for more than 30 years; Renewal Unlimited became a Wisconsin Fresh Start provider in 1999, having provided similar services since 1977, according to its website.
Hewitt said her anger created a bad reputation for her in Poynette. The 17-year-old said she was called, "psychotic," fought with her mom, and felt driftless.
"I'm grateful for this program because I've tried mental
hospitals and this is the only place that has helped me. For people with anger issues, building the house helps when you can hammer a nail into something. You can pretty much focus on making the house look nice," Hewitt said.
The program has given her self-esteem, self-worth and a new presence. Hewitt looked over her shoulder to the three bedroom house.
"I would say I'm a light because I'd always be happy and cheerful," she said.
Hewitt plans to become an animal control officer.
After dropping out of Portage High School in 2011, his senior year, Carpenter said he couldn't find work.
"No one would hire me because you need a high school degree to work for a lot of places," said the 19-year-old.
Carpenter's calm demeanor and ready smile has not gone unnoticed. He's charmed teachers and peers alike.
"I'm a window because I usually bring a smile to everyone's face," he said. "I've been told I light up a room."
Rep. Fred Clark mingled with the workers and took a step back to look at the overall scene.
"I'm just so impressed with what these young people do and the things they're learning. It helps educate young people with practical skills you can't outsource to China," Clark said. "These kids are proud of it. You can see it in their eyes."
Teacher Gary Cyrus addressed the crowd and said the turnover in the number of participants was difficult. Sometimes young adults thrive at Fresh Start and other people leave for various reasons.
"One of our young ladies was very confused, a teen mother, and we were able to get her fired up (in this program.) She loved her little daughter and would sometimes bring her to class and I enjoyed it as a grandpa, myself," Cyrus said. "When you leave in the morning make sure you say goodbye."
When Jackie Weber began to pass out the certificates of completion she let her heart take over. She was the technical supervisor for the house.
There was a positive comment or attribute that Weber spoke about for each worker: humorous, intelligent and a hard work ethic.
"A lot of you have a lot of odds against you, but you decided it's not going to deter you. You're an inspiration. I'm getting choked up," Weber said.
A number of the workers, both male and female, have children and are gainfully employed. It is also the first house where a member has died, Weber said.
She described a dining room wall, one that Brittney worked on, as her wall.
The house will be sold to a low income family, memories included.