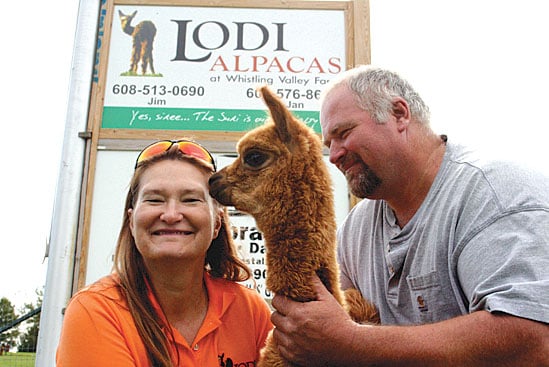 Just because a few alpacas have been known to spit does not mean all of them do.
Jan Clingman, who owns 50 alpacas with her husband, Jim, said their fluffy herd is well-behaved.
"They're curious," she said. "Every one of them has a different personality. Some of them are devious and precocious, but many of them like to be around humans."
They'll have the chance to be around plenty of humans this Saturday — it's National Alpaca Farm Days.
Clingman said they will mark the annual event at their Whistling Valley Farm from 10:30 a.m. to 4:30 p.m. It's located at N1792 Ryan Road in Lodi.
"We've had a lot of people come," Clingman said. "They like to pet the alpacas, walk them around on halters, feed them."
She said the event grew in its second year in September and is expecting another great turnout. Clingman said the nice weather forecast should help, too.
In addition to petting, walking and feeding the alpacas, she said people can learn a lot about them during the day. The Clingmans will show a shearing video and demonstrate how to spin and knit the soft wool that can be harvested from an alpaca.
You have free articles remaining.
"It's lighter weight and softer than (sheep) wool," Clingman said. "It's pretty much non-allergenic."
As much fun as it is talking about what they do at the farm, she said, she's even more excited for a special guest.
"Alice in Dairyland will be there," Clingman said.
Rochelle Ripp, of Lodi, is Alice in Dairyland this year. Clingman said Ripp probably will give a talk about the agriculture industry in Wisconsin, including the impact of lesser known crops in the state, such as alpaca wool.
Clingman said she hopes Alice in Dairyland will also try her hand at spinning and knitting. She said other people are welcome to try, too.
The farm recently added a store that sells yarn, socks, mittens, hats, scarves, rugs and other items, Clingman said. Those items will be available for purchase Saturday, she said.