Gathered alongside fellow volunteer Bruce Christianson and a group of incarcerated fathers Tuesday, Rich Polenska told nine Columbia Correctional Institution inmates to be persistent with their families.
"You can give up, or you can persist and say, 'Hey, I'm trying to change here,'" Polenska said.
Christianson and Polenska's latest visit to the Wisconsin state prison in Portage is part of a 12-week volunteer class called Long Distance Dads to teach inmates improved parenting strategies and encourage roundtable discussions.
Group sessions are held every Tuesday morning after Bible study, Christianson said. Each group has about 10 inmates. Everyone who graduates is awarded a certificate of completion.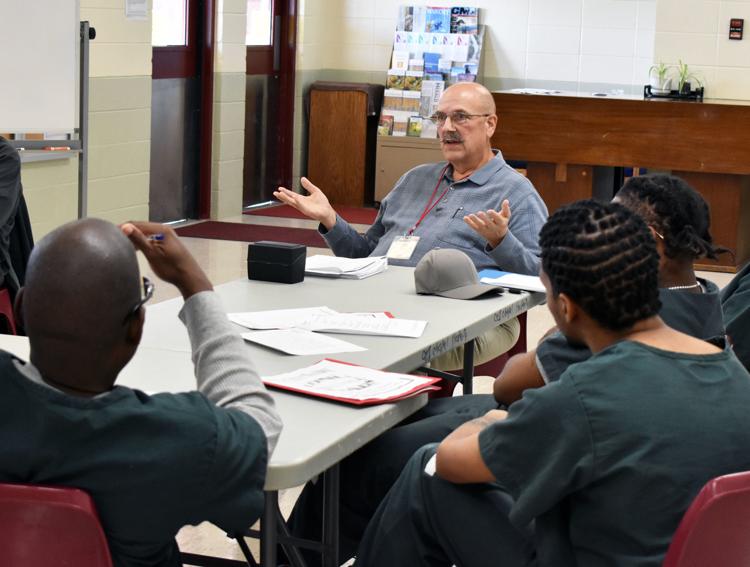 Christianson said the program runs twice a year, with classes beginning usually in January and again in September, depending partly on weather or security lockdowns.
Chaplain Justin O'Boyle said the volunteer-run program equips inmates with essential tools to stay connected to their families and rebuild trust with their wives or partners.
Luke Weber, deputy warden at Columbia Correctional Institution, said staff there appreciates such programs that educate inmates.
"Parenting can be difficult at any time, but is especially trying under these circumstances. This program gives the men tools they need to parent from a distance, which will help build positive, lasting relationships," Weber said.
Two key goals in the volunteer program are to help separated families and break repetitive cycles of multi-generational incarceration, O'Boyle said.
"They have to change their attitude," Polenska said. "They have to change how they approach things."
Brags and rags
During Tuesday's session, Christianson opened the floor for group members to share news about their families.
One inmate's daughter was recently hired as a sheriff's deputy in Georgia. Another man's 3-year-old girl is speaking complete sentences. A third father said his child is taking boxing lessons. Someone else's daughter joined the U.S. Coast Guard.
An inmate said he was frustrated because his child's mother didn't want him to see their kid anymore.
Before Christianson could offer advice, other group members jumped in with suggestions and support.
"You gotta advocate; you gotta step off your throne, man," one inmate said, urging him to seek forgiveness and ask what the mother wants him to change in their relationship.
"All an enemy is is a wounded friend," another father said, suggesting to send a letter and explain he just wants to show his child that he cares about them. "You gotta make them your friend again."
"I go through the same problems; I understand," a fellow inmate said.
Polenska told the troubled inmate to empathize, or his significant other might feel even more resentful.
"You just have to be aware of where she's pushing your buttons," Polenska said. "She's not viewing you in the best light right now, but you wanna change that light."
Power of influence
Christianson led a group lesson Tuesday morning when inmates discussed qualities of fatherhood and the importance of demonstrating affection and discipline.
"You're trying to help your child get to know you," Christianson said, adding that a father's own self-esteem is a key component to parenthood.
Qualities of fatherhood develop over time and with experience, and Polenska said it's important for any parent to identify positive and negative traits in their family's history and strive to set the best example possible.
Polenska said he, for one, vowed never to become "a yeller" as a father.
You have free articles remaining.
Fathers often adapt to a more "hands-off" approach than mothers do, Polenska said, but he encouraged the group to relate to their kids' interests and understand that children watch and mimic their parents' behaviors.
Origins in public service
Christianson, 70, and Polenska, 67, began volunteering to run the Long Distance Dads program together at Columbia Correctional Institution in 2018.
Before that, Christianson said he helped lead a Bible study group at the prison, and he previously facilitated a similar Long Distance Dads group at Waupun Correctional Institution for several years.
Long Distance Dads originated at the State Correctional Institution at Albion in Pennsylvania, Christianson said. After researching the program in the 1990s, Christianson said he inquired about setting up a similar local chapter in Wisconsin, took a training course and began volunteering in Waupun.
Roughly seven years ago, Christianson said he retired after a diverse career that included jobs in social work, probation and parole agencies, correctional services, managing a halfway house in Madison and a brief stint as police chief in the village of Poynette.
But he still wanted to be involved in public service and felt a calling to continue helping inmates as a volunteer.
"I believe it has been my life's desire to do this," Christianson said. "It was the desire of my heart."
Sending letters
Christianson recalled during a family gathering once, he mentioned plans to volunteer and help inmates.
His grandson sobbed and said he didn't want his grandpa to go to prison because he would miss him.
After Christianson explained he was only visiting to lead a parenting class for inmates, his grandson wanted to help and wrote a letter addressed to a group of incarcerated fathers.
The letter read: "Dear guys, hope you are learning a lot in group. I hope you have good visits with your kids. Be sure to listen to my grandpa. He is the best. Love you guys."
Christianson said the letter lit up inmates' faces with smiles when he showed it to them.
He encourages inmates to write letters home to their families and journal significant events in their children's lives.
'Profound love'
Aaron Allen, 51, an inmate at CCI, has four children and nine grandchildren. Allen said Christianson's relationship with his grandson inspired him to be the best grandparent he can be, too.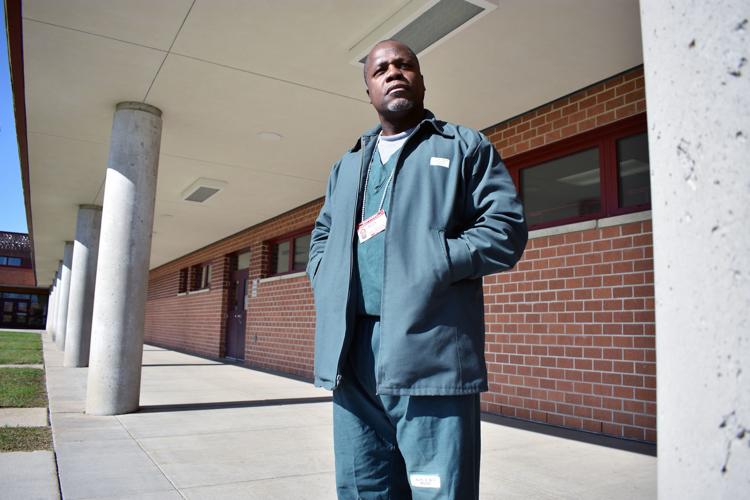 "He has a very deep, very profound love for his grandson that I admire," Allen said.
Allen said when he was involved in the Long Distance Dads course in 2018, he got more out of the group than he expected.
As a grandparent, Allen said he learned the importance of taking an interest in their hobbies and spending time together after release. Allen said grandparents have tremendous influence on families, and he calls often to stay in touch.
Allen said he is fortunate to still have close relationships with his family, despite being incarcerated.
Allen said he has 2½ years left in his sentence and hopes to be granted parole sooner.
Upon his release, Allen said he and his wife, Lorita Hawthorne, plan to take a vacation, visit his grandparents' gravesites, open a family business and host all their grandchildren at home.
"I can't wait to build some real, solid bridges with them," Allen said.