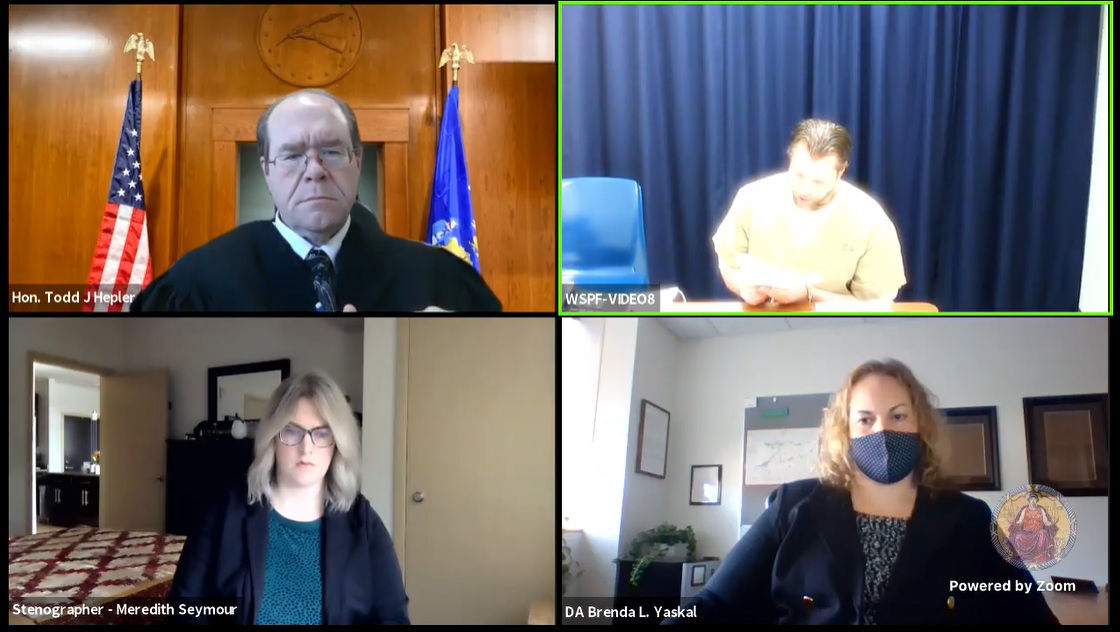 One of the men accused of escaping from prison in Columbia County in April pleaded guilty Wednesday and said in court the prison system is a bureaucratic failure that suffocated his soul.
Thomas Deering, 46, pleaded guilty in Columbia County Circuit Court to one count of felony escape. Judge Todd Hepler sentenced him to three years of initial confinement, to run consecutively with any other sentences, and two years of extended supervision. He must pay $518 in court costs out of his prison wages and provide a DNA sample.
The hearing was held via Zoom, with Deering appearing on video from the supermax prison in Boscobel.
"Years and years of being subjected to the prison system's downward spiral of negativity only exacerbated my misery, especially knowing that my time structure and circumstances knew no end," Deering said during the hearing. "Every day I struggled to find some kind of reason or purpose to continue onward, and every day I felt my soul becoming more and more detached from that spirit within."
Deering and James Newman, another prison, were accused of escaping from Columbia County Correctional on April 16. Deering was serving over 60 years in prison for sexual assault, kidnapping, burglary, battery by prisoner and a 2002 escape from the Waupun Correctional Institution in Dodge County. Deering was found in Los Angeles months after escaping in 2002.
Deering and Newman were found at a homeless shelter in Rockford, Illinois, and arrested the next day.
Holly Zimdahl of Pardeeville pleaded no contest to one felony charge of aiding in a prison escape. She was accused of smuggling items in the prison that would help with an escape. Zimdahl worked in the prison kitchen as a civilian. She reported receiving anonymous notes that violently threatened her and her family and instructed her to hide certain items. She received three years of probation.
In court Wednesday, Deering apologized for the negative consequences of his actions toward others and said he didn't intend anything personal.
He said his soul was suffocated without purpose inside prison when he decided to escape.
"Prison itself is an extremely negative place which has gotten worse and worse over the past 20 years of my incarceration," Deering said. "It used to be a place where positive rehabilitation practices and programs were first and foremost, and now it's strictly about warehousing guys in retribution."
He said the prison system in Wisconsin is a bureaucratic failure and that positive programs to help those incarcerated have disappeared within maximum security prison. He called for prison reform. Otherwise, he said, actions like his and worse will become a common trend. He questioned what the incentive is for good behavior beyond possible punishment.
He said it became too much him to handle, especially with the onset of the Covid-19 pandemic.
Deering said that an adventure can be reinvigorating and recalled how he felt when he experienced the sunrise, the sounds of nature and traffic and kindness from other people on the outside as he walked around bloody and cold after he escaped.
"Like the Grinch, I felt my heart grow within my chest," he said.
Deering apologized to his children for and family members and said he is not the impulsive sexual monster he has been labeled as. He said there was no string of mayhem during either of his prison escapes. Deering noted that it's not clear when he will see his family again as he is placed within "a box within a box somewhere under the prison."
"True freedom lies within, but most of us are too distracted by what's outside of ourselves to recognize it," Deering said.
Judge Hepler said he hopes Deering finds purpose and suggested he write about his experience to help other people.
Several prison staff members resigned or were fired following the escape.
Be the first to know
Get local news delivered to your inbox!