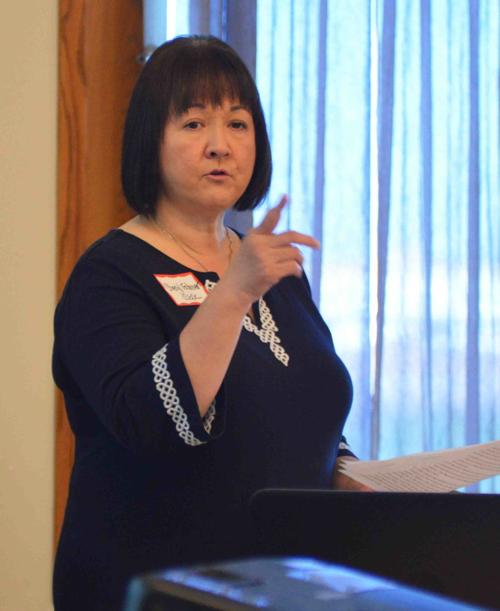 Columbia County leaders have formed an economic recovery team focused on connecting residents, business owners and municipal representatives with resources they need after the initial fallout from COVID-19.
Cheryl Fahrner, executive director of Columbia County Economic Development Corporation, said the team was formed with the help of Kathleen Haas, community development educator with UW Extension Columbia County.
"We discussed what we would do for economic recovery for our area and what we can do as a group," Fahrner said.
Namely, to "address gaps, communication, financial sources and what business could do to adapt" in the age of the coronavirus. A goal is to connect people with resources, like webinars or state-based organizations to aid their specific business.
"We're just bringing all of those resources together," Fahrner said.
For example, a recent meeting topic was internet access for students brought forward by a school district official who noticed ow slow broadband can hinder work done from home during the COVID-19 shutdown.
The county's Emergency Management Coordinator Kathy Johnson said she was glad to see a connection to the businesses that need help after forced closures began statewide March 17 to prevent the spread of the novel coronavirus. The state Supreme Court ended the mandates May 13.
"It's great to see the whole group that has come together," Johnson said of the recovery team.
After hosting a handful of virtual meetings since its official formation May 26, the group has grown to incorporate a number of municipal representatives, which span from county Health Officer Susan Lorenz to Cambria-Friesland School District Administrator Tim Raymond.
A number of county chambers of commerce have also been included, from Marianne Hanson, executive director of the Portage Area Chamber of Commerce, to chamber members from Columbus, Lodi and Poynette, as well as the Rio Area Community Club.
Hanson said through the facilitation of the CCEDC, "it gives everyone that umbrella concept in a sense of, 'Yes, we can make that connection,' but do it virtually."
One such connection has been a direct line to Lorenz, who updates everyone on current county health issues. Hanson can then relay information to business owners.
"I think this has been great for us, as far as to get the information from them, to be able to then share that with the community," Hanson said. "They've been super busy, just like everyone else. ...They're non-stop. I think that's the first thing for people to realize; it's a different world for them."
As far as providing adequate information, Hanson said the team is too new to come to a conclusion about its possibilities.
"It's a start," Hanson said. "It's a conversation we can have across the county and see what resources we can share, what we can do to help each other."
Fahrner said much of the work will be to evaluate how COVID-19 not only affects entities within the county, but how to provide guidelines to help them operate even as the virus continues to exist in a society that has no immunity to it. COVID-19 has claimed a life within Columbia County with 55 residents testing positive as of Thursday and national case numbers have risen above 2 million with more than 113,000 deaths.
"How do we do things safely in our reopening," Fahrner said. "We're still in the midst of a pandemic so we can't let our guard down."
As for connecting county information to the everyday person, Emergency Management Coordinator Kathy Johnson said oversight in a public health crisis falls to the county health department, but that the flow of information should be made better.
"I told them from the very beginning, you know, whatever we decide on, it's getting it out to the public," Johnson said. "We definitely have to work on how we're going to do that."
Fahrner said they want to make sure people "aren't left in the dark," adding that the county "could use some help with that," regarding getting helpful information out to the public. Anyone who wants to donate to the team can contact her directly, she said. There is a hope that connecting with chamber executives like Hanson, who have a network available to them, will aid the communication process.
"We as a group want to come up with some solutions and be able to help the businesses," Hanson said. "To be able to help them with this recovery during COVID-19 and by doing it through the county, we cover a wider, broad span. That way we can share resources with more communities."
Follow Bridget on Twitter @cookebridget or contact her at 608-745-3513.
Concerned about COVID-19?
Sign up now to get the most recent coronavirus headlines and other important local and national news sent to your email inbox daily.