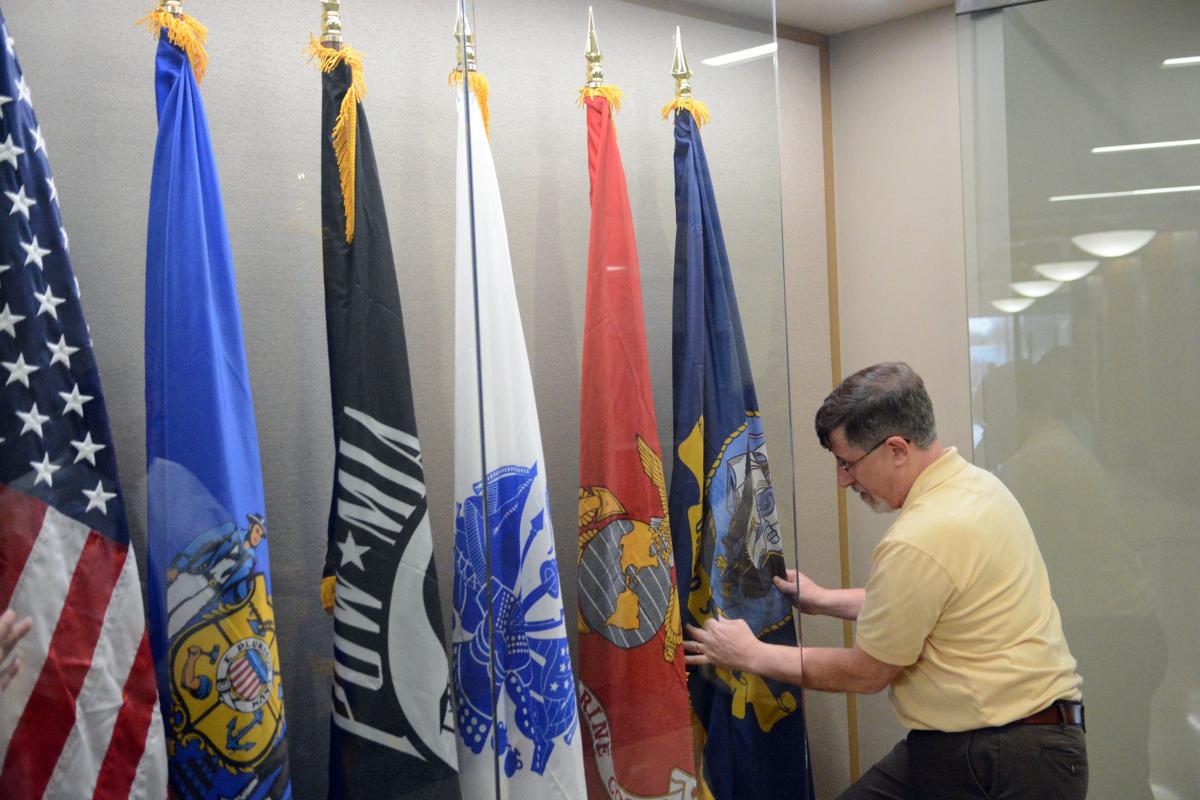 At the end of Monday's meeting of the Columbia County Board's Executive Committee, Veterans Service Officer Richard Hasse still had a job — but possibly not for long.
The panel's monthly meeting included a 50-minute closed session with attorney Andrew Phillips, whom the committee hired last month to investigate not only the Veterans Service Office, but also the county's sprawling Department of Health and Human Services.
The meeting's agenda indicated the closed session was to discuss "removal of the county veterans service officer."
The 50-minute closed session yielded no vote from the committee, according to Corporation Counsel Joseph Ruf.
A decision on Hasse's future likely will be made at the Columbia County Board's meeting at 9:45 a.m. April 16, Phillips said, to allow ample time to finalize his report.
Phillips said the full County Board, and not the committee, has authority over the hiring or dismissal of a veterans service officer. The committee made no recommendation because Phillips' investigation, which started a month ago, is not yet complete.
When the report is finished, it will be presented in full to the County Board in open session, Phillips said.
"It involves questions of the performance and conduct of the veterans service officer," he said.
Hasse was hired as veterans service officer in 2012.
Ruf noted the presence in the closed session of Sheriff Roger Brandner and Chief Deputy Gregory Bisch did not indicate that there might be a criminal component to Phillips' investigation of Hasse. County Board Chairman Vern Gove allowed them to remain so he could talk to them about an unrelated matter immediately after the meeting, Ruf said.
Also present in the closed session were the Executive Committee members — Gove, First Vice Chairman Dan Drew, Second Vice Chairman James Foley and supervisors Jo Ann Wingers and Barry Pufahl — and supervisors Mike Weyh, Nancy Long, Susanna Bradley and Tom Borgkvist.
Phillips said he talked to "more than one but less than 20" people regarding Hasse's performance in office, including other county employees, and veterans who utilize the office's services.
Hasse has been on paid administrative leave since September, and Gove appointed the assistant veterans service officer, Rebekka Cary, as acting officer as of Jan. 1. Both Hasse and Cary are U.S. Air Force veterans. They are the department's only employees, although volunteer veterans recently have assisted with clerical tasks such as answering phones.
Phillips said he did not talk to Hasse because Hasse is represented by a lawyer. But he did speak to Hasse's attorney, he said.
Colin Good, a Madison lawyer whom Ruf had previously identified as Hasse's attorney, could not be reached for comment. A person answering the phone at Good's firm, Hawks Quindel, said he was out of the office Monday afternoon.
By state law, in counties without a county administrator or executive, such as Columbia County, the County Board has hiring and firing authority over four department heads: the veterans service officer, the corporation counsel, the highway commissioner and the health and human services director.
The investigation of the Department of Health and Human Services hasn't begun yet, according to Phillips, partly because it's a much larger department, with between 60 and 70 employees, and because the probe is likely to involve more than one person in the department.
The investigation involves "financial, personnel and organizational issues" in the Department of Health and Human Services, Phillips said.
He added he has not yet talked to anyone connected with that department, including the department head, Dawn Woodard, other employees, clients or members of the Health and Human Services Board. Bradley is chairwoman of that board, which is charged with overseeing the Department of Health and Human Services operations.
For the Veterans Service Office, the Executive Committee is the governing body.
Follow Lyn Jerde on Twitter @LynJerde or contact her at 608-745-3587.
Be the first to know
Get local news delivered to your inbox!