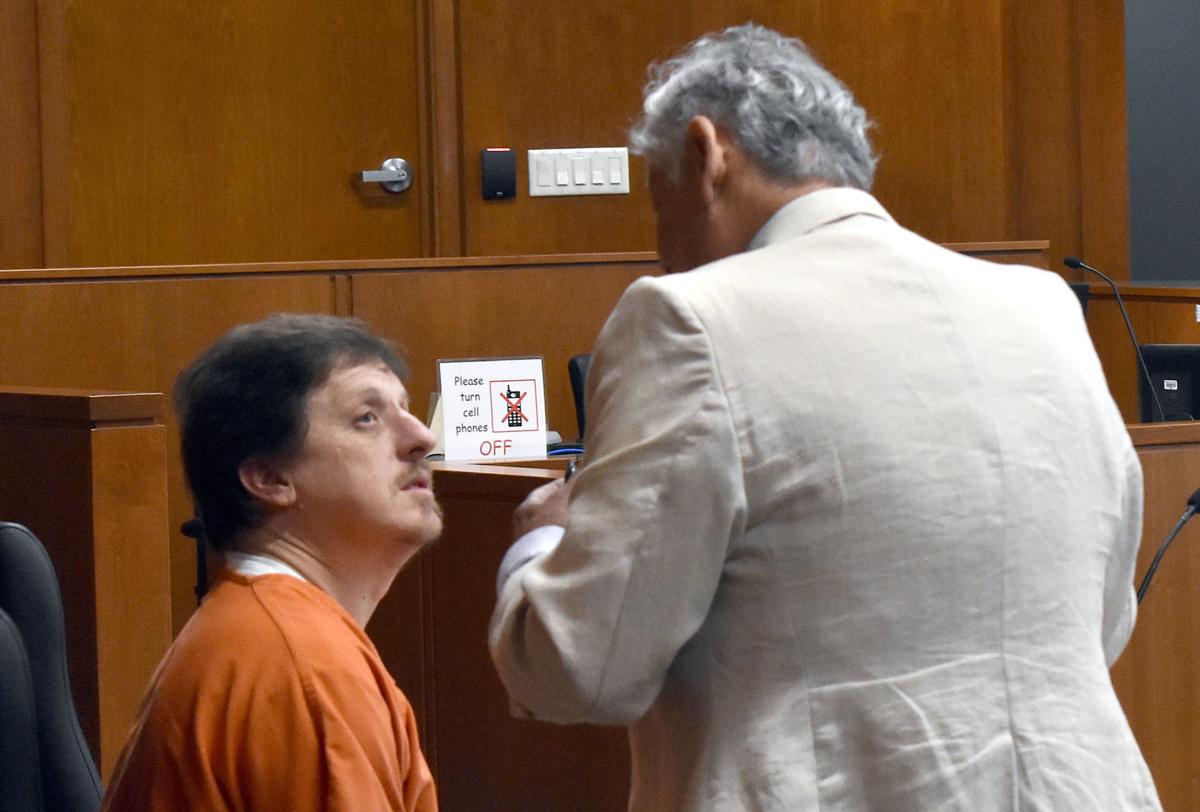 The attorney for an Indianapolis semi-truck driver accused of crashing into a busload of children on Interstate 39 questioned evidence Thursday that the driver was "double-dosing" on his prescription pills at the time of the crash.
Wayne Edward Murphy, 42, appeared in Columbia County Circuit Court on 10 felony charges stemming from the May 23 collision with a stopped school bus on the shoulder of the interstate near Arlington. Twenty-six people, mostly students from Hope Christian Schools in Milwaukee, were injured on the bus, five of them critically. Despite questions about the evidence against Murphy by attorney Ronald Benavides, Judge Todd Hepler found probable cause for the case to proceed toward trial.
Murphy has been held on $35,000 cash bond at Columbia County Jail since his arrest in May, charged with five counts of second-degree reckless injury and five counts of injury by intoxicated use of a vehicle. Prosecutors allege Murphy was driving wildly prior to the crash due to his overuse of prescription anti-anxiety medication.
Benavides questioned Wisconsin State Patrol crash investigator Michael Marquardt, who took the stand during a preliminary hearing Thursday, about the evidence he collected at the scene. Marquardt was the first law enforcement officer to search the cab of Murphy's truck and said he found two empty pill bottles another containing a prescription anti-anxiety medication similar to Xanax.
Based upon Murphy's prescription and most recent refill, Marquardt estimated between 50 and 60 pills missing, suggesting that Murphy was either "double-dosing" or had "binged" at some point.
"You don't know why the pills were not in the bottle — is that a fair way to put it?" Benavides said.
"Yes," Marquardt replied.
"You don't know if those 50 or 59 pills were ingested by Mr. Murphy, do you?" Benavides said.
"Or sold for profit, or lost, or some other variety of things, correct," Marquardt said.
You have free articles remaining.
Before Marquardt arrived on the scene, another trooper spoke with Murphy and gave him a field sobriety test. The trooper reported mixed results in the walk-and-turn and one-legged stand tests, which combined with the earlier reports from witnesses led to his arrest for operating a vehicle while intoxicated.
Several motorists called the State Patrol using a number on the back of Murphy's truck before the crash to report the truck "weaving badly within its lane, then onto the shoulder," Marquard said.
Murphy was headed north on the interstate from Beloit when the collision occurred near Arlington.
"Both vehicles had what I would call a hard side, smear-type of damage," Marquardt said. "Almost a glancing blow — we got very lucky there."
When ambulances and MedFlight arrived, injured bus passengers were sent to three different locations, with responding units treating the crash as a "mass casualty situation." In the most serious cases, five children were taken to University Hospital in Madison.
Assistant Attorney General Tara Jenswold asked Marquardt to describe the scope of the injuries. Marquardt said one child had broken toes and a broken ankle, another suffered a concussion, while in the most serious case a child was unconscious, placed on a ventilator and given a blood transfusion.
"It was touch and go for a few days," Marquardt said. "It could have very easily become a fatality of this crash."
Benavides asked Marquardt about the exact nature of the impact in which the rear passenger side of the trailer struck the rear of the bus and whether it suggested the crash showed Murphy was not reckless and had actively tried to avoid the bus.
Marquardt said he could not absolutely determine the cause of the crash with the investigation ongoing and the pending report to include "hundreds and hundreds of pages."
Prosecutors requested 30 days to submit evidence in the case. An arraignment has yet to be scheduled.
Follow Jonathan Stefonek on Twitter @StefonekNews or contact him at 608-745-3510