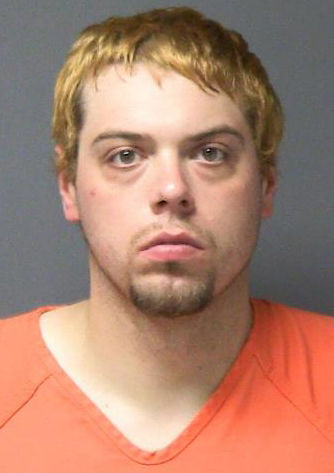 Portage Police received a shoplifting complaint at the Portage Wal-Mart. When they arrived they arrested a man who allegedly attempted to steal over $600 in electronics.
Calvin W. Broas, 30, Baraboo, was arrested for felony retail theft-intentionally take (>$500), a class I felony, and two counts of felony bail jumping, a class H felony, in Columbia County.
At his initial appearance on Oct. 21 Judge Todd Hepler set Broas' cash bond at $500 with standard felony conditions. As of Tuesday, Broas remained in custody at the Columbia County Jail.
According to the criminal complaint, On Oct. 19 Portage officers went to the Portage Wal-Mart. They were given a description of the suspect. A man matching the description was seen behind a building down the street on New Pinery Road.
Portage Police Sgt. Eric Walter reported seeing a man fitting the description of the suspect and questioned him. The suspect, later identified by Wisconsin driver's license as Broas, allegedly admitted to recently leaving Wal-Mart but left items behind in the store.
Officers then went to Wal-Mart where employees showed Walters's items in a black tote bag, it contained numerous PC games, markers, a lighter and many electronic items.
One Wal-Mart employee was questioned as a witness and told police they were following Broas because they recognized Broas from previous attempted shoplifting. The witness said Broas put a number of electronic items into a shopping cart.
Broas allegedly then went to a different section of the store and put the items into a black tool tote bag.
The complaint alleges Broas took zip ties from the store to shut the tool tote.
The witness told police Broas purchased a screwdriver and scanned the tool tote.
Broas went to exit the store and was stopped by employees who cut the zip tie to find the electronic items. Employees asked him to come with them to the Asset Protection Area, but Broas instead walked out the front door.
Walters reported finding 19 items in the tote, an employee scanned the items and said the value of the items was $661.25.
Portage Police Officer Alexandra Platt arrived on the scene and spoke with Broas. He allegedly told her he had intended to steal the items, but left all the property at the door.
Online court records show Broas has open possession of methamphetamine cases in Sauk County.
In both cases he was released on a signature bond.
Broas is scheduled to be in court Wednesday afternoon for his preliminary hearing in front of Columbia County Judge Andrea Von Hoff.