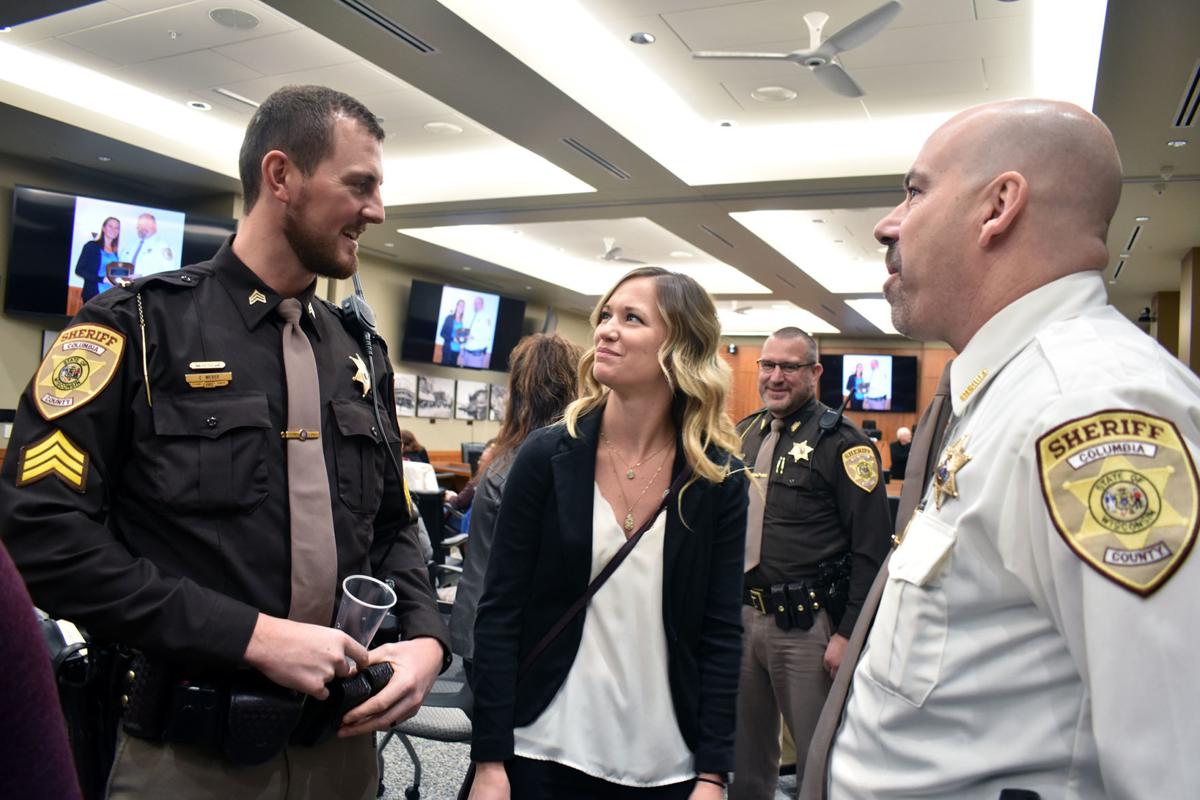 Columbia County Sheriff Roger Brandner hoped that everyone would see a bigger picture concerning bravery before he presented the Medal of Valor to Sgt. Chris Weber at an awards ceremony.
"None of our officers want to be in that situation," he said, "but we run toward the threat."
Weber served on the Columbia County Emergency Response Tactical Team that the Marquette County Sheriff's Office requested assistance from during a hostage situation June 24 in the town of Buffalo. That day a 64-year-old woman reported her 44-year-old son, James Carlson, was threatening her with a firearm and had aimed the gun at her face.
Negotiations were unsuccessful, so the officers entered the home. Weber found Carlson standing at the top of the stairs. The man pointed his gun at officers when Weber shot him, Marquette County Sheriff Joe Konrath reported. Everyone survived, Brandner said.
"His quick actions — the valor and courage he showed that day is just so important and it resonates with all of our staff," Brandner said. "We will respond accordingly."
Eleven people including Weber were honored Thursday in the Sheriff's Office annual awards ceremony at the Columbia County Administration Building.
Sgt. Alexander Agnew received a Meritorious Conduct medal for investigating the alleged homicide of Lori Bringe — a 33-year-old Poynette mother of two who died in August 1988. Her death had been originally ruled as a suicide but circumstances were suspicious: she was right-handed but shot on the left side of head.
Agnew, with help from the state Division of Criminal Investigations, began working the reopened case in late 2014 and a first-degree murder charge has since been filed against the husband, Mark Bringe, thanks to "old-school detective work," Agnew said.
Mark Bringe, formerly of Arizona, has a jury trial set for April in Columbia County Circuit Court. The murder charge was filed in February 2018.
"It's really a matter of starting with the original case file, finding out what was originally done and what investigative techniques have changed in 30 years because maybe there are things you can do now that you couldn't do 30 years ago or things that (investigators) weren't trained to do 30 years ago," said Agnew, who can't get into the specifics of the case because it's still active.
"Obviously you have to be patient," Agnew said of cold cases, in general. "It's a lot of going out and doing interviews: You start talking to someone and they mention someone else's name, so you just keep talking to people and gather as much information as possible.
"It can be a challenge," Agnew said, "because it's an old case and we are small enough that we can't dedicate someone full time to one case. You have to prioritize (cases) and sometimes put it on the back-burner and come back to it later."
Deputy Tyler Henriksen received a Lifesaving Award for his actions July 20, when he was dispatched to the town of Dekorra for a farm accident. A large bale of hay fell on an elderly worker, pinning the man to his seat and suffocating him, Brandner explained.
When Henriksen arrived, he used his service knife to cut apart the bale.
"He fought instantly to get this guy out and he lived," Brandner said, noting the bale was far too heavy for anyone to lift or push. "It's so impressive. (He used) very quick response and action and thought outside of the box."
Henriksen, who started with the Sheriff's Office in January, estimated that it took him about 20 seconds to remove the large bale of hay. "I knew I couldn't move it, so I started cutting the twine on the hay bale and pulling it off as fast as I could. Then I positioned his head to open up his airway and he started breathing on his own."
"I just saw the problem and knew that I had to get it off, one way or another," Henriksen concluded. "I'm really glad it had a positive outcome."
Other Sheriff's Office award winners included Chief Deputy Gregory Bisch for meritorious conduct for investigating a homicide; Olivia Lee (citizen) for saving a life on July 8; Sgt. David Clark and Michael Schultz for saving a life on July 11; Sgt. Elisabeth Schutz. Lt. Matthew Menard and Lt. Brian Kjorlie for problem solving; and Secretary Peggy Jobe for 20 years of service to Columbia County.
The awards committee consists of department personnel, county board members and citizens. A nomination form, award descriptions and nomination procedure are available on the Columbia County website, www.co.columbia.wi.us, under the sheriff's department page.
Follow Noah Vernau on Twitter @NoahVernau or contact him at 608-695-4956.
Sign up for our Crime & Courts newsletter
Get the latest in local public safety news with this weekly email.