MONTELLO — Charles Leofilos held his 2-year-old son Nyko in his arms Tuesday as the little boy rubbed his fingers against a gold medallion decorated with the words, "The Day My New Life Began."
On the back side of the coin was a date: July 16, 2017.
Leofilos, a 31-year-old Oxford resident, graduated from Marquette County's drug treatment court program Tuesday after 751 days of sobriety.
"Today is a celebration. He did it," Marquette County Judge Chad Hendee said.
Leofilos said he appreciated the second chance at life he received. He spent much of his 20s learning from past mistakes, and he said his 30s will be defined by earning respect and saving up to secure a good future for his children.
Just before retired Judge Bernard Bult — who formerly led the drug court team — gave the graduation medallion to Leofilos, Marquette County Clinical Services Manager Jim Webb held up the token for the courtroom to see.
Webb told Leofilos the county officials and fellow drug court members gathered Tuesday would always have his back. "Anything you need, man," Webb said. "You just let me know, OK?"
Webb said the drug treatment court team helped Leofilos secure a job at Brakebush Brothers Inc., which has taken in other drug court members in the past. Webb expressed his appreciation for those second chances.
The gold medallion Leofilos received serves partly as a reminder of the disease he fought and the poor decisions that accompanied addiction. He recalled sleepless nights, shoplifting, chasing highs and always looking over his shoulder for police.
"I finally got to that point where I was sick and tired of being sick and tired," Leofilos said.
But the token also represents a solid reminder that he can be trusted and depended upon in the community after successfully battling drug addiction, Leofilos said.
"It feels amazing. Everything is solid now. If I say I'm going to do something …" Leofilos said.
"He does it," said his mother, Julieann Vasquez of Stevens Point.
Vasquez spoke before the court Tuesday and thanked every member and county official involved for helping her son during the healing process.
She said she no longer worries if she'll get a call from police in the middle of the night to learn her son died of a drug overdose.
Christina Leofilos, Charles' wife, noted her husband's determination to get better and stay sober despite the odds.
"For us to be able to climb out of it, it's a miracle," she said.
Christina plans to take her husband skydiving as a graduation present.
Joshua Sutton of Portage, who is close friends with Leofilos, said he never lost hope despite some people saying drug treatment court wouldn't work or being shunned by others for associating with someone battling drug addiction.
"A lot of people thought he was a bad person. I tried to see the good in him, though. He's always given me the shirt off his own back, and I've always tried to do the same for him," Sutton said. "Everybody deserves a chance."
Sutton told Leofilos in court Tuesday that he's glad he believed in himself no matter what.
Leofilos said he's channeled his time and skills into building and repairing cars alongside Sutton and other friends in Portage. Their goal is to help other people out as much as possible, he said.
Several other family members came to see Leofilos graduate from the program Tuesday, and multiple other drug court participants either advanced to later phases or received commendations for their ongoing recovery efforts.
Marquette County's drug treatment court program — which started in 2010 — is now being altered to include five phases instead of four.
Public defender Mark Gumz said shifting to shorter phases will make the program feel more possible to complete during the early stages and allow members to achieve more accomplishments along the way, leading to an overall confidence boost.
Drug treatment court members are awarded prizes and commendations for successfully passing various stages and maintaining healthy, productive lifestyles, case manager Alice Schlotte said.
The Marquette County drug court team of officials currently includes Hendee, Gumz, Schlotte, Webb, Sheriff's Office Detective Sergeant Brian Ropicky, District Attorney Brian Juech and Probation/Parole Agent Katie Suwyn.
Drug treatment court programs also exist in Columbia, Sauk, Dodge and Jefferson counties, among others in Wisconsin.
Leofilos and fellow drug treatment court graduate Nicholas Rivera of Montello — who completed the program Feb. 6 — plan to launch and lead a new peer support program to help support other members recovering from addiction in Marquette County.
"You can carry that banner for this program," Hendee said. "We're proud of you."
Leofilos family at Marquette County Courthouse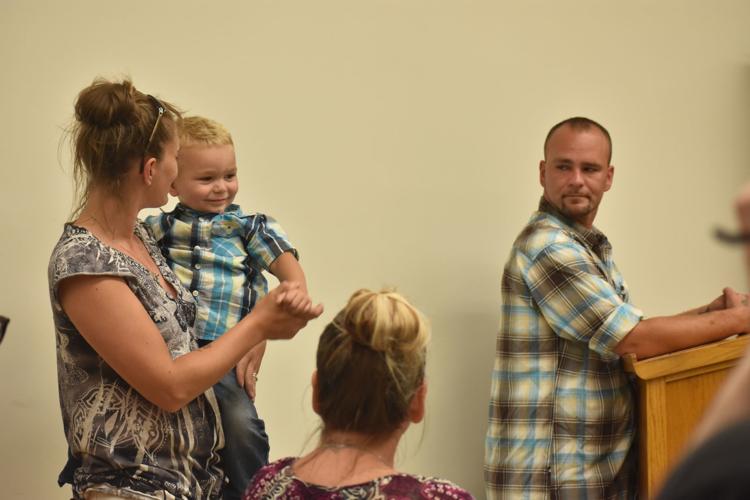 Charles Leofilos hols son Nyko, 2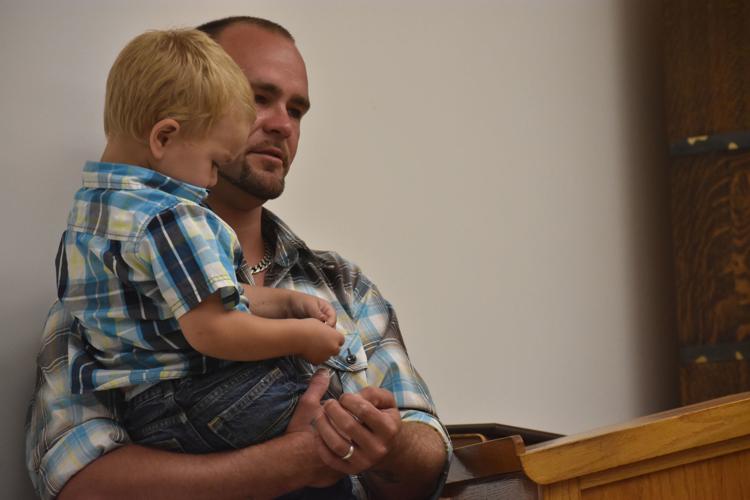 Nyko, 2, and dad Charles Leofilos
Nyko, 2, at podium with his dad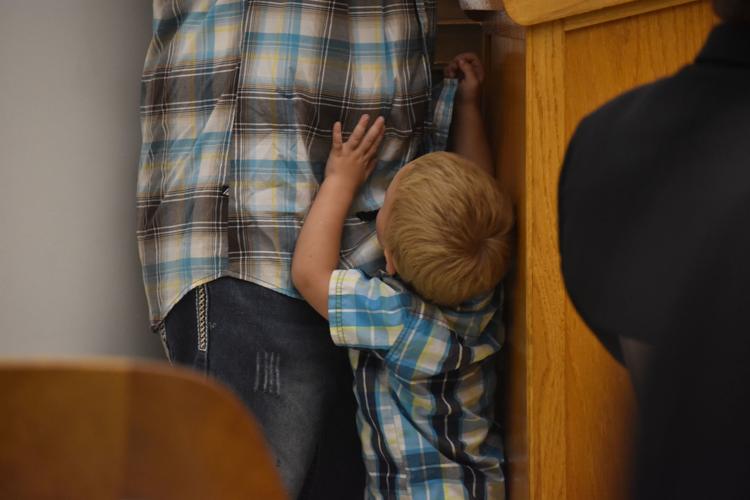 Christina Leofilos and son Nyko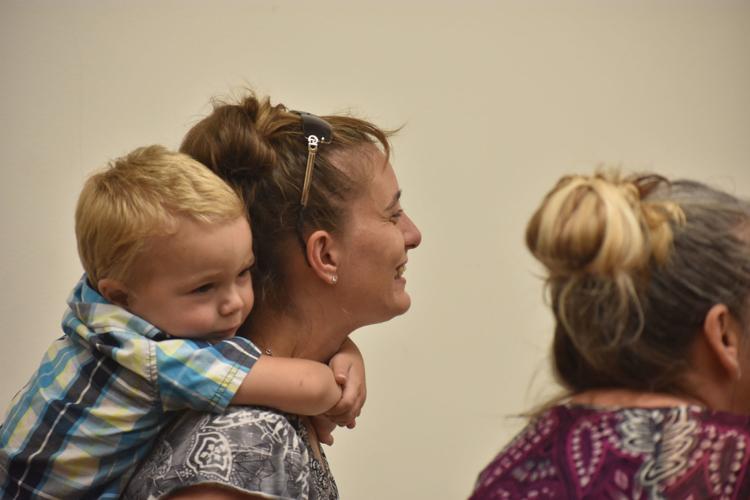 Judge Hendee at drug treatment court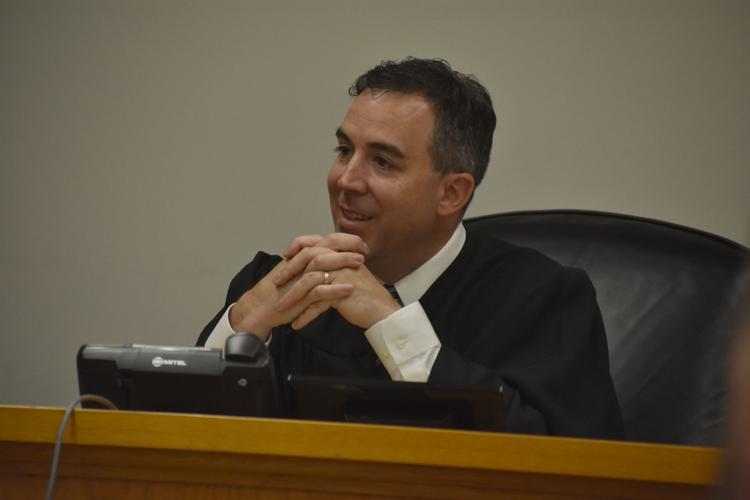 Bernard Bult offers medallion to Charles Leofilos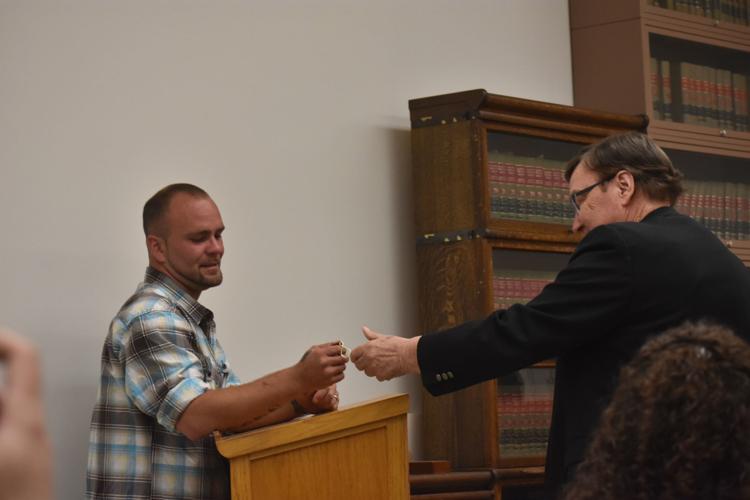 Judge Hendee congratulates Charles Leofilos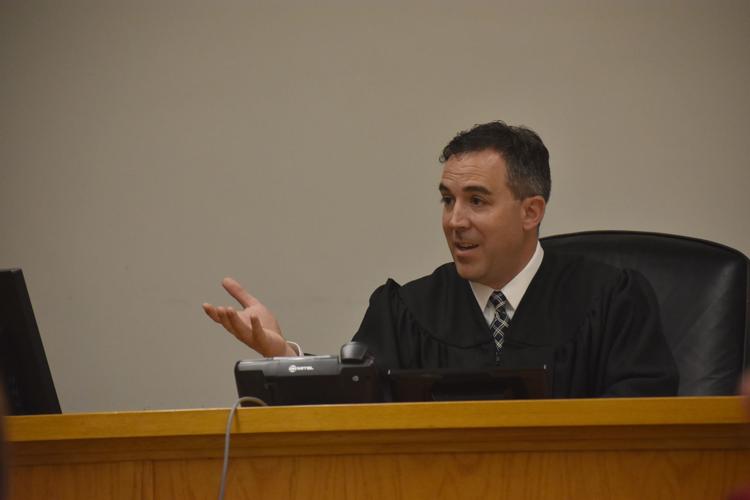 Mark Gumz at drug treatment court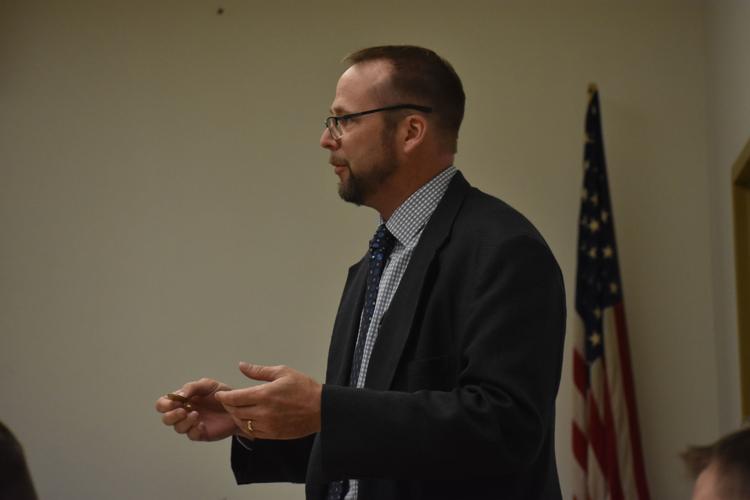 Treatment court members and former judge Bult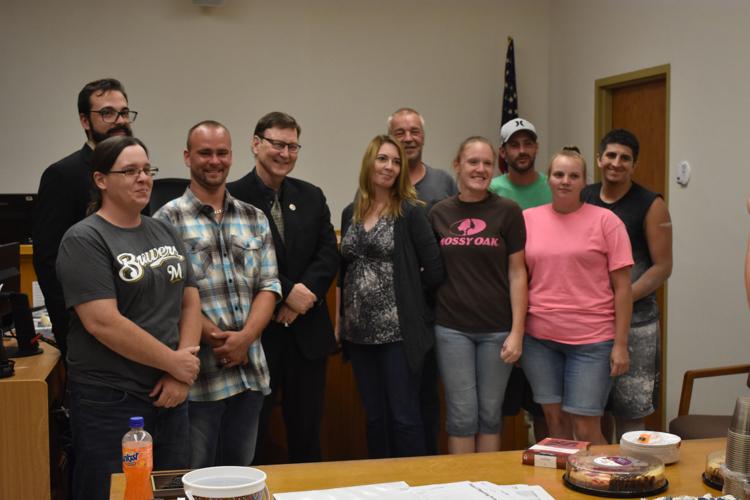 Former judge Bult commends drug treatment court members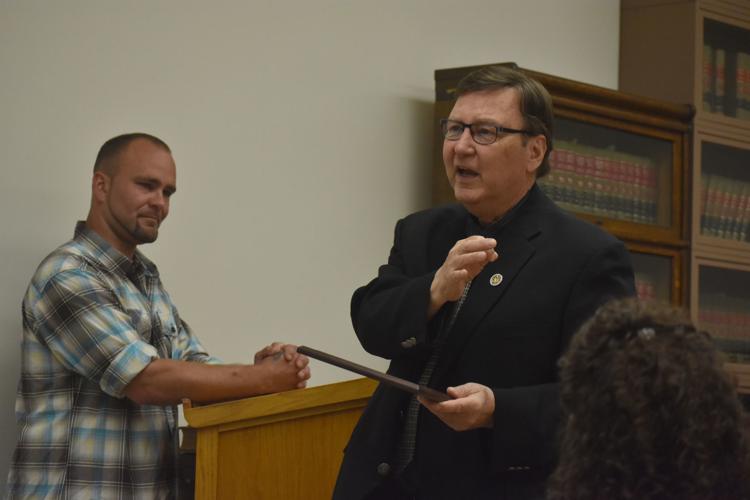 Charles Leofilos smiles at family