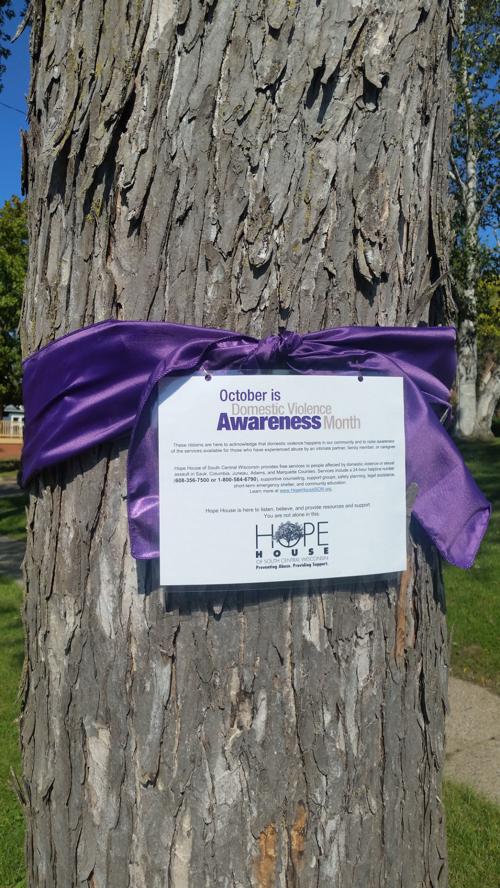 Hope House of South Central Wisconsin in Baraboo is seeing a 40 percent increase in law enforcement referrals since February as more families stay at home during the COVID-19 pandemic.
The nonprofit group that provides assistance and shelter to domestic and sexual abuse victims in Columbia, Sauk, Juneau, Marquette and Adams counties is meeting the increased demand for services but seeks cash donations, as well as toiletries, cleaning supplies, hygiene supplies, canned and boxed foods.
"Even though people are more isolated, we still care, we are thinking of them and we are still here," Hope House Director of Finance and Grants Jaime Sathasivam said. "We hope they will reach out for the support and call our helpline — 1-800-584-6790 — if they can."
The shelter in Baraboo can house about 10 families at a time and Director of Victim Services Laci Pustina said there are currently no concerns about finding shelter for anyone needs it.
"If and when our shelter is full, we will find resources for that individual to be able to get safe, whether that be connecting them to another resource, another domestic violence shelter, providing them with a hotel voucher or another area where they can be safe," Pustina said. "We will be able to help them find that support and connection."
In 2019, Hope House sheltered 142 families and provided supportive services to more than 1,200 survivors of domestic violence and sexual assault. It also provided more than 4,000 "crisis line" services and more than 13,000 supportive counseling services.
It staffs 18 full-time employees and six part-time workers but volunteers are not working during the pandemic. Those interested in visiting the main office at 720 Ash St., Baraboo, should call first at 608-356-9123.
Columbia County Sheriff Roger Brandner said his department took 25 domestic violence calls or calls concerning someone's safety at home in March, compared to 11 in February and 18 in January. In the first week of April, his department took six such calls, indicating this month will probably look similar to March.
"When you are stressed, we ask that you walk away and take a break before putting members of your family in harm's way or hurting them," Brandner said. "We also recognize that some people, just like before this crisis, are abusive and aggressive and commit domestic violence anyway. Our deputies are here to help when needed.
"Nobody likes these (stay-at-home) restrictions," Brandner continued, "but we understand we have to do this so we can get back to normal sooner than later. We encourage people to make the best out of it by being positive and look at the extra time you get to spend with loved ones that you would not have done before."
Sauk County Sheriff's Detective Lt. Chris Zunker said domestic disturbance calls increased from 24 in February to 33 in March and those instances involving domestic violence increased from four cases in February to 10 cases in March.
The Sauk County Sheriff's Office took 36 domestic disturbance calls in January including five with a domestic violence component and its 33 domestic disturbance calls last month is only a modest increase from March 2019, when it handled 28 disturbance calls with nine involving violence.
"We have not seen an explosion of additional disturbance or domestic violence calls at the Sauk County Sheriff's Office during this public health situation and subsequent 'Safer at Home' orders by the governor and public health," Zunker said. "As is normal, cases and calls vary from day to day, month to month and year to year."
Hope House said it recently launched an online counseling service to meet the higher demand for service and maintain social distancing during the pandemic. Those interested may set up an appointment at help@hopehousescw.org.
"Right now, for everyone, things look different," Pustina said. "We're trying to adapt our way of thinking and our way of reaching out to people who might be isolated with their abusers.
"It's really difficult. We're not used to staying at home so much with our significant others or partners and when that happens we're experiencing many different types of violence: emotional, physical and mental, and sometimes all of those things are happening at once and we're not getting a break from that violence.
"If we're home 24 hours a day, seven days a week, with a partner who's violent, normally we can go outdoors or to the store or to work and the kids can get out and go to school, but now (families) are really just stuck at home and not able to reach out in the ways they did before, such as getting help from co-workers or friends."
Hope House encourages people to check in on their families and friends "as much as possible" during the pandemic, Pustina said, "because you never know what could be happening."
Children have experienced their own stressors and uncertainties related to the pandemic without school, play dates or sports, and being at home constantly means that for some of them, "the violence never stops," Pustina said.
For more information about Hope House including how to donate, visit hopehousescw.org.
Follow Noah Vernau on Twitter @NoahVernau or contact him at 608-695-4956.
Concerned about COVID-19?
Sign up now to get the most recent coronavirus headlines and other important local and national news sent to your email inbox daily.