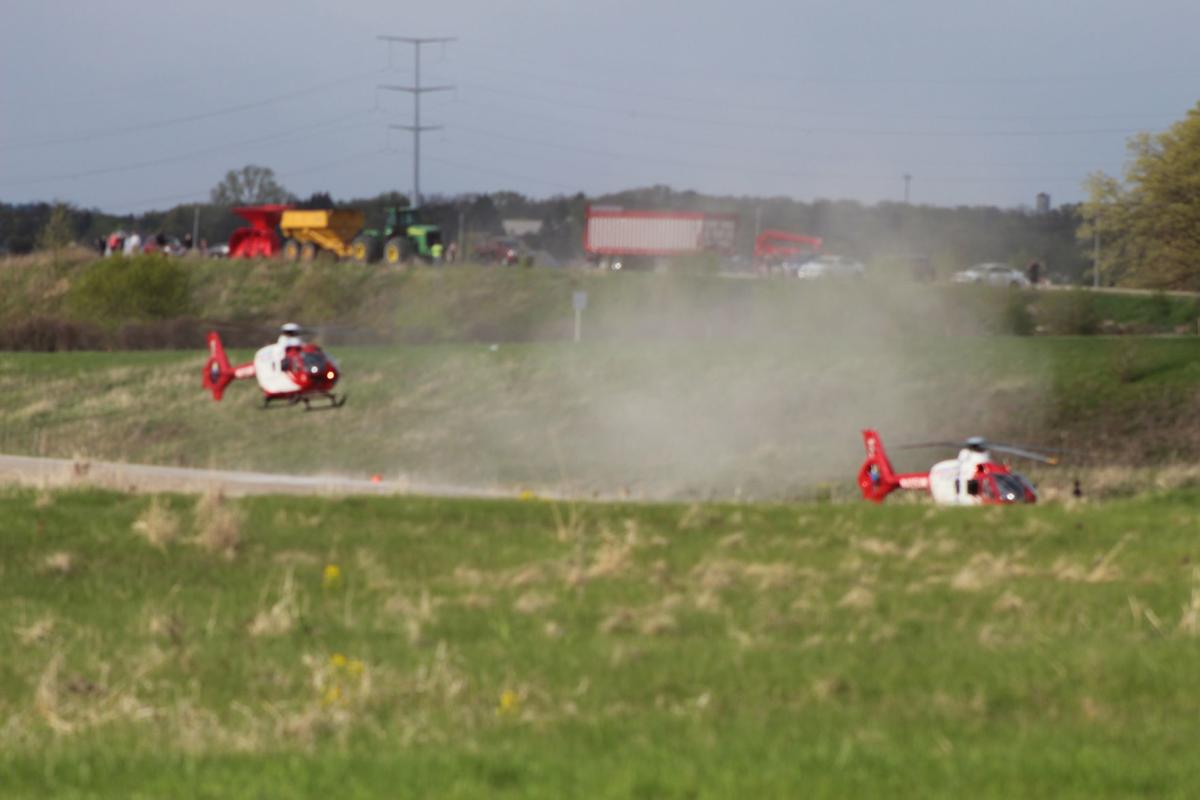 A 34-year-old Appleton man is charged with vehicular homicide while using a controlled substance in the Highway 151 crash that killed a 38-year-old Mukwonago man and injured five other people in May.
Benjamin David Birney faces up to 25 years in prison for the felony offense and up to 12 years and six months in prison for each of two felony counts of using a vehicle with a controlled substance in his blood, causing great bodily harm.
Birney is also charged with three misdemeanors of operating a vehicle while having a detectable amount of a restricted controlled substance in his blood, causing injury.
Birney's 2017 Freightliner straight truck reportedly failed to slow for traffic in a construction zone near Columbus and hit five vehicles, resulting in the death of David P. Bickel and causing injuries to five other people in the early evening of May 14, according to press releases from Columbia County Sheriff's Office and the criminal complaint.
The Freightliner was traveling north on Highway 151 near Highway 73 south of Columbus when it struck a 2005 Honda minivan and then a 2016 Ford F-250 pickup truck. The Freightliner pushed the pickup into a 2016 Ford Fusion and both trucks then struck a 2007 Honda Odyssey and a 2013 Chevrolet Traverse.
Bickel was pronounced dead at the scene. He was inside the pickup truck along with two other men who were flown from the scene by MedFlight to a Madison hospital for serious injuries.
The woman driving the Ford Fusion and two men who were in the Odyssey were transported from the scene by ambulance.
Birney, free on a $500 signature bond, has a pretrial conference set for Feb. 18 in Columbia County Circuit Court.
According to the criminal complaint:
Birney told law enforcement at the scene of the crash that he fell asleep while driving and didn't mean for any of this to happen. Birney was very emotional and kept saying he was sorry and stated that he had been working long hours and not getting much sleep. He said he woke up when things were "flying everywhere." Birney said he slept from 10 a.m. to 1 p.m. May 14 to return to Appleton from Madison.
Birney consented to his blood being drawn and the test results showed it contained "Delta-9-THC" in a concentration of 1.1 ng/mL.
The driver of the minivan told law enforcement that traffic had slowed down to about 10 mph when he saw in his rear-view mirror the large truck approaching at a high rate of speed. He then attempted to drive his minivan into the ditch to avoid the collision, but the truck still hit him from behind. The minivan driver did not report any injuries.
The passenger of the Odyssey also reported seeing the straight truck traveling at a high rate of speed and driving into the backs of several vehicles causing the crash. Both the driver and the passenger of the Odyssey requested to be taken to the hospital by EMS for minor injuries.
The woman who drove the Ford Fusion was in a neck brace when she told law enforcement she didn't remember much from the crash other than getting struck from behind. On May 14 the right northbound lane of Highway 151 was closed due to road construction and traffic could only use the left northbound lane.
Follow Noah Vernau on Twitter @NoahVernau or contact him at 608-695-4956.
Sign up for our Crime & Courts newsletter
Get the latest in local public safety news with this weekly email.