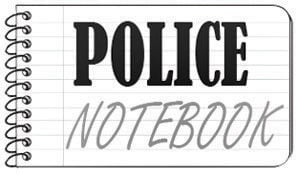 Information is taken from the records of the Portage Police Department and does not represent a comprehensive list of police activity. Each individual named in this report is presumed to be innocent until proven guilty in a court of law.
Between 7:51 a.m. Monday and 4:53 a.m. Thursday, police responded to 123 calls, including the following:
Theft: Police at 4:24 p.m. Tuesday responded to Tractor Supply Company, 3033 County Highway CX, for a delayed theft report. An assistant manager told police two men in their 20s walked out with a $400 traveler's winch, two black cowboy hats and a greeting card and drove away in a red 2006 Dodge Ram 1500 pickup truck with damage to the rear-side passenger window. Police were attempting to locate two suspects.
Controlled substance: Police at 5:35 p.m. Tuesday cited Jarrod R. Wolffarth, 18, Portage, for distributing THC on school property after Go Riteway video footage allegedly showed a suspect handing out brownies that later tested positive for THC to a 16-year-old boy and 12-year-old boy on a school bus.
Disorderly conduct: Police at 3:09 p.m. Wednesday referred an 8-year-old boy to Columbia County Human Services after he threw items at staff, hitting a teacher and vice principal at John Muir Elementary School. The boy was referred for disorderly conduct, battery and criminal damage to property.
Overdose: Police at 3:26 p.m. Wednesday arrested Andrea Michelle Yurowski, 40, Blue Mounds, on charges of possession of heroin, possession of drug paraphernalia and possession of a controlled substance without a valid prescription after officers found her unconscious in her car at Riverside Park and conducted a welfare check. Police allegedly found dry blood and a rubber tourniquet on her arm. Police also said they found a loaded syringe on the floor which tested positive for heroin. Police completed a search warrant and a blood draw.
Juvenile: Police at 7:55 p.m. Wednesday responded to the 800 block of West Franklin Street for a report of an 11-year-old boy who allegedly got angry at someone in the household and threw a PlayStation game system, breaking it. Police referred the boy to Columbia County Human Services on charges of disorderly conduct and criminal damage to property.
Burglary: Police at 8:48 p.m. Wednesday responded to the 100 block of Brady Street for a theft report after a man said he was not home for three days and returned to find the front door unlocked and several items missing, along with $40 in cash.
Domestic: Police at 11:03 p.m. Wednesday were attempting to locate and arrest a 31-year-old Milwaukee man after a domestic dispute in which a caller reported he kneed her in the buttocks, she then slapped him, and he grabbed her by the back of the neck and twisted her arm behind her back.
Sign up for our Crime & Courts newsletter
Get the latest in local public safety news with this weekly email.