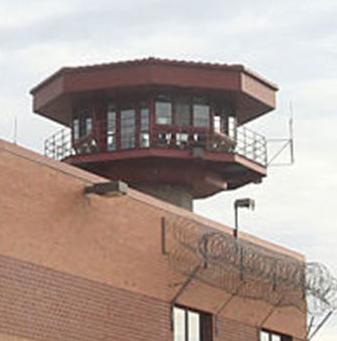 Authorities arrested a Columbia Correctional Institution guard for alleged use of excessive force with an inmate.
Andrew James Jezuit, 31, Baraboo, is charged with one felony count of misconduct in a public office, acting with excessive authority, and he faces up to three years and six months in prison if convicted.
His arrest occurred after two former Columbia Correctional guards — Russell G. Goldsmith, 64, Westfield, and Michael J. Thompson, 47, Reedsburg — were found guilty Oct. 4 of hurting an inmate and falsifying reports in 2018.
In an emailed statement Wednesday, the Wisconsin Department of Corrections said of Jezuit: "The safety and security of our staff, Wisconsin communities, and the individuals in our care is always our number one priority. The DOC contacted local law enforcement and placed Mr. Jezuit on administrative leave, following a DOC internal investigation regarding a possible use of unjustified force."
According to the criminal complaint, the Columbia County Sheriff's Office arrested Jezuit after investigating an incident that occurred July 25. CCI Capt. Kevin Pitzen told detectives that a staff member struck an inmate in the face and that a use-of-force review had determined the force was not justified.
You have free articles remaining.
The complaint states investigators reviewed written reports of the incident including a body camera video. The footage shows an inmate restrained in a chair and wearing a "spit mask," with his hands handcuffed behind his back and his legs secured. Jezuit reaches down the right side of the inmate's body when the inmate uses his head to strike Jezuit in the guard's face shield. Jezuit then steps back and uses his arm to strike the inmate on the side of his face, at which point other CCI personnel step in to secure the inmate and a lieutenant tells Jezuit to "switch out."
The lieutenant told investigators that he had ordered his officers to calm down because the inmate was restrained well, according to the complaint. The lieutenant also said he did not believe Jezuit's use of force was justified because of those restraints.
The inmate told investigators he was "black-out drunk" and didn't remember anything about the incident, the complaint states. He said that when he's sober, he gets along with everyone including the guards and also said they were later bragging about the incident in his presence.
The complaint states Jezuit told investigators he'd been employed by CCI for eight years. He reported that in his pre-service academy he learned report writing, principles of subject control and other duties of being a prison officer with the DOC. Jezuit admitted to using his elbow to strike the inmate in his forehead, that the inmate was restrained and that the inmate's strike against Jezuit didn't cause him any pain. Jezuit stated he could smell homemade alcohol on the inmate and believed the inmate to be intoxicated.
Jezuit told investigators that an elbow strike to the head is not a Principles of Subject Control training technique that he learned in the academy, according to the complaint. Jezuit said if he were in the same situation again, he would not react in the same manner and that he would instead back away or use his hands to control the inmate's head.
Jezuit has a pretrial conference Nov. 18 at Columbia County Circuit Court.
Follow Noah Vernau on Twitter @NoahVernau or contact him at 608-695-4956.