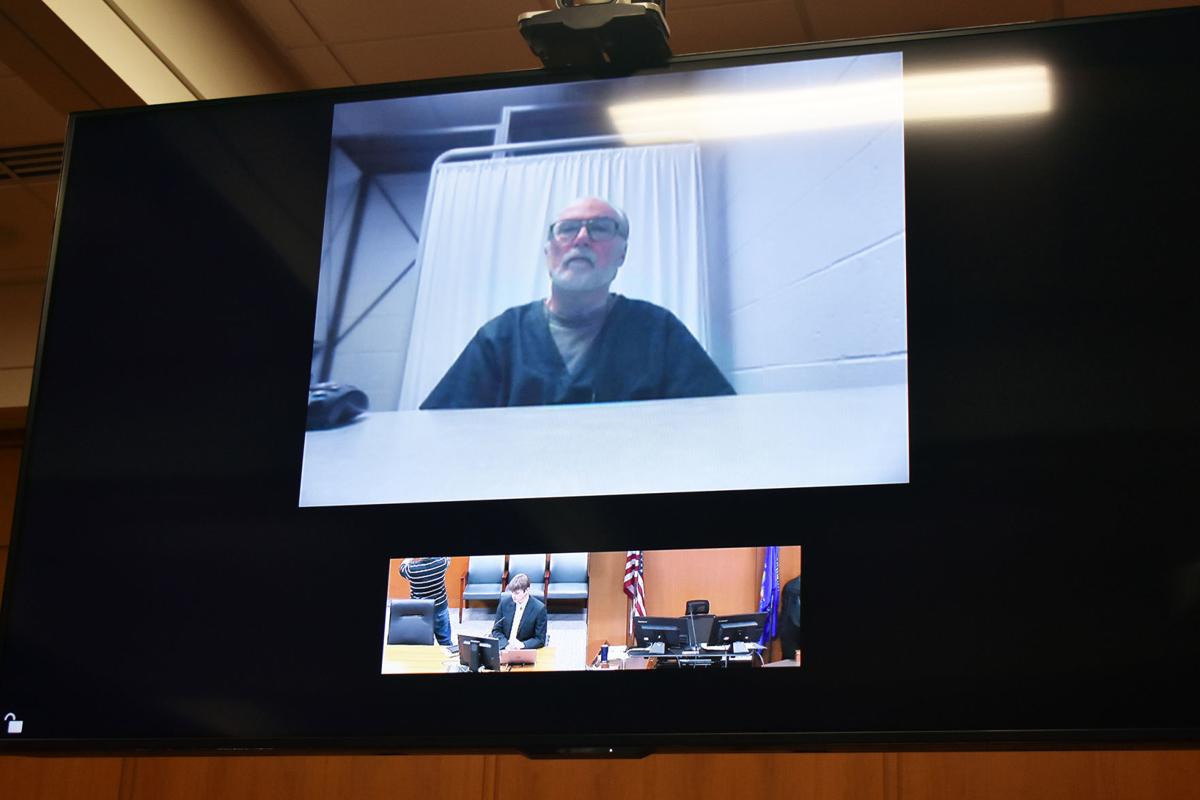 A 64-year-old Wisconsin inmate is accused of sexually assaulting a child in Columbia County from 1991 to 1995 while he served probation for sexually assaulting a child in Marquette County.
Patrick W. Rogers, formerly of Oxford and Adams, made his initial appearance by video conference Friday in Columbia County Circuit Court on felony charges of second-degree sexual assault of a child under 16 and child enticement with intent to have sexual contact with a child under 18.
According to the criminal complaint, Rogers assaulted the child between 200 and 300 times.
Rogers, in 1991, was found guilty of two counts of felony first-degree sexual assault of a child in Marquette County and had received 12 years of probation for each charge, court records show. He resided in Des Plaines, Illinois, at the time of his conviction.
Rogers, in 2001, was found guilty of felonies of exposing a child to harmful material and causing a child between the age of 13 and 18 to view sexual activity in Adams County, as well as two misdemeanors of exposing genitals to a child, according to court records. This criminal complaint was filed in 2000 when Rogers lived in Oxford.
Wisconsin Department of Corrections inmate records show Rogers finally served time in state prisons from 2000 to 2013, consecutively, for a probation violation and for his Adams County convictions. Rogers was released from Oshkosh Correctional Institution on supervision in 2013.
In 2016, Rogers violated the rules of that supervision and returned to state prison in Racine for a period of less than three months.
Rogers violated his supervision again in 2019, and has been confined at Dodge Correctional Institution in Waupun since October. His re-confinement period is set for 3.5 years, the DOC reported.
Regarding Rogers' 2019 violation, Wisconsin DOC spokeswoman Molly Dillman Vidal said: "Mr. Rogers, by his own admission, was intentionally isolating himself in public restrooms with minor-aged boys over the span of approximately one year. Rogers has an extensive history of sexually assaulting male minors and the DOC felt it was imperative to protect the public, knowing Rogers was engaging in these risky behaviors with the aforementioned history of sexual assault."
Court records show Rogers lived in Adams as recently as 2018, Friendship as recently as 2018 and 2017 and Oxford as recently as 2016 and 2015.
Rogers faces up to 10 years in prison for each new felony charge in Columbia County. The criminal complaint filed Nov. 27 says the victim, now 43, met Rogers at Lake George campground when he was 14-15 years old and established a "big brother" type of relationship with him. The victim reported Rogers would take him to Madison and Wisconsin Dells and make him feel wanted.
You have free articles remaining.
The majority of these assaults allegedly occurred when the victim was between 14 and 18 years old. In 1991, Rogers performed oral sex on the victim after Rogers pulled over his vehicle on Highway 51 near the power plant in the town of Pacific. The victim stated he felt forced into sexual activity in this secluded area because he needed a ride home.
Rogers is also accused of having sex with the victim after he picked him up from prom in the spring of 1993, the complaint states. Rogers faces a misdemeanor charge of sexual intercourse with a child 16 or older for that incident, which also allegedly occurred in the town of Pacific.
When the victim was 16 and 17, Rogers was in a relationship with a woman named Amy Piccolo, according to the complaint. The victim said this woman was a social worker and that he always wondered why she didn't report what was going on.
Piccolo told law enforcement she first met the victim in 1992, according to the complaint. Piccolo said she and Rogers once went to a Pardeeville High School football game to watch the child play in the marching band and that the three of them also went to Florida together on vacation. Piccolo stated that Rogers had admitted to her that he was "molesting boys" and that he would target kids who had struggling parents and offer to help out.
During his initial appearance Judge Troy Cross read aloud the charges against Rogers and asked him about the alleged victim.
"Do you know who this is?" Cross said.
"I believe I do," Rogers said.
Understanding that Rogers would be confined in state prison for about three more years for violating his supervision, the court set a $5,000 signature bond and ordered Rogers to make no contact with the alleged victim.
Rogers has a pretrial conference scheduled for Feb. 17 and a return date for March 4.
Since the case is active, Columbia County Detective Sgt. Leda Wagner could not comment on where Rogers might have been employed in 1991 or the possibility that Rogers might have sexually assaulted other children in the area.
Rogers has been a registered sex offender, for life, since February 2002, according to state DOC records.
Said Sheriff Roger Brandner, "I think in any case like this there is always concern that victims have not come forward or were not identified by police. For any historical sexual assault case, we encourage all victims to come forward if they have the opportunity to do so."
Victims of sexual crimes should contact the sheriff's office at 608-742-4166, Brandner said.
Follow Noah Vernau on Twitter @NoahVernau or contact him at 608-695-4956.