The Portage School Board wasted no time finding a replacement for former board member Fred Reckling, filling his seat Monday after interviewing four applicants during an open meeting.
The remaining board members — except Matt Foster, who was absent — voted by secret ballot to appoint Kelly Behnke to the vacant seat.
"It's exciting," Behnke said after the meeting. "I'm looking forward to helping the community and learning more about the community. Even though I've lived here for more than 30 years, there's still a lot to learn, honestly."
The Portage native graduated from Portage High School in 1990. Two of her children are PHS alumni and a third currently attends school in the district, according to Behnke's letter of intent sent to District Administrator Margaret Rudolph. She also has three young grandchildren.
Each candidate had up to 5 minutes for an introductory statement, followed by 2 minutes per answer for four questions that each applicant had to address.
David Perrodin, Kristi Radant and Karyn Wetzel competed with Behnke for the appointment.
Behnke told the school board that she has experience working with district administrators, business managers and other school boards through her almost 20 years of working for WEA Member Benefits, an organization that specializes in providing financial and insurance services for public school employees. She said she also currently serves on the board of education for St. John's Lutheran School in Portage.
"I really want to be part of this school board because I like the change that I've seen in the community and I want to be a part of that change," she said during her opening statement. "I've really enjoyed watching just attitudes in the community change over the last couple years."
Behnke later clarified for the Daily Register that she was referring to people becoming more supportive of teachers and having a more positive attitude.
In her answers, Behnke said she knows teachers and respects their passion for working with children. Being involved with St. John's made her realize serving on school boards was her passion, she said.
Perrodin is a retired educator and school administrator who now teaches part-time at Viterbo University in La Crosse and has two children in the Portage school district. He has studied issues around school safety and recently wrote a book on the topic.
You have free articles remaining.
Radant worked for the Columbia County Highway Department as an accounting assistant for 28 years. Recently retired, she said she has two grandchildren in the district and wants to make sure they and other students get the best education possible.
Wetzel raised six children in the district and now has three grandchildren enrolled. She volunteers with the county's Comprehensive Community Services and said she used to drive a special needs school bus. She said she likes to be active in the community.
Reckling, a longtime educator, resigned from the board in July due to declining health. He said he has had Parkinson's disease for 10 years and recently decided to move closer to family.
The candidates who didn't win the seat were supportive of the board's decision.
"I think the choice was wonderful," Radant said after the meeting.
Perrodin said he was excited Behnke was tapped for the position and wouldn't run against her in an election — nor any of the other current board members — though he may run in the future if another seat becomes vacant.
Both currently undecided, neither Radant nor Wetzel ruled out a possible future run for school board.
Behnke took the oath of office Monday night, administered by board President Steve Pate, after district staff counted the five secret ballots and revealed she had won the majority. Behnke's seat will be up for election in April.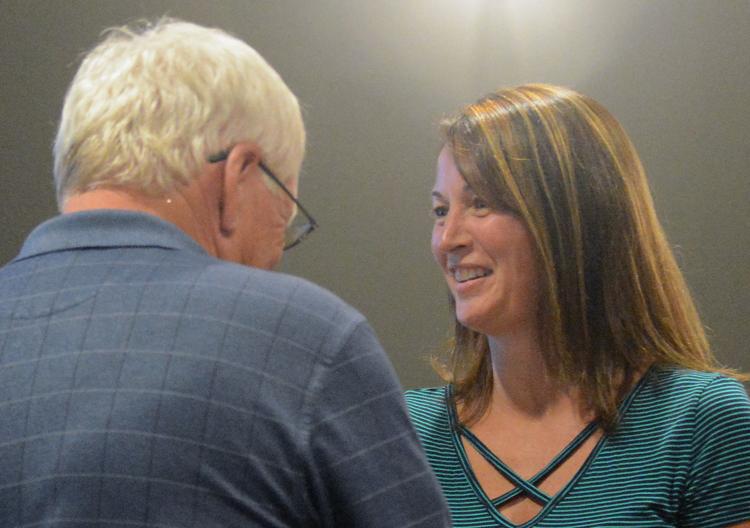 "Whichever one of you is chosen, you'll be joining what I think is an excellent school board," Pate said before the vote. "I put this board above any board in the state of Wisconsin. And our administrative team — there is none better."