Portage teachers are trying to feed more hungry students than ever, while also teaching them about meal planning, preparation and nutrition.
Portage High School opened its own market earlier this month where students can grab snacks during the school day and shop for groceries to take home after school, all at no cost to them, said Elizabeth Hansen, a social studies teacher. She's been coordinating The Market with help from agriculture teacher Josh Capodarco and family and consumer science teacher Michelle Madden.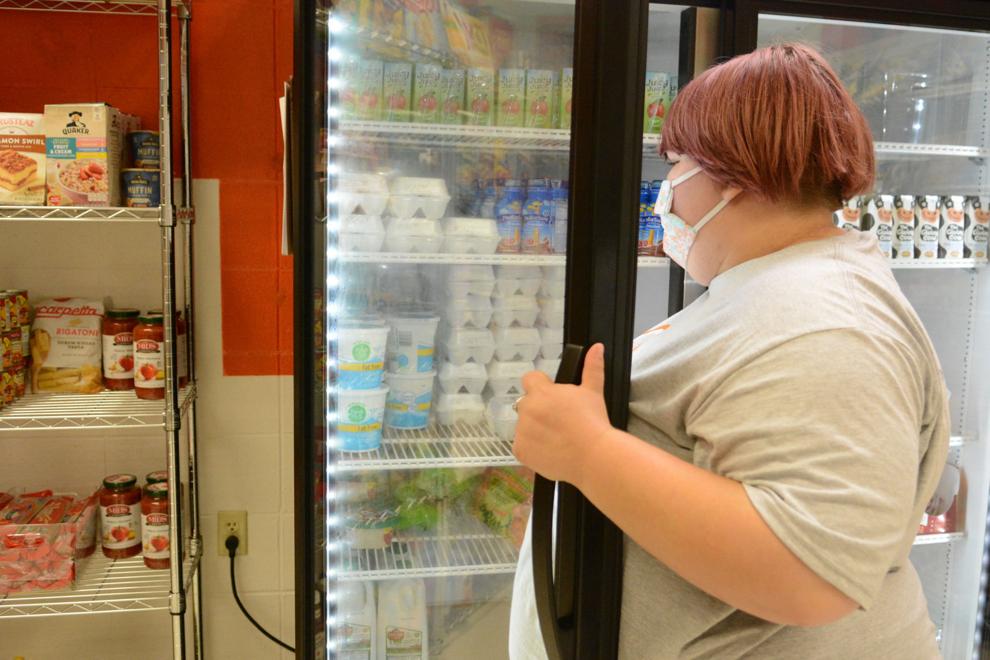 "It's been amazingly successful the first few weeks we've been open," Hansen said. "I mean, it's been beyond anything that Michelle and Josh and I could have expected. We were excited and we felt like we knew it was going to be successful, but we had no idea how used it was going to be."
They traced the idea to last year, when Portage FFA held a food drive and delivered the goods to the Portage Food Pantry. Capodarco, FFA advisor, said the pantry president asked if the school would consider setting something up there to get food to more people in Portage.
But a traditional food pantry would face challenges at a high school, organizers said. Hansen, leader of the district's Backpack Program, said the program struggles to help students once they leave elementary school because they start to associate it with stigma. That program sends food home on weekends with students whose families request it.
The Market eliminates that perceived stigma, the teachers said. With advice from the Wisconsin Dells School District market organizer, "we realized we could make it happen," Hansen said. "We just had to rethink what it looked like."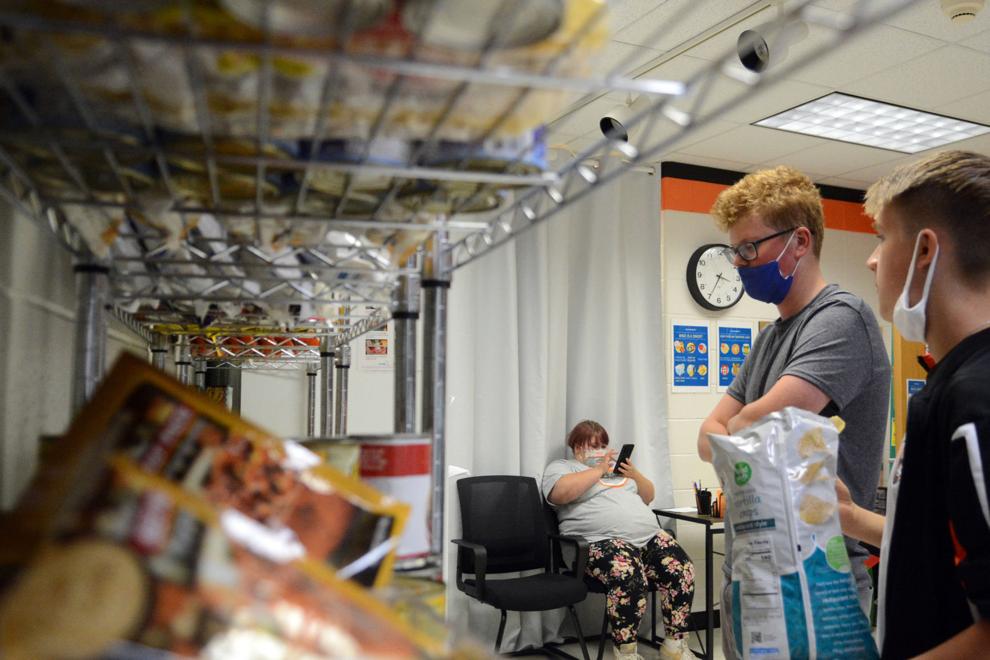 Portage Food Pantry sponsored their efforts to start The Market, contributing $10,000 over the next three years to purchase food, appliances and cover other needs, Hansen said. "Substantial donations" from other organizations helped make the program viable and sustainable, she added.
President Karen Meierdirk said the food pantry has been seeking more outreach opportunities, made possible by "very generous" donations from the Portage community.
"We feel pretty blessed with volunteers, donations, et cetera, and we're happy to help out in the community," she said.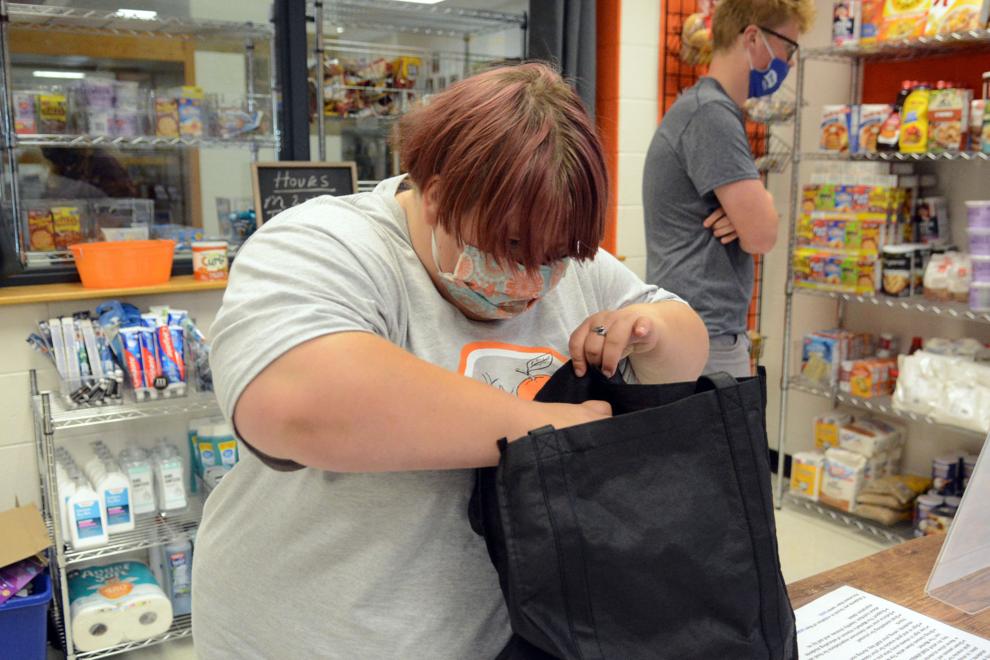 Now a room off the high school cafeteria holds shelves with snacks, hygiene products, baking ingredients and other nonperishable groceries, along with a refrigerator and freezer full of dairy products, produce and meat, mostly supplied through Second Harvest Foodbank. Madden posted Second Harvest recipes on the fridge and plans to add her own, particularly ones that are simple enough for people with limited cooking skills.
Any student can sign in and grab what they want, regardless of need.
"Something we try to not do in The Market is use the word 'need,' because we don't really care if you need the food. We care if you can use the food," Hansen said. "There's enough food for everybody out there. It's just a matter of getting it to them and getting them to use it."
Coordinators refer to students using it as either "snackers," who take a couple of individual items, or "shoppers," who take enough groceries for a meal at the end of the day. Hansen said the Market is averaging about 250 snackers and 10-15 shoppers per day.
The Market is staffed by community volunteers and, one day per week, the high school's transition program, which helps students aged 18-21 become as independent as possible. Lina Rudenas, transition teacher, said her students have jobs assigned to them within the district until they secure a job elsewhere.
In addition to the job experience, Rudenas said The Market gives her students an opportunity to learn how to plan a meal.
"Instead of us saying, 'OK, we're making spaghetti. Look at the recipe,' they walk in here and look at those lists and usually we have all the ingredients here for them to make, so they can pick and choose what they want," she said.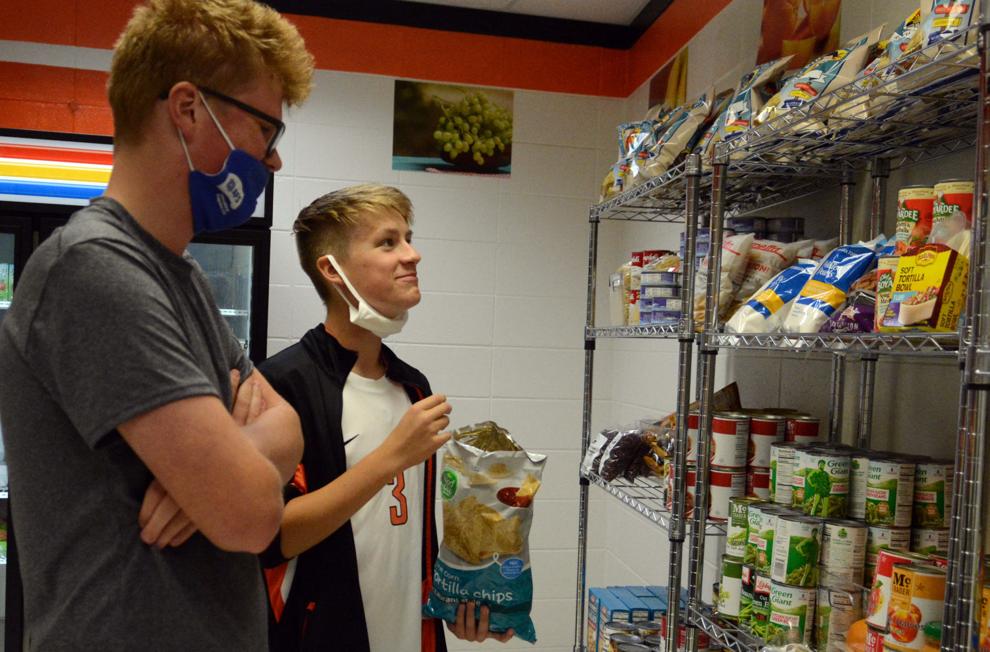 The middle school has a smaller market that is providing daily snacks and items for students to take home, Hansen said. The program absorbed the Backpack Program and is providing snacks for elementary classrooms for half the year, helped by PHS transition students.
"We're still providing Backpack food to the elementaries, but we really want our families — all of our families — to use the market, because we think that provides a more sustainable, equitable, nutritious approach to food," Hansen said.
Teachers can also stock up on fruit, granola bars and other snacks for their classrooms, because all kids, especially high schoolers, "are generally hungry all the time," coordinators said. Madden, who keeps snacks in a pink Market tote bag in the middle of her classroom, said it's been "great" to see her students using it, whether or not they're "your typical needier kids."
"It's nice because we don't have to worry about that," Madden said. "If they're hungry, it's there for them, and I feel like if everybody is seeing everyone else taking a snack, then all the sudden those barriers are down and we're all on the same footing, equal footing, so I think that will also make it more comfortable and more normalized for the kids that really do need to be the shoppers."
Overall, the program is feeding about 2,000 students per day across the district, Hansen said.
To donate, find Market hours or contact its coordinators, visit the district's website.
GALLERY: Portage student-athletes improve in district's Strength and Conditioning Course
Photos of the final two sessions of the Portage Summer Strength and Conditioning Course at Portage High School on Thursday, July 22. The course, conducted by new strength and conditioning coach Matt Denure, garnered tons of attendees from grades 7-12 over the six-week period.
Follow Susan Endres on Twitter @EndresSusan or call her at 745-3506.