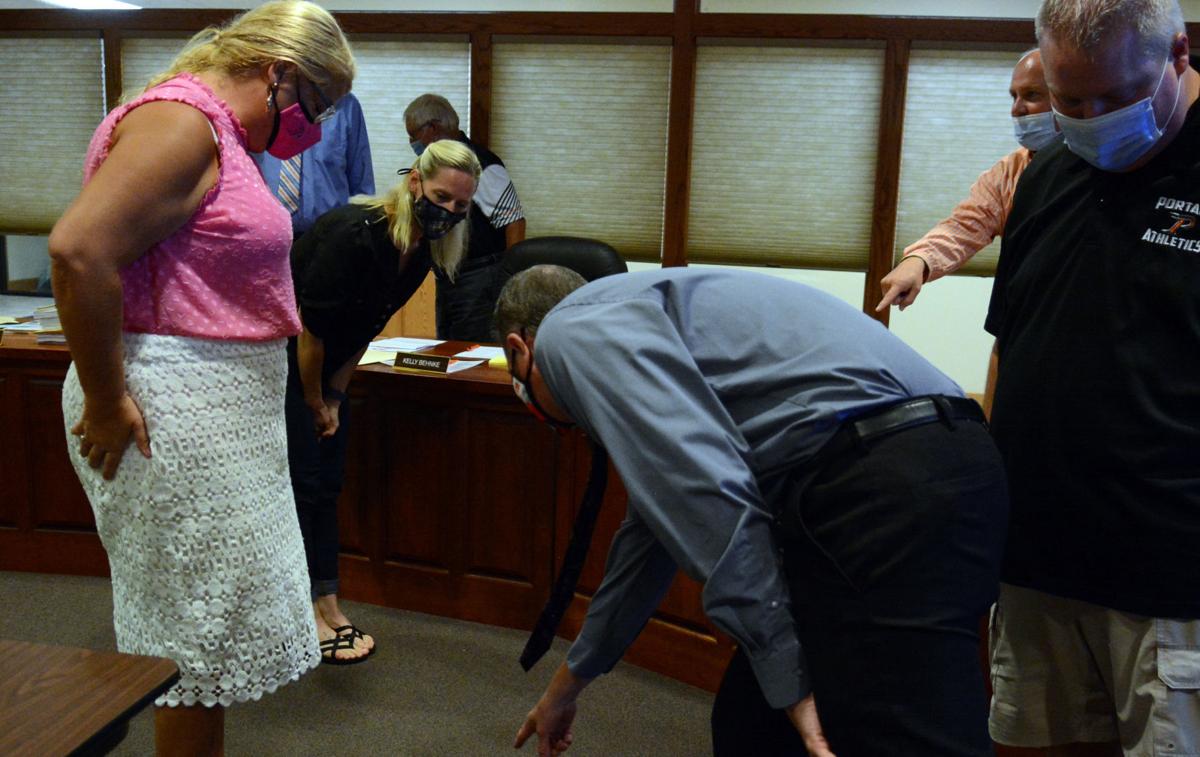 The Portage School Board chose its new member Monday from a field of nine candidates after five rounds of voting and a coin toss.
"I feel terrible that it had to come down to a coin flip and that," said Portage District Administrator Josh Sween, "but honestly everybody who interviewed tonight would be a phenomenal addition to this board."
Ellen Stevenson, of Endeavor, ultimately won the seat recently vacated by former Vice President Chad Edwards, who resigned due to a move. Stevenson will serve the remaining seven months of his term.
The nine candidates were Stevenson, Erin McDonald, Liz Miller, Nicky Cross, Silvia Sofia Anderson, Kevin Todryk, Diana O'Neill, Bridget Riviers and Frank Gauger. Stevenson and McDonald participated virtually.
Sween said when the district announced the vacancy, he expected two or three applicants.
"But to have nine people interested in joining the Portage Community School District board, that is a great problem to have. It means we have community members who are interested and want to be part of the school district and want to help us move the district forward," he said.
About the new member
A former public school teacher and currently a stay-at-home mother to four children, Stevenson said she felt like serving on the board would be a perfect fit. Her children attend the district, she said.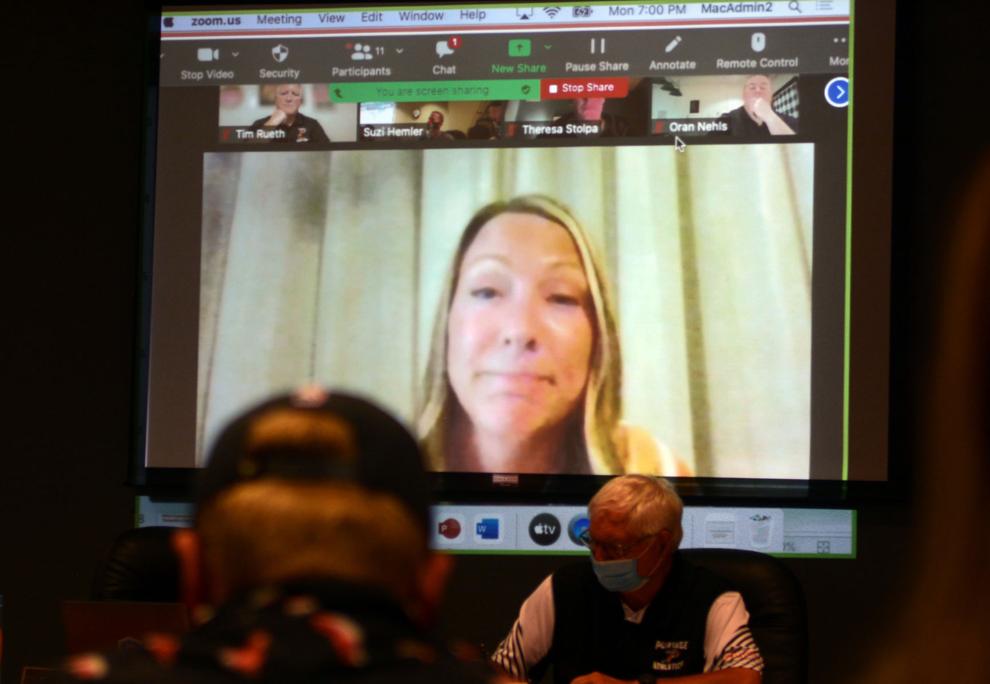 "Education has been my passion since young adulthood and serving the community in this capacity would be an honor," she said. "It seems easier and easier to have and express opinions these days, but for me this would be a way that I can actually take an active role."
She told the board she appreciates the district's "strong history of being fiscally responsible," and believes it's headed in the right direction. It should continue to seek opportunities to increase enrollment and attract educators, Stevenson said.
"I'm determined to leave my community better than I found it," she said.
According to Stevenson's letter of interest, she owns the Portage Culver's and was a middle school teacher from 2002-06 in the Baraboo School District and from 2008-11 in Portage. She listed Craig and Lea Culver, the restaurant chain founders, as references.
The letter said Stevenson has a bachelor's degree in education from Edgewood College in Madison. She also volunteers for several St. Mary's groups and local events, is a board member of St. Vincent De Paul and serves on the Portage school district's co-curricular committee.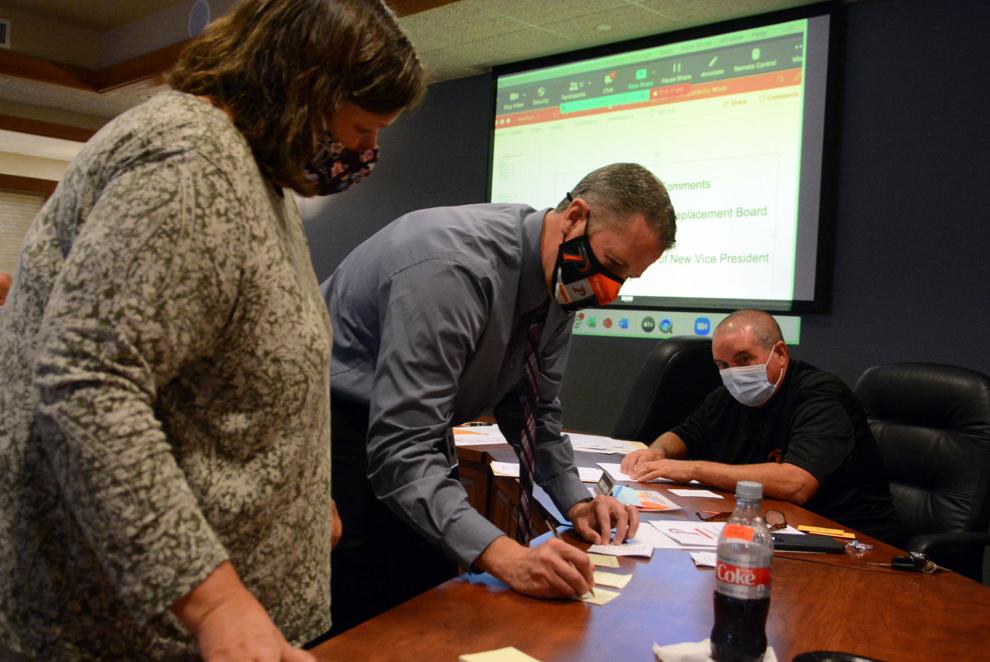 Five votes and a coin toss
Candidates were interviewed one at a time in open session while the others waited in a separate room, unable to hear their competitors' answers. Sween asked each of them the same six questions, after which they had an opportunity to give a closing statement.
Then the six remaining board members voted. The new member needed to get at least four votes to win the appointment.
Cross received three votes and Stevenson, Anderson and Riviers each received one, eliminating the other five candidates. With the field narrowed, a second vote ended in the same result. In the third round, Cross again received three votes, Riviers got two and Stevenson got one.
Members then ranked the three semifinalists by preference. Though intended to eliminate the candidate with the highest number, the ranked-choice vote ended in a three-way tie.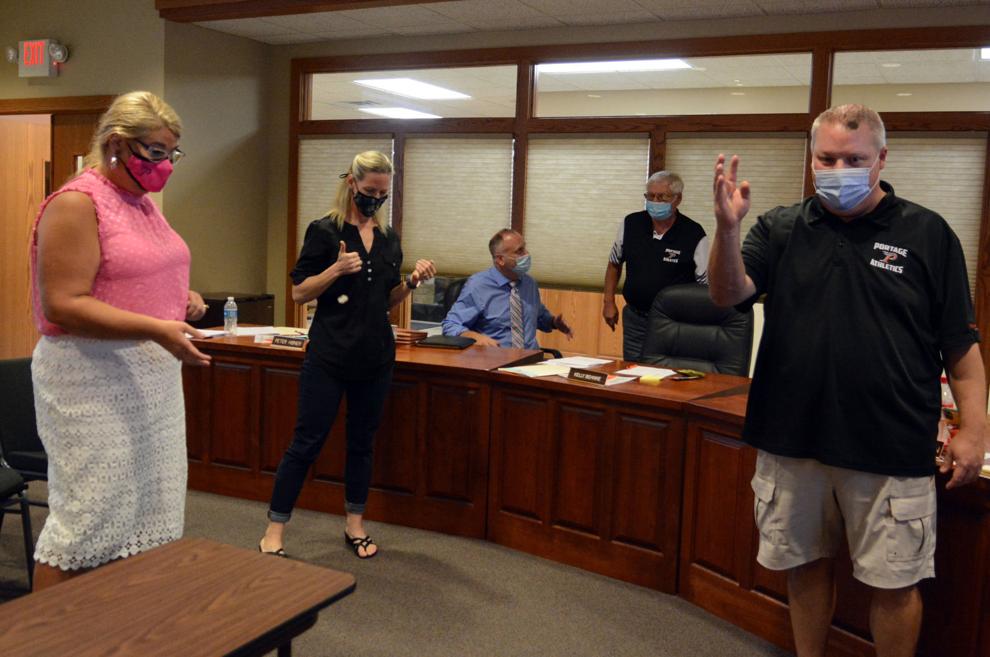 Following board procedure, the candidates — with Athletic Director Ed Carlson acting as a proxy for Stevenson — each flipped a coin, letting them land on the floor. Cross, whose quarter landed on heads while the other two got tails, was eliminated.
Board members filled out a fifth and final ballot, giving Stevenson the four votes necessary to win the seat. Riviers received two votes.
It was the first time in board history that such a decision had to come down to such tie-breaking procedures specified in its policy, according to Board President Steve Pate.
"I've been at this business a long time — 35-and-a-half years — and I've never seen as many candidates nor ever witnessed this here," Pate said. "This is all new to me."
Stevenson will be sworn in at a future meeting when she can be physically present, Sween said.
In other business Monday, the school board:
Reinstated its policy allowing public comment at board meetings after suspending it early in the COVID-19 pandemic.
Elected Kelly Behnke to be the board's vice president.
Approved the Curriculum and Instructional Committee report, including a policy change that will allow the high school principal to make exceptions "when circumstances merit" to the graduation requirement that students complete at least seven semesters. Administrators said the change is due to the high school's new schedule, which allows students to take more classes in a given year and could mean some complete their required coursework in less than seven semesters.
Received a report about proposals for architectural services regarding the addition to Woodridge Primary School, reconfiguration of classrooms at John Muir Elementary School and secure entrances for both. Cooperative Educational Service Agency 10, which is working with the district on the building projects, recommended Lien & Peterson Architects Inc. and Apex Engineering for the related mechanical, electrical, plumbing and engineering work. Both proposed a 6% rate.
Accepted donations: $571 from the Lions Club; $100 from the Sauk Columbia Chapter-Realtors Association; and $245 from Columbia County child support agencies.
Follow Susan Endres on Twitter @EndresSusan or call her at 745-3506.