OXFORD — Cheryl Koch knows some people might assume they're too old, too far behind, too busy — too much or too little of something to earn their high school credentials.
The Oxford resident is getting hers at age 54, working for it in Portage alongside her 28-year-old son.
"It's never too late," she said. "It's never too late, no matter what."
In 1981, Koch left high school early, married her husband of 37 years and together they raised four children. For years she entertained the idea of gaining her general education diploma or high school equivalency diploma, always wondering if the time was right.
She and her son soon will earn their HSEDs at Madison College's Learning Center at the Portage campus — a free but sometimes overlooked service.
After completing her diploma, Cheryl Koch will enroll in the optometric technician program at the Madison College-Truax Campus. Her son, who lives in Poynette, will enroll in the veterinary technician program at the Madison campus.
"We study together, go to class together," Cheryl Koch said of the work she and her son put in at the Learning Center. "We keep each other going."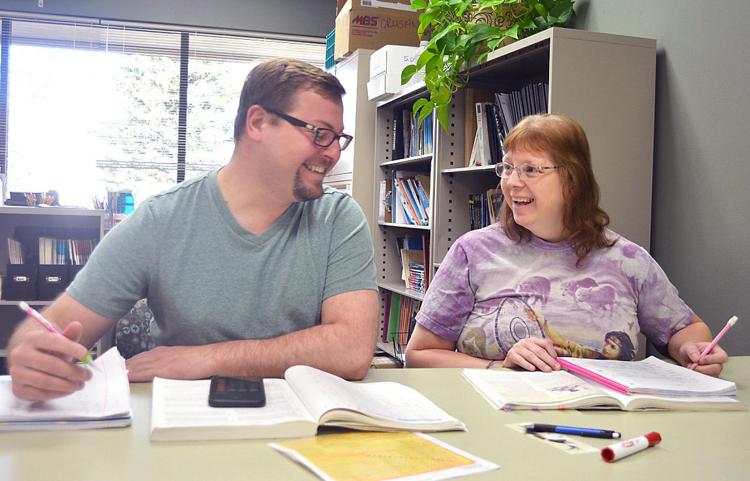 "She gave me the courage to do it," he told Madison College, which recently announced free GED/HSED summer sessions at the Portage campus for people interested in gaining their high school credential.
In the sessions, participants take preliminary tests and the results are used to determine the best option for completing high school education.
During the 2016-17 academic year, 274 students earned high school diplomas through Madison College, 43 of them from the Portage campus, the college reported.
"We create a plan that works best for each student," said Learning Center Coordinator Karen Wilson.
From May 28 through Aug. 15, students can learn or review basic skills at the Portage Learning Center from 9 a.m. to noon on Tuesdays and Thursdays. The Learning Center, which has three instructors, is open every day with longer hours in the fall and spring, Wilson said.
"I think a lot of students had negative experiences in education for one reason or another, so they don't feel confident in this type of setting (at first)," Wilson said. "There's hesitancy, I think, to try to go back and finish."
Cheryl Koch experienced that reluctance. In the 1980s, she said, her grades at Whitewater High School were never very good, and she eventually discovered she had a learning disability.
"I wasn't getting the help I needed," she said of high school. The earlier issues are easier to see now that she's regularly earning As and Bs on her tests at the Learning Center. "Karen (Wilson) is one of best teachers I've ever had."
Cheryl Koch's eureka moment, if there was one, happened around the time she visited colleges and learned about various programs with her granddaughter, Brianna Hutchison. Hutchison wants to be a registered nurse, and during the visits Koch became interested in radiology.
"But that's six years of school," Koch learned, whereas the optometric technician program she researched later is one year and is a profession that requires no double shifts or weekends.
Hutchison graduates from Westfield High School later this month and will enroll at Madison College-Truax Campus in the fall, which means that at some point in the near future, Cheryl Koch, her son and granddaughter will all attend the same school, at the same time. Cheryl Koch said she looks forward to that dynamic.
Her encouragement of her son could be straightforward. He loves horses, and that's why he wants to be a veterinarian.
"I told him don't wait until you're 53 like me, you'll regret it," said the mother, who enrolled at the Learning Center in October.
The Learning Center is aptly named, a place for students to learn about themselves as well as the world. Cheryl Koch recently told Madison College: "I found out I am smarter than I thought I was."
Some students will be advised to work for their GED, which in Wisconsin involves five tests: reasoning through language arts, math, social studies, science and civics. Wilson said students who score well on their preliminary tests might only need a month or two of preparation at the Learning Center before taking the GED tests.
Others might be rustier in academics, and that's totally fine, Wilson said. For the 509 HSED, students take a series of smaller competency tests — experiencing no real deadlines or pressure for completion. Students with as few as 10 hours of free time per week often will complete their HSED in a year.
"Many students comment on how much less intimidating this is from what they expected," said Wilson, who's worked at the Learning Center for 16 years. "Initially they might think it's such a tough process but later realize it's pretty easy to navigate."
Wilson and other instructors work one-on-one with students or in small groups, when appropriate. Typically the Learning Center sees no more than 10 students, per session. "We're basically your own personal tutor," Wilson said.
Wilson often bumps into her former students, recently speaking to one who'd just completed her degree in radiology. Wilson hopes to have a similar conversation with the Kochs after they finish college.
"They work hard," Wilson said. "I'm proud of both of them."