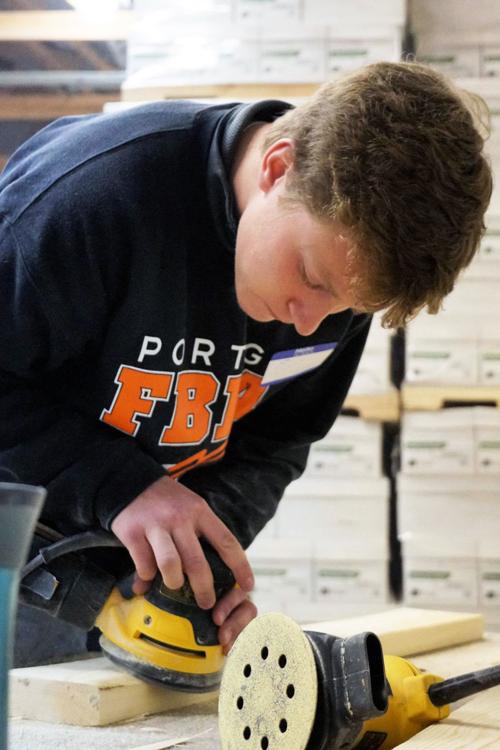 PORTAGE — Not long after seven Portage High School students learned that children in their community were sleeping on the floor, they decided to do something about it.
Last summer junior Hannah Ness volunteered to build beds for the Portage chapter of Sleep in Heavenly Peace. Ness first heard about the charitable group from her friend, Tori Scheibach, whose father, Brian Scheibach, helped launch the nonprofit in May.
"It was both surprising and saddening," Ness said of her initial thoughts about the need for the group. She had no idea the invitation to an build for the organization from Tori Scheibach — a 2017 Portage High School graduate — would lead to her participation in several builds and deliveries and, ultimately, to her organizing an event to raise money for the program.
"I think it changed them," Ness said of the children who received beds during three deliveries she made in one day around Christmas. "You get to meet them and I think that was by far my favorite thing about it — watching them receive the bed and seeing how excited they get about it.
"It's eye-opening. It changed my perspective on community service."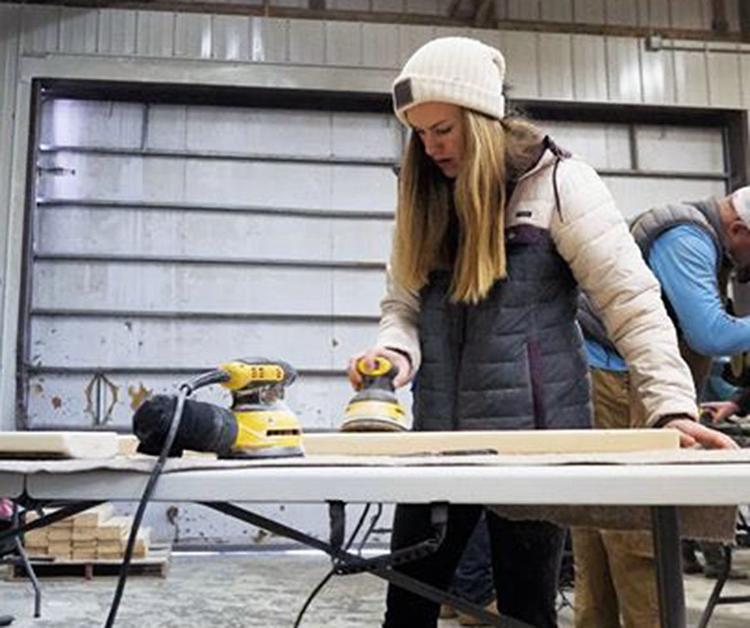 To raise money for the group, Ness and the seven-member officer team of Portage Future Business Leaders of America launched Winter Family Fun Day, which is from 1 to 4 p.m. Sunday at Portage High School.
Their event is designed for children in preschool through fifth grade who will participate in a dance party, cookie decorating, crafts and games. Participants are encouraged to donate $2 or a children's book or stuffed animal.
"I think this is a good way for the community to come together and raise awareness for this organization," said senior Hannah Kollath, membership director for the leaders group. "It's possible that some of the kids who come might even need the beds and if they don't, I think it shows the younger generation everything they have to be grateful for."
The business leaders group requires student officers to complete a group community service project. The students picked Sleep in Heavenly Peace. After the event, the officer team will write up a report of what they did and how it benefited the community. The project will be submitted to the state business leaders organization for judging.
"But we're getting help from our entire chapter," she said of the local group, which typically holds about 100 members.
The need for beds in the community surprised Kollath, too. She and four other business leaders students helped build beds for the charitable organization in November and said they felt lucky, more than anything.
"I didn't even know there was a charity for this," she said. "It made me actually think about the fact that some kids don't have beds waiting for them when they get home. That had never crossed my mind.
Other members of the business leaders officer team include: Hunter Warzecha (senior), Emma Goldthorpe (senior), Riley Rieckmann (senior), Peyton Mueller (junior) and Chloe Druckrey (junior).
Group growing
Since its formation, Sleep in Heavenly Peace volunteers have built and delivered 50 bunks (100 beds) to more than 35 Wisconsin families, Brian Scheibach said via email. The Portage chapter has received help from more than 150 people who volunteered more than 5,000 hours of service.
The local chapter's goal for 2019 to build and deliver 150 bunks (300 beds). Scheibach said the organization will try to raise about $300 per bed — which includes the lumber, bedding, pillows, mattress and more. To do so, the group needs to raise about $90,000 in cash and donations this year.
Donations can be made at shpbeds.org by clicking Donate and selecting WI-Portage Chapter. Bed requests also can be made at the website.
"We as a community should be so proud to know we are not only raising smart and high achieving kids, but even more importantly we are raising kids that see more value in giving back and helping others," Scheibach said of contributions from local students.
Other contributions from students include more than 35 bedding sets raised by the high school marching band and Woodridge Elementary raised more than $300 for bedding sets. Portage and Pardeeville high school students have participated in build days.
"To me this is a level of achievement that will have a lasting impact on the community way beyond their ACT scores," Scheibach said.
The next local Sleep in Heavenly Peace build day is from 9 a.m. to 1 p.m. Feb. 9 at Dairyland Moving and Storage, 1208 Northport Drive, Portage. Previous builds were held at O'Brion Agency's warehouse but are being moved to a heated space for winter builds, Scheibach said.
Follow Noah Vernau on Twitter @NoahVernau or contact him at 608-695-4956.
Be the first to know
Get local news delivered to your inbox!