For 12-year-old Samantha Degner, a summer welding camp presented the opportunity to gain a skill she thought would help her in a future career in agriculture.
"It's really super fun. I recommend it," Degner said of the Fun with Torches middle school welding camp offered through Madison Area Technical College-Portage. "The fact that you get to weld on the very first day is super fun."
Aric Hanusa, who teaches the camp with lead instructor Shaun Walker at the Portage Enterprise Center, said it started last year. It was so successful, the program increased this summer to two week-long beginner classes and a week-long advanced class, with about 30 students participating as beginners and 17 advanced. Some of the advanced students are from last year's introductory class, Hanusa said.
Classes start with basic safety and instruction, teaching students about different welding techniques and the types of jobs they'd most likely work on in this area, Hanusa said. As a common and fast technique, gas metal arc welding is the main focus.
"Once they get good at welding, then we make something," Hanusa said. "The kids actually are really creative in class, too. They start putting pieces of scrap metal together, and every year it's always funny — we see a different piece of metal art or structure or something."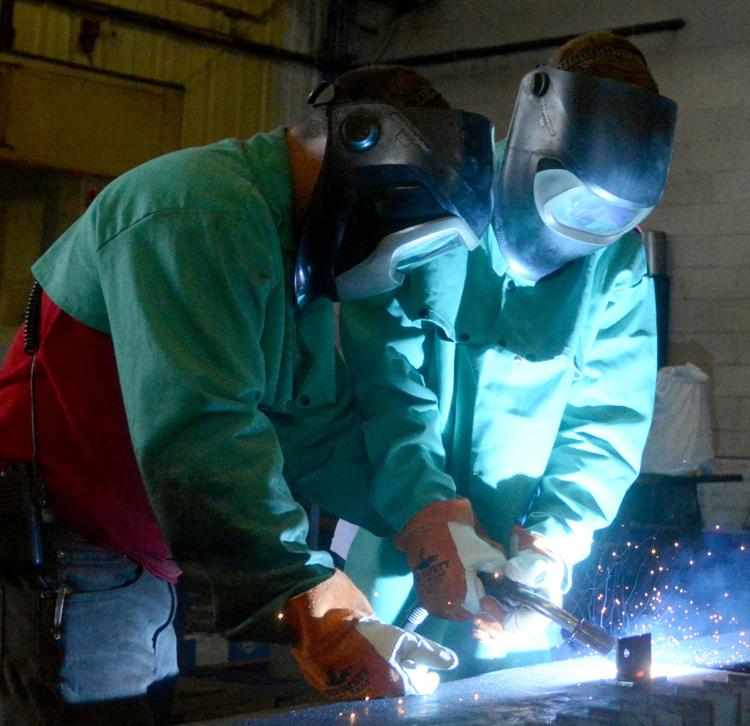 Next week, advanced students will make benches to be placed around Portage as part of a community service project, Hanusa said. The two introductory classes made bird feeders this year. Last year's participants made mini barbecue grills.
Local manufacturers have supported the camp by letting students visit for tours and hands-on demonstrations, such as those the second beginner class participated in July 17 at McFarlane Manufacturing in Sauk City and Milwaukee Valve in Prairie du Sac. The first class toured E.K. Machine Company and Robbins Manufacturing in Fall River, Hanusa said.
Jackson Trimble, 12, of Portage, enjoyed the tours.
"I think it was pretty cool," he said of Milwaukee Valve. "To see all the big machines and all the people that work there and how they actually make stuff for the battleships and that."
Trimble wanted to enroll this summer because he likes welding and is considering a career in a related field. The experience was "really awesome," he said, and especially beneficial for students who haven't welded before.
Ethan Horkan, 13, of Reedsburg, said he heard about the camp from his father. Like the other students, he's found the experience interesting and is considering a career that includes welding, such as becoming an electrician or owning his own construction business.
Normally, Hanusa noted there would be a cost to enroll, but some corporate sponsors donated materials and paid registration fees. Linda Nellen, campus manager at MATC-Portage, secured a grant that made the camp possible in the first place and now works with sponsors to provide scholarships and tours, according to MATC spokeswoman Nicole Thompson.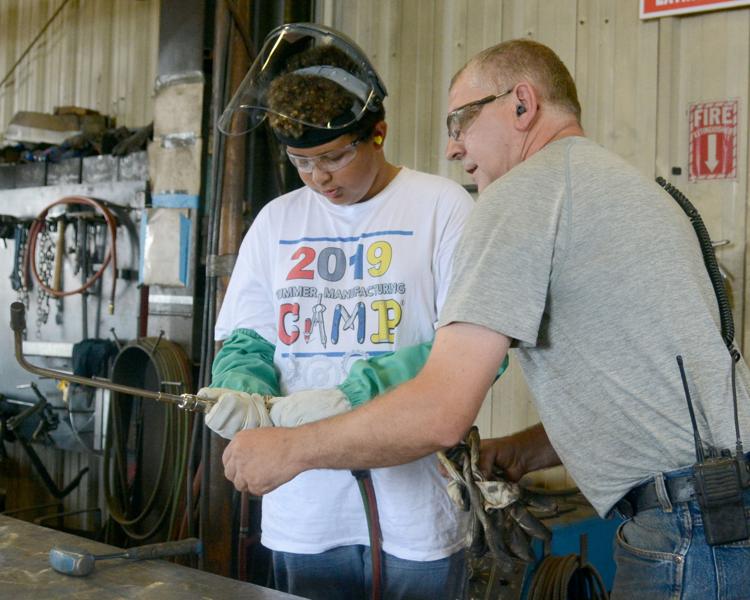 There were three girls and 12 boys in the class last week. While that represents a typical gender split, Hanusa noted girls have proven just as capable of welding as boys.
"It's exciting to see that they're looking at those career options," he said.
He encourages everyone to consider careers in trades like welding, noting the lower cost of a trade program can help them avoid student loan debt. All employers want are people who show up on time and are willing to work, he said, "and then they're going to make a good living for themselves."
Some camp participants have even gotten job offers in the form of youth apprenticeships, Hanusa said.
As a summer learning opportunity, the class helps students find what they like and where they excel, making the school year more impactful, he said. Participants hailed from all over the area, including Baraboo, Portage, Reedsburg, Pardeeville, Lodi and Poynette.
"It's going great," Hanusa said. "The kids are doing actually really well, so I think they're just finding it fun to melt stuff and put things together. Even though the temperature is kind of warm, they're sticking it out, toughing it out, and that's a great thing."
GALLERY: 'Fun with Torches' welding camp tours McFarlane Manufacturing
Middle school students in the "Fun with Torches" middle school welding camp offered through Madison Area Technical College-Portage toured McFarlane Manufacturing in Sauk City July 17, getting hands-on demonstrations.
Follow Susan Endres on Twitter @EndresSusan or call her at 745-3506.
Be the first to know
Get local news delivered to your inbox!