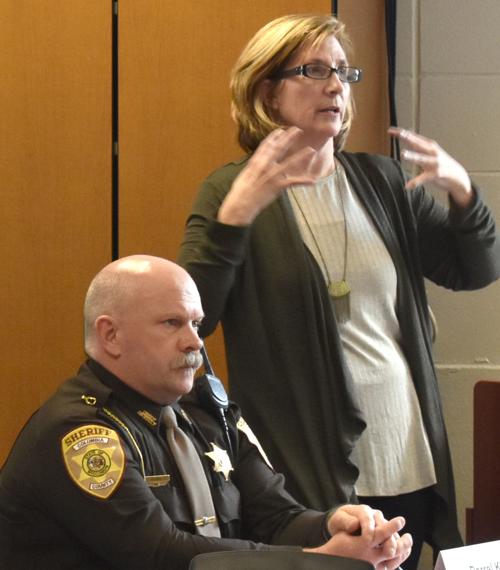 POYNETTE — Four deaths of youths in Poynette is four too many in the mind of Pamela Puntney.
The Poynette School District payroll employee understands there might be more than the four she remembers — more than the four young people who died from drug overdoses in the past four years — and she also knows the issue of substance abuse is not at all unique to Poynette.
"But it's shocking to me to know they're gone, because I watched them grow up," Puntney said.
Puntney is a founding member of the volunteer organization, Inspire Wellness Poynette, which recently partnered with the school district and Prevention and Response Columbia County to provide three presentations concerning substance abuse, the first to be held April 24 at Poynette High School.
PARCC coordinator Lindsay Patterson and PARCC's director, Paula Enger, will lead the first presentation, which concerns various trends gleaned from the state's Youth Risk Behavior Surveys given to middle and school students in Columbia County in 2017.
The surveys are administered every two years and help schools and organizations like PARCC to determine how youth perceive risks, Patterson said.
There was a 12.5% increase — from 6% in 2015 to 18.5% in 2017 — among Columbia County high school youth who reported seeing no risk in the use of prescription drugs without a doctor's prescription, Patterson said. There was also an 11.7% increase — from 16.8% in 2011 to 28.5% in 2017 — among Columbia County high school youth who said they saw no risk in using marijuana once or twice a week.
PARCC formed as a community coalition in 2015 with the objective of reducing the misuse of prescription drugs and the use of heroin, "but we know," Patterson said, "that drug use typically does not start with heroin. In our youth, alcohol is still the number one drug being misused."
On the positive side of trends, then, was the 5% decrease — from 33.5% in 2011 to 28.6% in 2017 — in the number of high school students who reported using alcohol, Patterson said.
Tobacco Free Columbia-Dane County joins PARCC for the first presentation to discuss the use of electronic cigarettes and how some of these devices don't even look like cigarettes.
"Some of them look like flash drives," Patterson said.
The second presentation will be May 22 at the Poynette Dekorra Fire Department, where Columbia County Sheriff Roger Brandner, Clint Starks of Columbia County Health and Human Services and medical professionals will discuss opioid and marijuana use and what to watch out for in the community.
The third presentation is planned for June 26 in the Arlington Community Center and is all about prevention and treatment options existing in Columbia County.
Puntney — among seven members in Inspire Wellness Poynette, which formed last fall — sees the three-part series in Poynette as a means to connect people to the resources that are available locally and to get people talking. She got the idea for the event after she talked, on a flight, with a person from the Parents Addiction Network of Dane County.
She was impressed by all of the services the group offers — the resources it had put together for parents and professionals on its website and how it would regularly go into the community for presentations.
"This really was a chance encounter," Puntney said of what led her to reach out to PARCC for the three-part series. "It started our line of thinking that maybe we could do something in Poynette — do something to make sure people know where the resources are and where they can find help."
The three-part series is free to attend and is open to anyone, Puntney and Patterson said.
Follow Noah Vernau on Twitter @NoahVernau or contact him at 608-695-4956.
Be the first to know
Get local news delivered to your inbox!