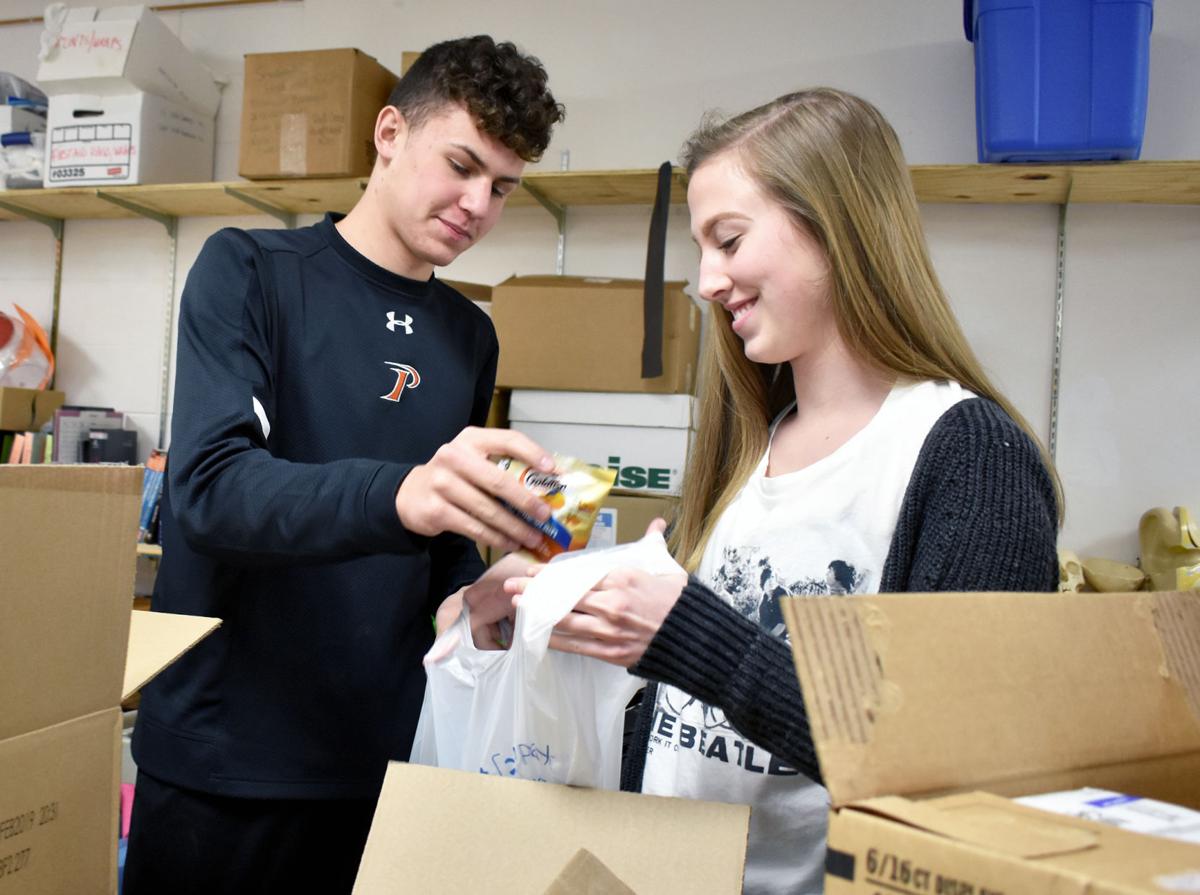 It's one thing to hear about the need for food in Portage, but another to actually see it.
Portage High School sophomore Jana Blau won't forget the first time she volunteered for the Backpack Program in October 2020, seeing mounds of weekend snacks that had to be packed into bags for children throughout the school district.
"I just never really thought about it before," she said. "I didn't know how many kids needed it."
About 40 high school students have volunteered their time after school for the program since the start of the school year, Backpack leader and high school teacher Elizabeth Hansen said. The students packed 16,621 meals or 19,945 pounds of food in 2020.
"It makes me think about how the students are feeling on a daily basis," said Blau, who wants to be a teacher after college. "Did they have breakfast today? Did they have lunch today? It gives me more empathy for them."
Virtual schooling helped Portage High School senior Avery Meierdirk to simplify her schedule and stay ahead of her homework, resulting in extra hours for volunteering throughout the school year.
"Is there a better job than helping your community?" she said.
Meierdirk will attend University of Wisconsin-Madison in the fall to major in psychology and she hopes to eventually work as a child counselor. Besides understanding better the local need for food among children, Meierdirk's biggest takeaway from volunteering has been seeing how well people come together for a good cause.
"Last month, we were a little short on volunteers and the whole track team came in and helped us," Meierdirk said. "It's just awesome to see everybody helping each other."
Added Blau, "Even though everyone is spaced out and we're wearing masks, we're having fun and laughing just like normal friends. You meet and talk to new people from all the different grades even if you only see them for this."
The program currently feeds more than 120 students per week, which is actually down from the 175 students fed per week prior to the pandemic, Hansen said. It's the result of more students attending school virtually.
"It would seem like a good thing that our numbers are down," Hansen said, "but we think there are some people who absolutely can use the service and don't."
The program is funded by the school district, voluntary staff payroll deductions and private donations. It purchases the food at a discount from Second Harvest, spending about $15,000 per year under normal circumstances but only about $9,000 last year as schools were closed for the pandemic in the spring of 2020, Hansen said.
School maintenance workers deliver the food to every school in the district, and some of the students who packed snacks earlier in the school year came in only for volunteering if they were attending school virtually.
"I'm just so thankful for every investment in the program," Hansen said. "A lot of people contribute financially or with their time and it just wouldn't be possible without them."
Hansen is looking at different ways to get more food into the hands of older students during the 2021-22 school year and she expects important changes to the program will be announced later this year.
"We have major issues getting this food to students in 6th through 12th grade, and that's a common theme among other school districts who run programs like ours," Hansen said. "(Older students) feel embarrassed about needing food, and we want to eliminate that feeling for them."
"Ultimately, the students who get fed achieve more in school and it helps them socially, emotionally and academically," Hansen said. "It's really about supporting families, and this is one more thing we can do for them. We want to meet their physical needs first, and then we can worry about the math and the science and the reading. That's why this is so important."
Follow Noah Vernau on Twitter @NoahVernau or contact him at 608-695-4956.