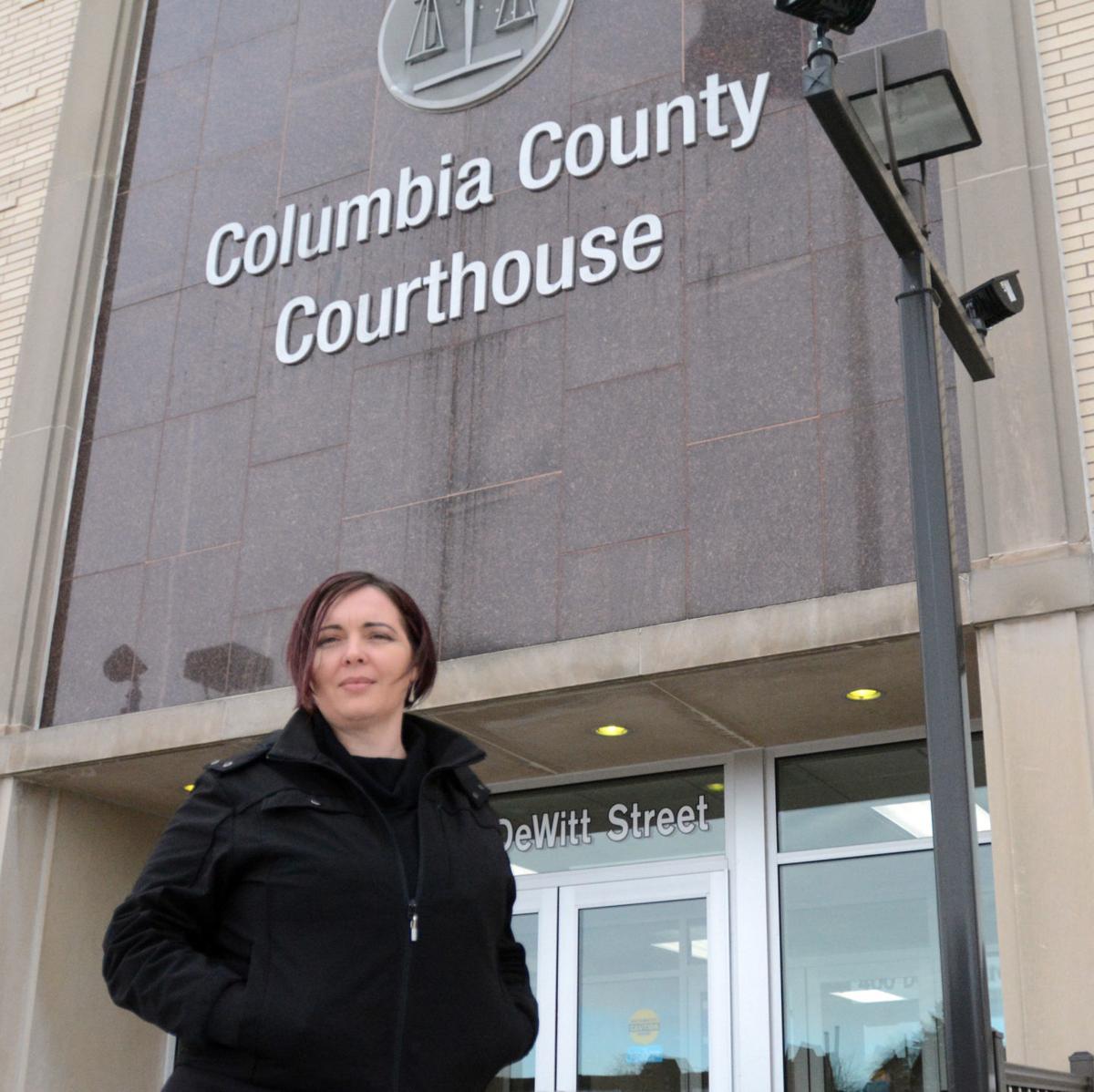 Torah Bontrager can't stop fighting for closure.
She recently said she wouldn't be able to say how it might feel to never receive judicial retribution for the multiple violations she had to experience as an adolescent at the hands of her uncle.
"I won't know that answer until I'm on my deathbed," she said. "I'm not letting this go."
Bontrager was born and raised in a traditional Amish community in Trempealeau County, Wisconsin. As she grew up, she endured emotional and physical abuse brought on by her parents and other relatives. In the mid-90s, when she was 15 and living in southern Michigan, she describes the act of running away as "escaping" as she walked out of her home and down the road to jump in a vehicle driven by Enos Bontrager, an uncle 12 years her senior.
Enos had already left that way of life and become "ex-Amish," the common title given to people who've renounced what Torah refers to as a repressive and religiously extreme society. Enos lived with her grandparents near Kingston in Columbia County and that's where they were headed.
Torah had left as a teen because she wanted to go to high school. Education was freedom in her mind. So, leaving the life she knew with nothing, not even the ability to speak English, she endeavored for a better life.
Despite her hopes, she became the survivor of more abuse. At 16, Torah said Enos raped her repeatedly before she was finally able to yet again escape. Torah left and became fully independent, working to pay rent while taking school courses. She eventually took a diploma equivalency test and passed. Growing up speaking another language made Torah feel like she may never fully grasp the content, she said. Her adviser suggested a college-level English course to fill her time. Torah thought she would never pass it. Instead, she got top grades.
She said college felt like a tangible goal. She graduated with a bachelor's degree from Columbia University. She still lives in New York City.
The abuse of her adolescence led her to found the Amish Heritage Foundation there. Her own version of the underground railroad, but for Amish women and others subject to religious extremist communities that favor abusers and repression, and harm those who have been sexually assaulted or abused in other ways.
It focuses on overturning the 1972 United States Supreme Court case Yoder v. Wisconsin, that dictates that Amish children do not have to continue an education after 8th grade. The parents' religious rights outweighed state mandates for education.
"If the state does not provide and enforce oversight, it enables child abuse, including sexual abuse," Torah said. "And the children don't even know they have rights. This happens a lot in home-schooled environments or other religious groups like ultra-Orthodox Jewish, Jehovah's Witnesses. It's not unique to the Amish. The kids don't know they have rights. I grew up not knowing I was a U.S. citizen."
It took a while to find that focus for the foundation. Torah founded the organization in February 2018 after years of therapy and life-saving medical treatment stemming from feeling disenfranchised in her efforts to hold Enos accountable.
In 2010, Torah approached the Columbia County Sheriff's Office to file a police report against Enos for his alleged actions in 1996, but the trauma caused her to back off. She was assigned a new detective in 2015 who was distracted by a homicide case, and then another detective took it before the report was assigned to another, Det. Sgt. Michael Haverley, just weeks later, she said. Torah remembers speaking with victim services out of the Columbia County District Attorney's Office and exchanging emails with Det. Sgt. Michael Haverley and finding the process dichotomous.
In one set of exchanges, supportive services were telling her they were aware of an impending statute of limitations deadline and "not to worry," that they were waiting on a report from Haverley. In another, she was dealing with a detective who seemed only grudgingly willing to help.
"It was like he hoped I would just go away or forget about it," Torah said.
In March 2016, she received an email from Haverley. He wrote that two prosecutors he spoke with during that time indicated they couldn't issue charges against Enos because of time limits. In a return email, Torah outlines her concerns over the claim, noting that her contacts at the DA's office directly contradict his assertion, that they were still within six years.
Current Columbia County District Attorney Brenda Yaskal was an assistant district attorney at the time. She said Friday that she was the one to decide against prosecuting the case because of statute of limitations for sexual assault. Anyone over 16 only gets six years to pursue charges after the rape occurs, Yaskal said.
In another email, Haverley said he will talk again with prosecutors to provide information to Torah "in the near future" and requests that Torah "wait until our future contact so that you have all of the information we have."
Torah said she's still waiting. No one has spoken to her since then.
"That was just the final nail in the coffin and I couldn't continue advocating for myself," Torah said. "I was at that point, so retraumatized, I was actually going through with suicide."
She said being seemingly dismissed and not provided information she had asked for affected her negatively. Torah had been undergoing therapy, but the effects of sexual violence were constantly undermining her everyday life, the memories continuously running through her mind.
"I couldn't take it anymore," Torah said. "I felt, 'What point is there in living if you're even denied what little justice there might be through the court system?'"
Torah found relief in a doctor who suggested periodic ketamine treatments. The drug is meant to stimulate the synapses of the brain stunted by trauma. It has worked and likely saved her life, Torah said, but she may end up having to use them for the rest of her life.
Without the feelings of hopelessness and effects of post traumatic stress disorder brought on by extreme child abuse, Torah has resumed her fight.
She may not be able to pursue charges for the sexual assault in her teens, but there may be other forms of judicial recourse. Therapy helped her unearth repressed memories of molestation when she was around 5 years old. The perpetrator, she said, was Enos.
Torah filed a police report with the New York Police Department in 2016 or 2017, she said. It was supposed to be transferred to the Trempealeau County Sheriff's Office, where the molestation allegedly took place, but Torah said she hasn't been told anything about the case.
Trempealeau County District Attorney John Sacia said he hasn't received a referral from the sheriff's office. The records department would not confirm or deny the existence of any report by Torah. Sacia would like to review the material if possible, he said, because recent prosecution of a child sexual assault in the 1990s garnered a positive conviction. 
Torah also recently returned to Portage in early February to be present for Enos' court trial. The former Friesland man and business owner was accused by a woman of sexually assaulting her for years beginning in 1994 from when she was 9 until she was 16 or 17 years old.
Through a last-minute deferred prosecution agreement between Enos and Yaskal, he admitted to the acts and was sentenced to 9 months in jail. A felony count of repeated sexual assault of a child, which carries a maximum prison sentence of 40 years, was dismissed as part of the agreement. The other is subject to the conditions of the deal. Torah suspects he will appeal before he has to report to jail, dragging on the court process that began with charges originally filed in September 2016.
Torah expressed concerns over a lack of transparency by Judge Martin J. DeVries. She and her camera crew filming a documentary for the foundation could not gain access to the courtroom when the DeVries scheduled a proceeding in Dodge County for roughly 12 hours after Enos appeared in Columbia County. In talking with the victim and her mother, Torah said they all felt it "was an attempt to keep the case hidden, under the radar." It shows a lack of empathy for the victim in the case too, she said.
"Neither the DA or the judge are interested in keeping the streets safe for children from predators," Torah said. "There's no reason the DA should have even considered that agreement… I cannot think of the words to express how appalled I am."
Follow Bridget on Twitter @cookebridget or contact her at 608-745-3513.
Be the first to know
Get local news delivered to your inbox!