Doug Fearing of Portage and his two new friends traveled to Haiti in February after several days of uncertainty.
The U.S. Embassy in Port-au-Prince, Fearing said, recommended travel to the country "only if absolutely necessary" because of protests and riots, and the three men waited patiently for the green light.
"It was touch and go," Fearing said of the situation that stemmed from accusations of corruption against Haiti's president, Jovenel Moise, which had led to sometimes violent displays of frustration in the nation's capital.
Fearing had already taken several trips to the impoverished country since 2010 on behalf of the nonprofit organization, Schools For Haiti, which provides education for Haitian youth.
He was accustomed to the chaos, but his travel companions had never been to Haiti.
"What really stood out to me on this trip was their commitment to going," Fearing said of Brandon Williams and Xavier McDonald, both of Madison. "We were in a holding pattern for a really long time, and they hung in there."
Williams, a professional speaker, met Fearing in September at a luncheon for "Leading With Power," a Madison organization that aims to help men become leaders in their community. He had starred at wide receiver for the University of Wisconsin football team from 2002-2005 and played two seasons in the National Football League.
"He was such a great speaker at this event, and I found that we shared the same values," Fearing said of why he invited Williams to Haiti.
Fearing and Williams will speak together at the sixth annual Schools for Haiti Fundraising Gala and Silent Auction on April 26 in Middleton.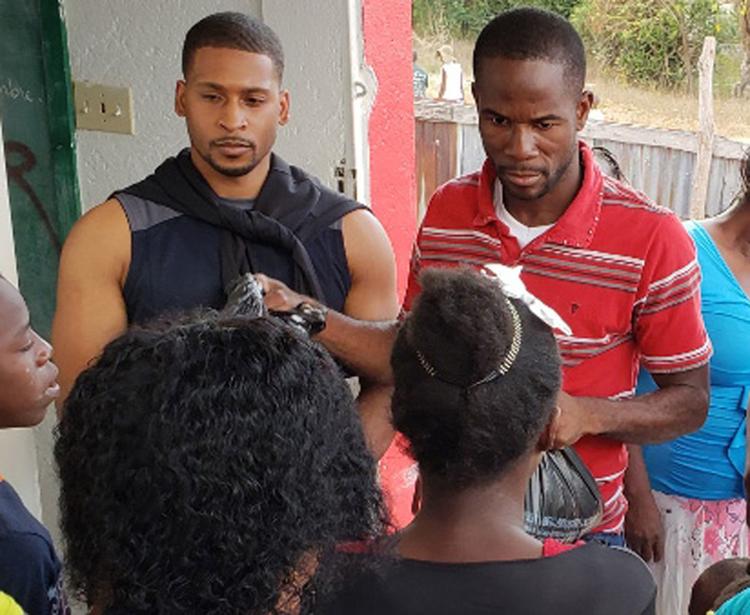 "What stood out to me was just how impoverished the nation of Haiti really is," Williams said of their four days in the Caribbean country. "Seeing the average person trying to figure out what kind of product they'll sell that day, just so they can eat — seeing the lack of electricity and the lack of resources, in general.
"Nothing we go through as Americans can compare to what they go through every single day."
McDonald met Fearing through a mutual acquaintance at work. McDonald works for the telecom brokerage firm On Track Communications in Stoughton. Fearing runs a Madison business, Fearing's Audio Video Security.
"I think the main thing I took away from this trip was the joy people have there with absolutely nothing," McDonald said. "It's eye-opening.
"I thought about how I get up in the winter and remote-start my car because I don't want to be cold on my way to work. It puts things in perspective."
SFH operates schools in and near the city of Montrouis (pronounced "Mo-Wee"), which is about 35 miles north of the capital. Since 2006, the organization has expanded from one teacher with 12 students to more than 1,800 students in 10 schools with 181 total staff members, Fearing said.
In Haiti, the three men visited the schools, an orphanage and distributed food.
When they distributed food, Williams said, they worked immediately with volunteers they'd never met.
"I mean, as soon as we saw each other, we worked together," Williams said. "I could see when people work together for the common good, they achieve things very fast, things that everybody benefits from.
"It's such a beautiful country. For hundreds of years, their infrastructure has been brutalized, and I just think it needs structure to be placed on that world stage.
"I think you have to see what their people go through every day to understand what poverty really is, and to be thankful for what we have here."
For more information about the fundraiser gala, contact Lois Fearing at 608-443-2595 or visit fearings.com.