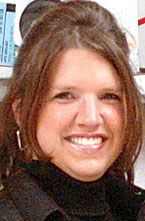 Columbia County's medical examiner said she was asked Tuesday to resign, two months after she was placed on administrative leave, without a written explanation why.
Angela Hinze, who's worked for the county for 15 years, received a letter Nov. 16 that said county board Chairman Vern Gove was placing her on paid leave "effective immediately" — again with no reason — "pending the completion of an investigation conducted by Columbia County Corporation Counsel and Human Resources."
"It's been horrible for me," Hinze said, "because I can't help the people of the county in which I serve right now, in the middle of a pandemic. We've had our highest call volume of my career this year, and I can't help my staff, because I can't have any contact with my staff."
Neither Gove nor Joseph Ruf, the county's corporation counsel and human resources director, have responded to numerous messages from the Daily Register seeking confirmation.
The county's Human Resources Committee met in closed session Friday to discuss the management and organization of the Medical Examiner and Facilities Management departments. It took action in open session following the meeting, said Adam Field, committee chairman and District 5 supervisor, but he declined to say exactly what that action was and referred further questions to Ruf, who has not responded.
"I don't want to get too far into that, because legally we're restricted and I don't want to say anything I'm not supposed to about employees," Field said, later adding, "The committee directed the HR director, Mr. Ruf, to proceed as discussed in closed session."
The Medical Examiner's office has to be able to respond to calls 24/7, Hinze said. Duties include conducting scene investigations, conducting examinations prior to cremation to ensure evidence isn't destroyed, assisting with tissue donations and calling families to console or notify them of lab or autopsy reports. Autopsies, which require a forensic pathologist, are conducted by the Dane County Medical Examiner's office but Columbia County staff have to transport the body and be present during the examination, she added.
Before she was put on leave, the office had received about 615 calls, over 100 more than a typical year due to the coronavirus pandemic, Hinze said. Thirty-three Columbia County residents have died from COVID-19 since March and at least six more residents who were probable COVID-19 cases have died, according to the county Health and Human Services Department.
Hinze used to be on call 12 hours a day, six days a week. Without her, she said the office is left with one full-time and three part-time workers.
"I feel bad for my staff. I feel bad for the people that are losing family members that I can't reach out and communicate to," she said. "I mean, that's the hard part of it as a medical professional. It sickens me that I can't be there to help."
Katelyn Schara, former chief deputy of the office, identified herself as acting medical examiner Wednesday. When asked to confirm if Hinze was on leave, Schara said, "I guess I can't confirm or deny. All I can say is that she's unavailable at this time, and if you have any other questions, you'll have to ask corporation counsel."
Hinze is also supposed to serve on the state's Missing and Murdered Indigenous Women Task Force, but the contact information she needs is out of reach on her former work computer, as are documents she kept for community groups on suicide and drug overdose. She said she had to turn in all of her county property Nov. 16 and has not been allowed to contact any current or former staff from the examiner's office, nor any staff involved in the investigation.
On Tuesday, the county asked her to resign, offering a severance package for which she doesn't yet have the details. It would typically include a payout for unused benefits, she said. Hinze is now waiting for the county to provide a reason in writing.
Prior to being put on leave, Hinze said no one informed her about any issues with her job performance and that her performance evaluations, conducted by the corporation counsel, were always positive.
Hinze said she's spent 32 years as a nurse. Being put on administrative leave has harmed her career and reputation, she said, noting that false rumors have been spread about her.
"All I know is how to help people, and this right now in the middle of a COVID pandemic where it's stressful enough and there's uncertainty that people have, I'm — I'm so heartbroken," Hinze said. "I'm heartbroken."
Portage area views of the pandemic in 2020
Gov. Tony Evers ordered Wisconsinites to stay in their homes starting the week of March 25, 2020, to fend off the coronavirus outbreak that is ravaging populations worldwide. Businesses deemed non-essential closed and schools turned to virtual instruction. The following photo galleries reflect back on the changes that took place in Columbia County and the surrounding area last year.
Fave 5: Reporter Susan Endres shares her top stories of 2020
We reporters at Capital Newspapers have been asked to share our five favorite, most memorable or otherwise noteworthy stories from 2020, a year I think many of us would prefer to forget. As tempting as it was to choose only stories from the before (COVID) times, I compiled a list spanning the year that ranges from education in Baraboo and Portage to the local impacts of the coronavirus pandemic. This year has been nothing if not historic.
And yes, of course I chose more than five. I wouldn't be Susan Endres if I was decisive. 
We've seen dramatic changes to our daily lives, but through it all, we continue to report on the important happenings in our community and hold the powerful to account.
Here's hoping for a better 2021.
Follow Susan Endres on Twitter @EndresSusan or call her at 745-3506.