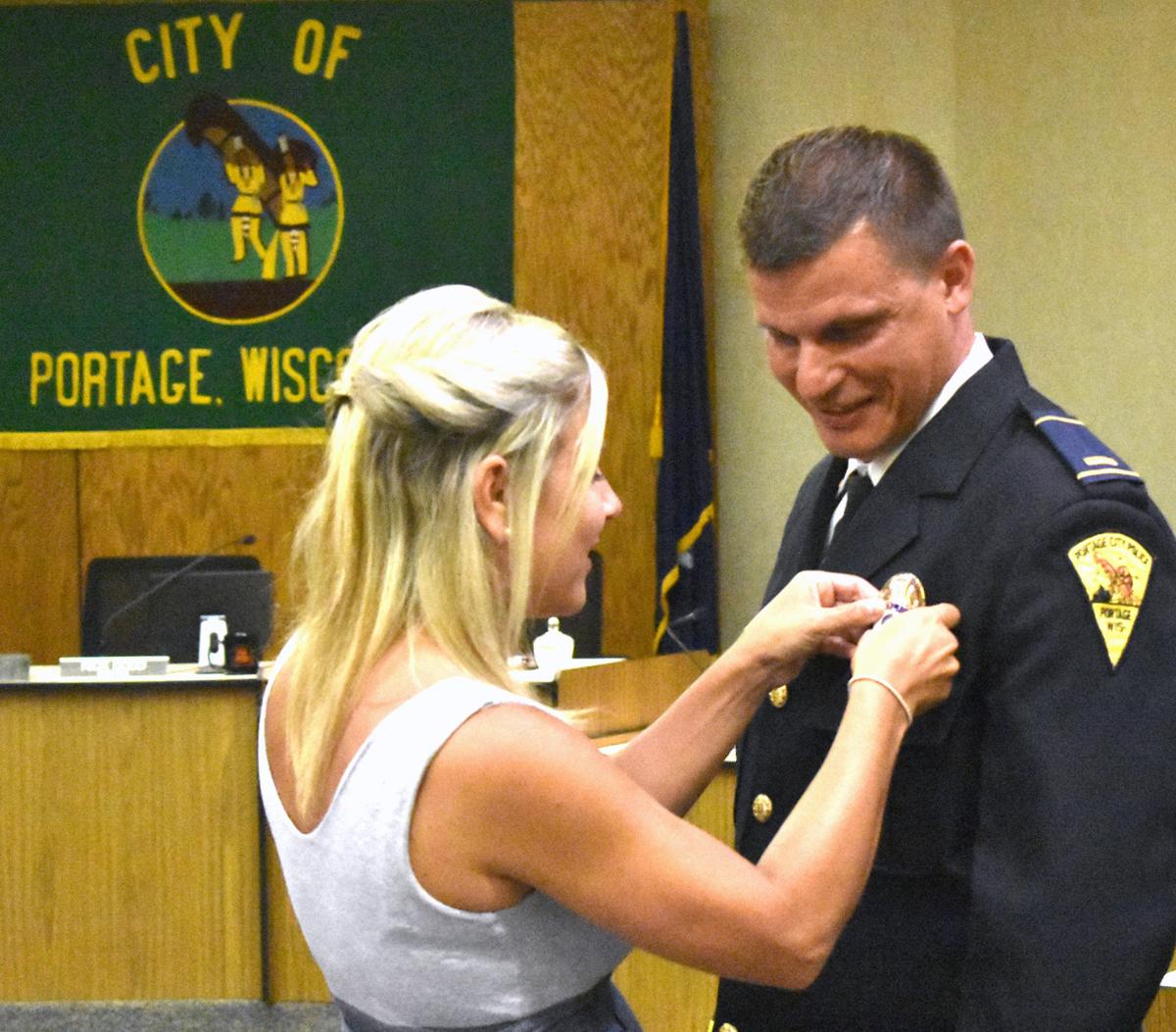 When Portage's next Police Chief Keith Klafke started with the department as an officer, it was less than a week after 9/11.
"I was kind of coming in at a very vulnerable time," Klafke said, recalling a push to respond to concerns over anthrax, something United States citizens would worry over for years after the terrorist attacks.
Still, amid the chaos he took hold of a job opportunity and as he rose through the ranks, law enforcement became a piece of his life.
"I don't think you choose it, I think it chooses you," Klafke said. "It's a calling."
Feeling a calling in a way, when set up to do a second interview at another department, Klafke dropped out of candidacy to be able to interview in Portage. He recalls the interviewers noted they were looking for a new officer who would become invested in the city.
"I said, 'If you hire me, I won't go anywhere,'" Klafke said. "And I've been true to my word."
In January 2005, he was promoted to patrol sergeant, overseeing officers by discussing tactics and taking on more internal department responsibility. For years, he worked shifts late in the day and overnight. In fall of 2014, he was promoted again, this time to administrative lieutenant. As a part of the administration, his work became even more internal, focusing on budget items and the day-to-day operations. Klafke said it's essentially identical to his current position, which he gained in August 2018, as assistant chief.
But soon that will change. Barring an issue with a conditional offer put forward by the city, Klafke will become the city's new police chief Feb. 1, replacing outgoing Ken Manthey, who has served the city for more than 40 years in law enforcement and 18 years as the police chief.
He was announced as the next chief by the city on behalf of the Police & Fire Commission and Mayor Rick Dodd in a release Wednesday. The commission unanimously agreed to extend an offer to Klafke, who accepted. City Administrator Shawn Murphy said the decision has to be finalized in a meeting Nov. 19 by the commission. Portage Common Council members will set the pay and benefits for the position during a subsequent meeting.
There were three finalists for the job. Klafke, Allen Jones of Champaign County, Illinois, who was retired from the sheriff's office there, and current Portage Detective Lt. Dan Garrigan.
Though they were competing for a position, it wasn't a campaign that involved criticizing someone else, Garrigan said. The process simply meant both presented their best outline for the future.
"Although he pitched his plan and I pitched my plan, it's certainly no secret... we're on the same team," Garrigan said.
You have free articles remaining.
The pair had held a number of conversations before the finalization of the process, "feeling confident" one of them would be chosen as the next chief, and discussed the future, he said.
Referring to sports, Garrigan said "though every team has to have a coach or a quarterback," members of the department need to rely on each other as teammates of sorts.
"I'm confident and comfortable in the fact knowing that I'm part of the command staff here and we're going to work together," he said. "There's nobody in law enforcement who's going to do anything alone, and if you feel you could you might want to think about a different profession, because we have to work together."
Admittedly disappointed, Garrigan said that hardly meant he wouldn't be a professional, regardless of the outcome. The pair even had similar outlooks in their speeches to the public as finalist candidates, noting community trust was most important for the future.
"We're on the same page," Garrigan said.
The goal is to build upon a four-decade legacy built by current Portage Police Chief Ken Manthey, but Klafke said he wants to enhance the department in his own way. Internal efficiency is high on the list of priorities.
With a vision statement that reads, "To enhance our competency and confidence therefore strengthening our morale and trust with our community," Klafke said the goal is to ensure trust by residents in his department. Consistency equals trust, he added.
He also said confidence leads to better decision making.
"The only way to be competent is to be confident," Klafke said. "Those two go hand in hand."
And with an even better department, they can recruit effective personnel looking to stay with the department as he has. Currently at full force in their staff, Klafke said he would even welcome one or two new officers to better become more involved in city civic organizations and to provide more than basic drug enforcement avenues.
"I want our officers to build their own legacy," Klafke said. "It's not about the chief and his legacy, it's 'I want you guys to have your legacy and be a part of the community.' That's what I want to see."
More involvement not only means a higher trust level among community members, but for Klafke, visibility by members of the department helps ensure those officers feel they are making a difference.
"We're not just here to enforce laws," Klafke said. "We're here to partner with our community to come up with different ideas for quality of life. What better way can you be involved in the community but through law enforcement?"
Get Government & Politics updates in your inbox!
Stay up-to-date on the latest in local and national government and political topics with our newsletter.