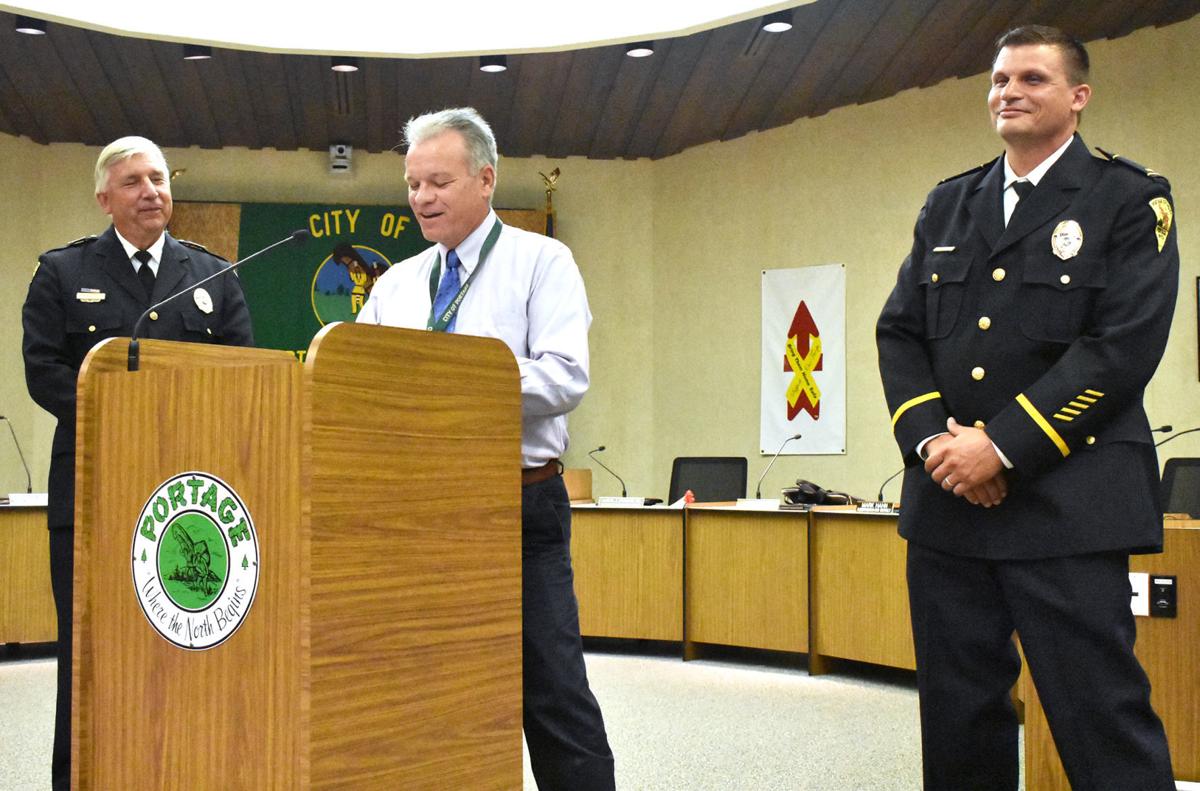 In a statement released late Wednesday, the Portage Police & Fire Commission announced it has chosen its next police chief.
Assistant Chief Keith Klafke will be the successor to current Portage Police Chief Ken Manthey, who has served in the role since 2002.
Mayor Rick Dodd said he had some involvement in the process as a member of the public who interviewed the final three candidates: Klafke, Detective Lt. Dan Garrigan and retired Champaign County (Illinois) Sheriff's Office Chief Deputy Allen Jones. But Klafke was the one who stood out, Dodd said.
"Any three of them would have made a good chief, but Klafke was the best interview," Dodd said. "Not by much, but he was."
The announcement followed a meeting Tuesday by the PFC, which called for a closed session to review applicants. President Tom Drury had said the group planned to review feedback from the public and other groups that had already interviewed the finalists.
You have free articles remaining.
Nowhere on the agenda did it indicate the commission members would return to open session or make a decision during the meeting Wednesday.
According to the Wisconsin Department of Justice Open Meetings Compliance Guide, a vote cannot be taken in closed session unless it compromises the reason for the closed session. A vote has to be recorded, per the law, in a way that the public will have knowledge of the ballot, which cannot be done in closed session due to the secrecy of the notes taken during such a session.
Pat Hartley, who serves on the PFC, said he was present for the closed session meeting Tuesday. After a unanimous vote of all five members to recommend Klafke to the Portage Common Council, Hartley said the group adjourned while still in closed session.
Council members authorize the pay and benefits for the position during their own subsequent meeting, Dodd said.
Klafke has been a member of the Portage Police Department since 2001, where he began as an officer. He also served as sergeant and administrative lieutenant before being promoted to assistant chief in 2018.
The statement noted Klafke was chosen from a group of "qualified" candidates, with "a clear vision for the future" by building upon Manthey's years at the helm. He is also "strongly committed" to community-based police work and the department itself, the announcement reads.
Manthey will retire Jan. 30. City Administrator Shawn Murphy had said the amount of overlap will allow for training under the chief. Klafke will take over the position the day after Manthey steps down.