An effort to rewrite Columbia County zoning codes related to pipeline installation stalled Tuesday.
Following an outpouring of opposition to the proposal from residents who showed up to the county committee meeting, Committee member Kevin Kessler of Lodi recommended the matter be postponed until next month, after a new County Board has been installed.
Newly retired Planning and Zoning Director John Bluemke said the portion of the county's zoning code dealing with pipelines as written is overly broad and difficult to enforce.
"And in addition to that, pipelines are regulated by the state and the feds, and it would be very difficult to regulate them with this current language," he said.
The Wisconsin Legislature passed Act 67 in 2017 limiting how conditional use permits can be used by local governments.
"It might be worth noting that the Legislature has essentially given (those) locating these pipelines the right of eminent domain, which is a substantial power over which we have no control," said Zoning Committee Chairman Fred Teitgen of Poynette.
In 2017, Canadian-based Enbridge Energy increased the capacity of Line 61, which runs from Superior through Columbia County en route to Pontiac, Illinois. The pipeline moves between 930,000 and 1.2 million barrels per day.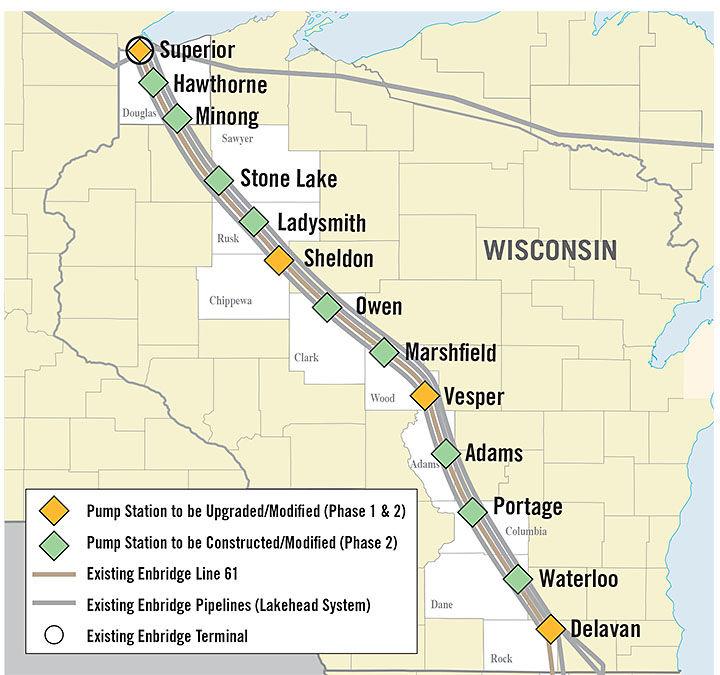 About a dozen people showed up for the meeting Tuesday and none of them spoke in support of the zoning changes.
Hands shot up when Teitgen opened the floor to statements opposed to the changes.
"I am not an expert in the legalese of this, but it strikes me that many of these amendments seem to take away local control," said biology teacher Arlene Kanno of Newport. "It is very important for the future of Wisconsin to not set the precedent to take away local control, especially when the environment is concerned like with the pipelines."
Kanno emphasized the scale of the pipelines and the frequency of accidents in which oil leaks into water and soil in Wisconsin, Michigan and North Dakota.
"The government is supposed to represent the people, and I suppose that is a very old-fashioned idea," Kanno said. "As someone who understands the environment, I am appalled that huge corporations are given free reign and eminent domain and the citizens have to roll over."
Enbridge says it has no plans for new development in the Wisconsin corridor.
"We do not have plans for expansion in the Wisconsin corridor, although there are rumors going around about it," Enbridge spokeswoman Becky Haase said Wednesday.
Several speakers who have pipelines running through their land said that although Columbia County has not been the site of any spills, they have seen pipes "weeping," described as an Enbridge term, though Haase said it is not something coined by the company.
"I think that would refer to an undetected leak," Haase said. "But our control center is able to detect a leak and dispatch a local team in minutes and shut down the pipeline at the same time."
After about a half-hour of statements from county residents, Michelle Arnold of Rio said, "You guys are supposed to represent us, so we understand that the wording may be outdated and so on and so forth, but I also agree that maybe we should have different amendments that are geared toward the pipelines."
Arnold suggested the county retain conditional use permits and not just rely on the state to regulate pipelines.
Several speakers highlighted how the change could benefit a foreign company — Enbridge — as opposed to local residents. Personal property rights was a concern echoed among participants, with one woman asking how the necessity of personal liberty can insist on the right to own an assault rifle, but not protect someone's land from being taken by a corporation for private use.
"I'm very moved and we all have received a lot of calls and letters," said committee member Susanna Bradley of Portage.
Committee member John Stevenson of Poynette joined Bradley and Kessler overcoming the objections of Teitgen and Harlan Baumgartner of Rio in voting to postpone the changes as recommended by Kessler.