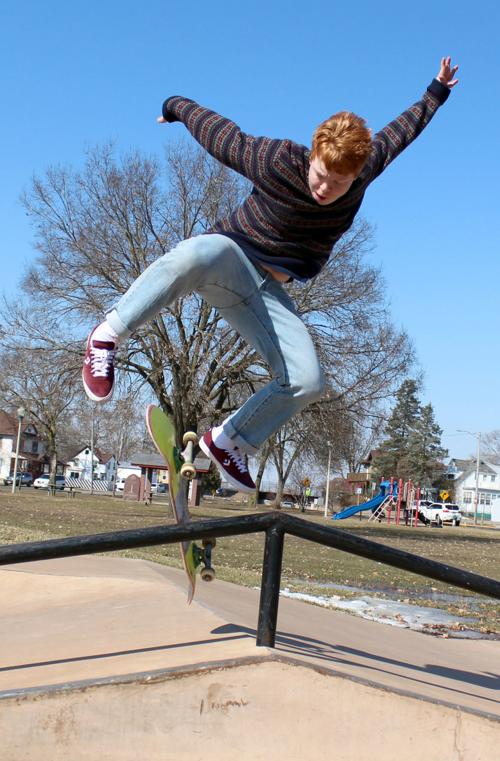 Portage Common Council members have decided that Phase II of the Portage Family Skate Park, a project four years in the making, can move forward through a memorandum of agreement.
Mike Charles, who also serves on the city's Parks and Recreation Board that recommended the city accept the memo, commended the fundraising effort. Charles moved for its approval Thursday.
"I'd really like to compliment Kyle and his group on what they've done to raise that huge amount of money in a relatively short amount of time," Charles said. "It just really shows their dedication."
Portage Skate Park President Kyle Little said the group plans to start building in August and end in September, noting a similar timeline to the construction of Phase I. After recent global and national events, in the midst of a pandemic, the city needs a positive change in 2020, Little said.
"It's exciting news because of everything that's going on," Little said. "The skate park is something, it kind of solves a lot of issues. You get this extra space, it solves the social distancing problem. It may invite more people in, but the added space creates more distance, creates more learning. It also allows us to celebrate something and I think that's a big thing right now."
The skate park, currently in its Phase I structure, was built to span 4,178 square feet in 2016 by Grindline Skateparks Inc. of Seattle. The design and construction firm planned the outline for each of the park's planned three phases.
Phase II of the park is an addition spanning nearly 3,000 square feet at an estimated cost of $165,000. The group is about $3,000 away from raising an additional $10,000 as contingency funding for the project, Little said. He said the cost will likely be less than the estimate.
"I've done more than enough to be able to get donations of materials and stuff like that to drive that price down," Little said.
The MOA outlines the process for the city to approve the park while the Portage Family Skate Park board arranges its design, construction and full funding. The city agrees to accept it as "a public improvement" as each side meets responsibilities outlined in the memo.
"I hope to bring something that is going to be very exciting, the first of its kind, and something the city is going to be proud of for years to come," Little said.
Though the goal is to finish in September, the MOA notes the work could continue through the end of October if needed.
People have said they are glad to invest in something that will exist for decades, Little said, which has prompted donors to memorialize others through bricks to be laid at the park.
The skate park group is finishing up fundraising for its contingency funding and accepting donations for commemorative bricks through forms that can be downloaded from the Portage Family Skate Park website. They have to be submitted via mail to Portage United Methodist Church, 1804 New Pinery Road, by July 1.
Follow Bridget on Twitter @cookebridget or contact her at 608-745-3513.
Get Government & Politics updates in your inbox!
Stay up-to-date on the latest in local and national government and political topics with our newsletter.