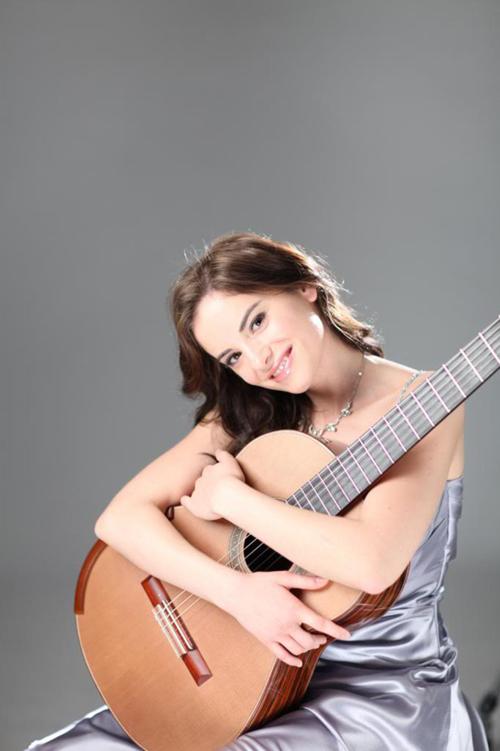 When she's at home and looking to relax, Ana Vidovic plugs in her electric guitar and gets a glimpse of the other side of music.
For a classical guitarist, this is a step into rock, the blues, whatever she wants to explore at that moment.
"I love the electric guitar; it's a lot of fun, very different than classical. Very challenging to me," she said.
Since growing up in her home country of Croatia, Vidovic has made the acoustic guitar part of her life, and music is a big part of her family.
Her father played electric guitar, and her older brother Viktor took the reins and became an inspiration for Vidovic's playing.
By age 7 she was performing locally, by age 11 she was performing internationally. And she was the youngest, at age 13, to get into the Academy of Music in Croatia.
"As a little girl I would watch (my brother) practice. And I loved the sound of the guitar. It was very soothing," she said.
For the last dozen years, Vidovic has made the United States her home, traveling to shows across the country and performing solo and with orchestras. She appeared with the Wisconsin Chamber Orchestra last season for one of their most popular shows of the year.
On Saturday, she will open the Lively Arts Series at the Al. Ringling Theatre for a 7:30 p.m. show.
This Lively Arts Season will include folk singer John McCutcheon, the Wisconsin Chamber Orchestra, Missoula Children's Theatre's "Aladdin," Tonic Sol Fa, and comedian Paula Poundstone.
Vidovic says playing guitar at an early age allows one to grow with the instrument.
While her father played for many years, he stopped for awhile to help support the family. But that passion was passed on to his children.
"Music was always his passion. He would (play) in his spare time," she said. Vidovic also learned to play piano.
Playing the guitar is somewhat of a profession dominated by men, but Vidovic said growing up in Croatia that was not the case.
"I see a lot of changes in the last couple of years (here in the States). There are more women playing guitar."
She has toured the world performing -- from Rome and London to New York and Paris.
"I love being on stage. That's my favorite thing to do. When all the hard work and hours of practice pay off," she said.
Seeing how appreciative the audience is can be one of the best feelings, she said.
While she tours solo much of the time, Vidovic changes the pace by performing with an orchestra as a special guest.
"You have a lot of musicians behind you. I love that feeling -- all this music and sound coming from behind me."
Here's a look at this year's Lively Arts Season:
John McCutcheon has emerged as one of America's most respected and loved folksingers. He is a master of a dozen different traditional instruments and his songwriting has been hailed by critics and singers around the globe.
$28 for adults, $24 for students and seniors and $10 for youth.
Wisconsin Chamber Orchestra
Celebrate the holidays with the classical favorite, "Handel's Messiah," with the Wisconsin Chamber Orchestra led by Maestro Andrew Sewell and Chorus. Soloists: Sarah Lawrence, soprano; Emily Lodine, alto; James Doing, tenor; Peter Van De Graaff, bass. Chorus: WCO Chorus, UW Madrigal Singers, Festival Choir of Madison.
$28 for adults, students and seniors and $10 for youth.
The Missoula Children's Theatre residency brings more than 50 local children of all ages together with two trained tour directors to produce a full stage production in just one week. All kids are welcome to audition.
Cost: $8 for adults, and $6 for seniors, students and youth.
Although they are simply four voices and a tambourine, regional favorites Tonic Sol Fa has spent the past decade on the road carving their niche as a top vocal group. In that time, this quartet has been named one of the top five "must see" groups in America.
$28 for adults, $24 for students and seniors and $15 for youth.
Thirty-two years ago Paula Poundstone climbed on a Greyhound bus and traveled across the country -- stopping at open mic nights at comedy clubs as she went. A high school drop-out, she went on to become one of the great humorists of our time. You can hear her as a regular panelist on NPR's popular weekly news quiz show "Wait Wait...Don't Tell Me!"
"No two shows I do are the same. It's not that I don't repeat material. I do. My shows, when they're good, and I like to think they often are, are like a cocktail party. When you first get there, you talk about how badly you got lost and how hard it was to find parking. Then you tell a story about your kids or what you just saw on the news. You meet some new people and ask them about themselves. Then, someone says, 'Tell that story you used to tell,' and then someone on the other side of the room spills a drink, and you mock them. No one ever applauds me when I leave a party, though. I think they high five," Poundstone said.
Be the first to know
Get local news delivered to your inbox!