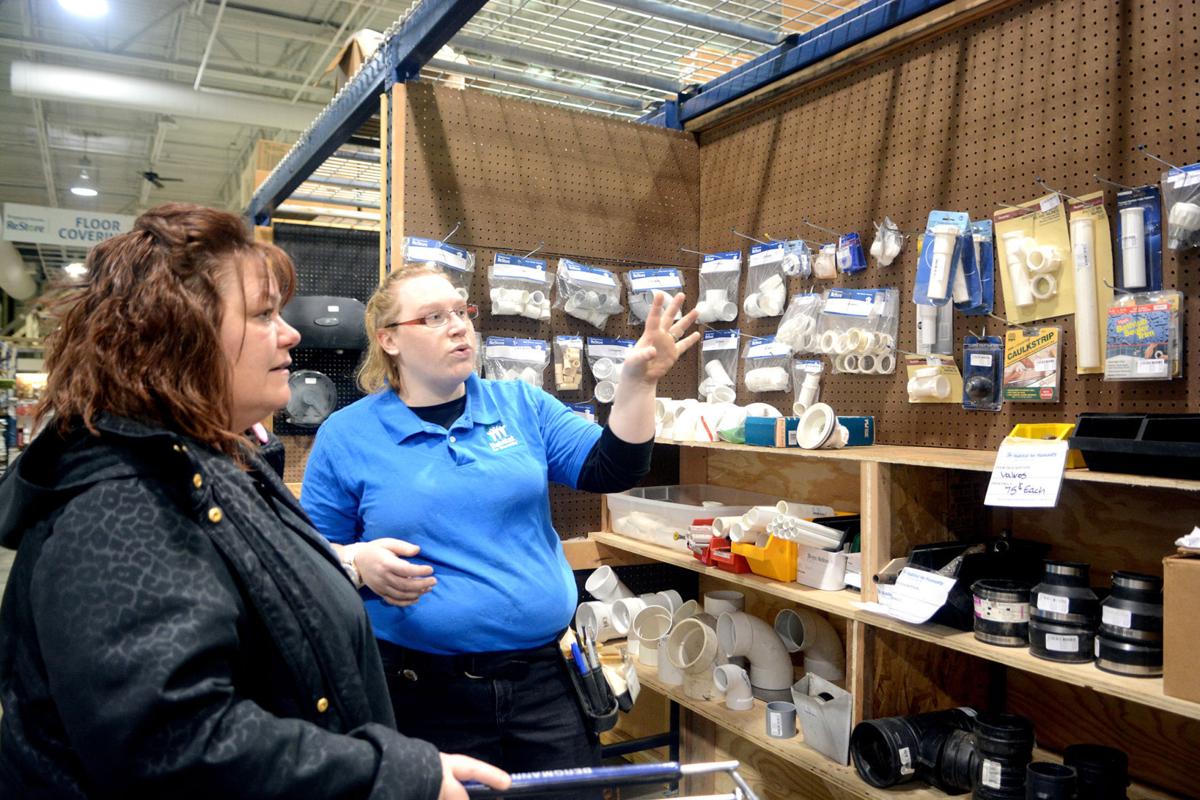 Habitat for Humanity of Wisconsin River Area is hoping to build a home in Portage this year — but so far it doesn't have any qualified applicants.
The organization is advertising for builds in Portage and Lake Delton, setting March 24 as its prequalification deadline for interested applicants. HFHWRA builds one Habitat-financed house a year, serving Columbia, Sauk and Iowa counties. Habitat typically begins building in June or July.
"It's very sad: we get a lot of interest, but it's people who aren't ready for a mortgage loan yet," said the local organization's executive director, Eleanor Chiquoine. "Something I've concluded is people think of Habitat as a charity, and they think the houses are free. They're not. The people have to help build them, buy them and pay us back: it's a very affordable mortgage, usually a very good deal, but they're not free."
During a build a single parent needs to put in 250 hours of "sweat equity," and two adults need to put in 500 hours. Total mortgage depends on the size of the home, but the cost is typically $650 to $900 a month "for everything" and generally runs between 20 and 30 years, Chiquoine said.
Interested applicants should visit hfhwisconsinriver.org and select the "Apply for Housing" tab, or call 608-448-2888 to set up an appointment.
Habitat assesses applicants' understanding of the program, their ability and willingness to pay, their debt-to-income ratio and it eliminates applicants who have had a bankruptcy or foreclosure in the past three years, Chiquoine said.
"We look for the same things banks look for, but we're not as strict. We don't have quite as rigid of standards set in our underwriting of these loans," she said.
ReStore boosts local interest
Habitat's opening of a ReStore in Portage in July, Chiquoine said, has naturally led to more questions about local builds. "There is more curiosity," Chiquoine said of Portage. "The ReStore shoppers sometimes want to help on a build."
Profits from Habitat ReStores go to housing. The ReStore in Portage — the second for HFHWRA after opening one in Baraboo in 2011 — has been "really well-received by the public and has met its budget expectations, HFHWRA ReStore Director Tim Schulenberg said, though the store is still working to "get the word out that we're here."
Abby Hermanson, the Portage ReStore manager, noted on the sales floor Tuesday that traffic at the ReStore has been growing. "Furniture is our number-one seller," she said just before helping Westfield resident Kris Irwin, who was shopping for heating ducts. Their conversation later shifted to plumbing supplies.
"You never know what you're going to find here," Irwin said.
"I always tell people, and it sounds corny, but ReStore brings dreams alive," Schulenberg said. "We can really bring a project together; we have supplies for tiling, we do furniture, housewares — you name it and we have it all."
A long-term goal for the new ReStore, he added, is to eventually bring in enough money to support, entirely, one Habitat building project per year.
5 Portage homes
HFHWRA has built more than 50 homes in 30 years. The organization has built five homes in Portage over about 20 years, but it hasn't built there since building for families in 2009, 2010 and 2011 in the city's First Ward. Elsewhere in Columbia County, Habitat also built in Wyocena in 2012 and in Rio in 2013.
"We've been building more in Sauk County (lately)," Chiquoine explained. "We've wanted to build in Portage because we know it's been since 2011." In addition to the one Habitat-financed home built per year, she added, Habitat assists in building about five homes a year through the U.S. Department of Agriculture's Self-Help Housing program. Habitat through the USDA program is currently assisting five home builds in Baraboo.
USDA-financed homes are bigger, taking about a year to build, and require adults to put in 750 hours of sweat equity, she said. Habitat-financed homes, meanwhile, take about six months to build.
Right now Habitat does not have a piece of property to build on in Portage but "has a line on one" and might instead perform a gut/rehabilitation of an existing home moved to a new lot, Chiquoine said. Habitat already has a site to build on in Lake Delton.
"I hope anyone who feels like there's a chance (they'd qualify)," Schulenberg said, "that they call and apply. It really is a fantastic program."
'Not charity'
Habitat and the USDA program, Chiquoine stressed, "are not a handout."
"They're not charity," she said. "We get a lot of people who apply, and that's what they think, that they're going to hit the lottery and solve their housing issues. That's not what this is.
"This is for people moving toward qualifying for a conventional mortgage, because we look at debt-to-income ratio and how well they pay their bills.
"So what this program does is, it's a way for them to get into a home quicker, because they don't have to save up for a down payment and they get more house for their money because so much of the price (otherwise) is labor."
Volunteers wanted
Habitat and its ReStores are always looking for volunteers, Chiquoine said. "If you like resale and reused (items) you will love volunteering (at a ReStore). And they do get a discount."
Volunteering at a ReStore offers a "never-ending parade of interesting things" that come in, Chiquoine said. "Every day's different." Volunteers can help in marketing, on the floor, in picking up items and repairing and re-purposing items, among other activities.
Follow Noah Vernau on Twitter @NoahVernau
Be the first to know
Get local news delivered to your inbox!