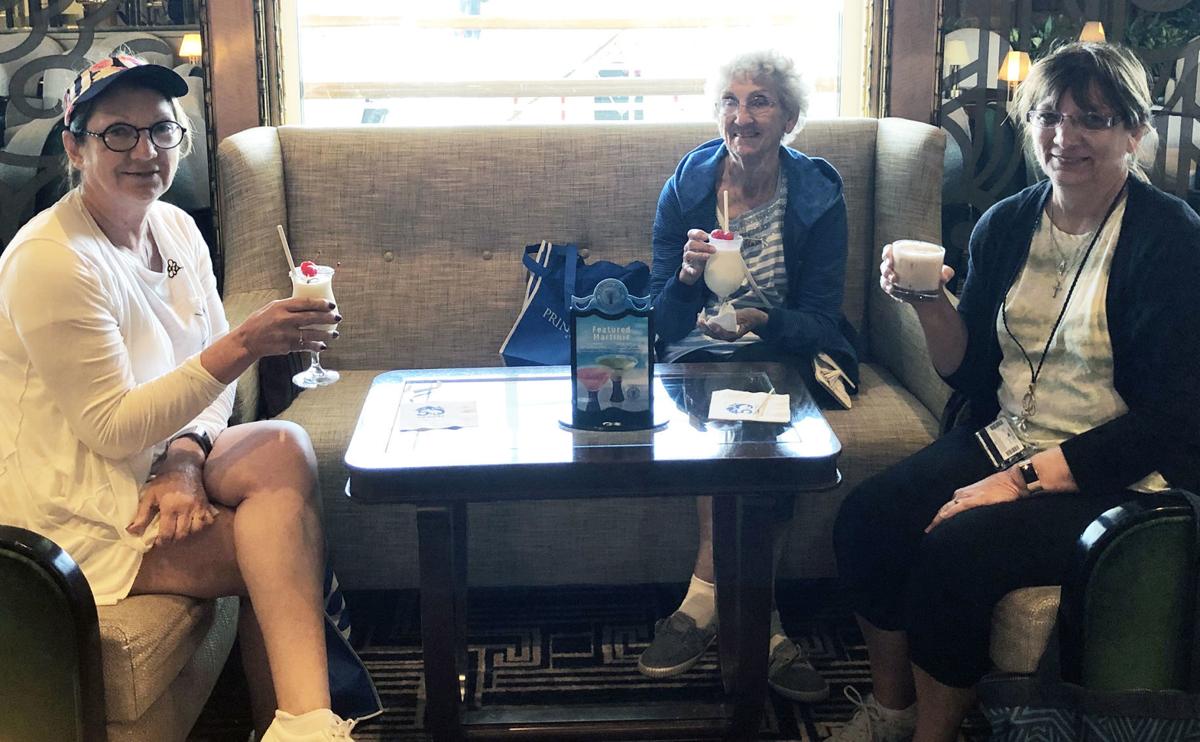 Bonnie Michels, 68, and her mother Norma Sieg, 88, returned to their homes Sunday in Portage following a lengthy ordeal with a quarantined cruise ship.
"I have to admit it was not a pleasant experience," Michels said Friday, "but I also feel like I shouldn't complain because there are worse situations than ours. People are dying and we're so lucky and grateful that none of my family are sick."
Michels and 12 members of her family had been aboard the Grand Princess cruise ship that was quarantined on the coast of California due to a COVID-19 outbreak among 21 crew and passengers. The ship docked in a port in Oakland on March 9, where passengers and crew members who needed immediate medical attention were unloaded, according to the Associated Press.
Michels and her sister, Sandy St. Onge, from Montello, and their mother, Sieg, were confined to their shared room on the cruise ship for about a week. They finally disembarked in Oakland on March 12 and were then flown to Dobbins Air Reserve Base in Georgia, along with four other members of their family from Montello.
The other six family members had already been taken to Miramar Military Base in San Diego. Two of them have since returned home to Seattle, Michels said, and she believed the remaining four would be traveling home Friday morning to their homes in Endeavor and Augusta in Wisconsin.
"No one offered us a test (for the virus)," Michels said of the quarantine in Georgia. "We were never given the opportunity to get a test. They just took our temperatures."
"In the beginning, we wanted to be tested because it was scary and we thought we would get tested anyway, but nothing ever happened."
Nobody from Michels' family has yet shown any symptoms of the disease and upon their returns home they started new, 14-day self-quarantines, Michels said. "We take our temperatures twice a day and (Columbia County) calls us once a day to check up on us."
In Georgia, Michels and her family were taken to rooms without toilet paper or soap. The family informed personnel of this situation and right away received toilet paper but had to wait "a day or two" for soap. Her family could go outside and walk around for fresh air on a sidewalk and in a parking lot while wearing protective masks.
"They were not prepared for us," Michels said. "We had been told for weeks to wash our hands but we had no soap?"
"Why did some of us go to San Diego? Why send us to Georgia? Why split up our family?" Michels said. "Why are (the four in San Diego) not home yet, even though they were first to leave?"
On Sunday, Michels and her family were flown to Volk Field Air National Guard Base in Juneau County where Wisconsin National Guard members then drove them to their homes by van.
"They were all so kind to us, so helpful and so caring," Michels said of the cruise crew, cruise captain, the military personnel and the volunteers who were set up at the military bases. "I just hope that next time our government is more prepared. I don't know who was in charge."
Michels is native to Augusta in Eau Claire County and has four children. She moved to Portage in 2018 and her mother had just moved next door to Michels about a week before they left for the cruise.
"I'm awful glad to be home," Sieg said of the experience. "It was a long ordeal and I'm just glad to be home. I'm looking forward to getting our flowers (in the spring) and enjoying our home."
Michels said that much of her anxiety during the quarantine on the ship had to do with her mother being considered the most at risk for contracting COVID-19, due to her age.
"But she's pretty feisty," Michels said. "She's probably healthier than any of us. She stayed calm. … We all had our moments of breaking down and crying and being angry, but she's probably the calmest one."
Nothing about the experience will stop Michels from cruising, she said. She plans to cruise the eastern Caribbean with her family in May 2021 and will eventually take advantage of a free cruise offered to the passengers of the quarantined Grand Princess cruise ship.
"I hope this ends well and ends soon and that our lives can go back to normal," Michels said. "That's what we want: normalcy. And I hope we get that again."
Follow Noah Vernau on Twitter @NoahVernau or contact him at 608-695-4956.
Concerned about COVID-19?
Sign up now to get the most recent coronavirus headlines and other important local and national news sent to your email inbox daily.