At her new store in downtown Portage, Becky Jo Merwin welcomes all questions and conversations about alternative medicine.
She sells organic healing products, provides services in aroma therapy, Shaman healing and more at a time in the U.S. when alternative medicine is seemingly everywhere — from the shelves of small businesses to the retail giants like Walmart.
Information is her top priority.
"I want to help people understand what they're putting into their bodies," Merwin said of her business Wholeistic Healing, which she started in 2012 out of her Pardeeville home.
She opened in her new space Wednesday on East Cook Street, about three years after the alternative medicine "explosion" started in the U.S., she said.
"I just started getting busier and busier and then by the end of 2018, I reached a point where I couldn't do this out of my home," Merwin said.
Today, Merwin has hundreds of clients she'll serve in a space that's five times bigger than what she used at home, she said. Only about 40 percent of her clients are local and she often travels with her products across the U.S. to various trade shows.
Handmade products
Merwin grows herbs and plants organically in her garden, harvests them and makes them into medicines in the form of cheeses and body care products, she said. She also distills her own essential oils.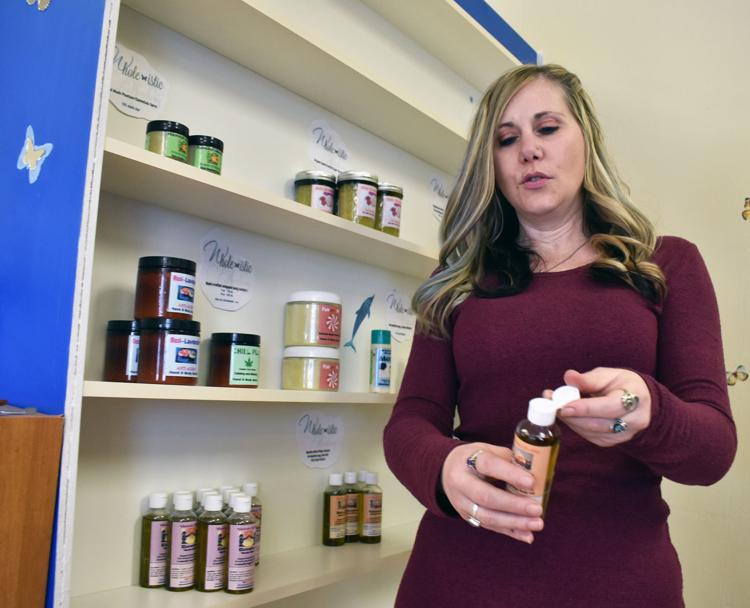 "Pretty much everything I sell is handmade and from my garden," Merwin said. "You can't get any closer to nature than that. There are no chemicals."
She told the attendees of her Portage Area Chamber of Commerce ribbon-cutting ceremony Wednesday that herbs really work only when they're fresh. The problem with many products, Merwin said, is they sit in warehouses for long periods of time and lose their properties.
You have free articles remaining.
Keep reading for FREE!
Enjoy more articles by signing up or logging in. No credit card required.
Wholelistic Healing joins the recently opened alternative medicine store Wildflower Wellness located on West Cook Street, said Marianne Hanson, the Chamber's executive director.
In the next month or two, Bee Alive Yoga is expected to open on West Wisconsin Street.
"I think these businesses are great for Portage," Hanson said of the health-and-wellness trend happening downtown. "Not everything works for everyone (in medicine), and I think it's great to give people options."
About 10 years ago, Merwin said she battled with conditions of fibromyalgia and a degenerative disk disease, which led her down the path of alternative medicine.
"I'm not cured, but the conditions are manageable now," she said. "I used to walk with a cane, but now I don't even know where it is."
Merwin dubbed the various treatments that worked for her as "puzzle pieces," because she understands everybody's personal situation is different.
She described the Shaman healing techniques she provides to her clients as a means to "clear their energy and help them relax — to work through the emotional issues they might be holding onto."
Many times, Merwin said, a person clings to emotional pain without even realizing why. In her Shaman healing, Merwin tries to help her clients "take out yesterday's garbage."
"I'm very passionate about what I do," she said of her business. She plans to eventually teach classes concerning health and wellness, once she gets more settled into her new space downtown.
"People sometimes buy products because it says 'all natural' on the label, but that's not true in a lot of cases. … I'm on a mission to help people understand what is safe and effective."