Portage CrossFit Cooperative members see short- and long-term benefits in the summer workouts they'll offer to children for the second straight year.
Getting youth off the couch and out of the house is Step One, Jerusha Smith said — an important step since the temptation for everyone to stay indoors seems greater each year.
What happens next is the true purpose of the program.
"In fitness, we want to help youth develop a lasting sense of accountability and togetherness," said Smith, who leads one-hour CrossFit workouts for children of ages 9 to 13 for three days a week in June and July. "We believe part of the reason for childhood obesity and (excessive) screen time is loneliness."
"Growing up, I'd hang out with my friends — we'd get ice cream together, we'd ride bikes, and a natural community would develop," Smith said. "But a lot of kids today don't have that."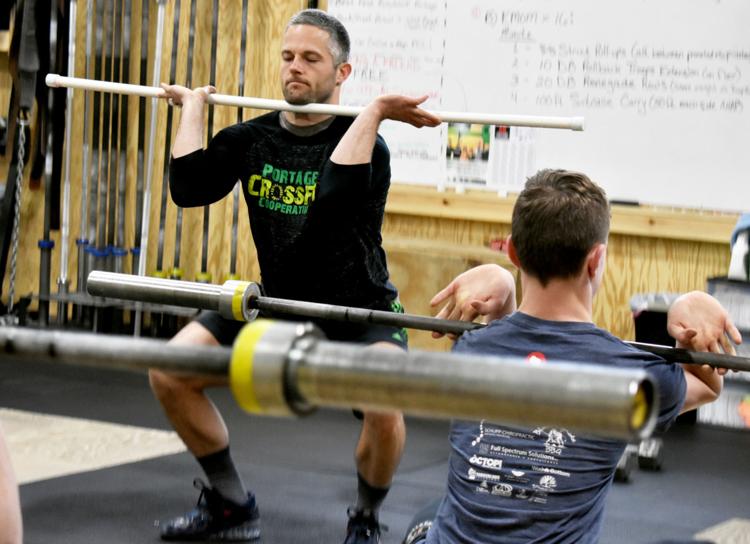 Tracy Poches will lead CrossFit workouts for teens of ages 13 to 18 in July and August. (Pricing and scheduling for CrossFit classes is available at portagecrossfitcooperative.com.) Poches teaches teens "functional fitness," she explained, demonstrating how to jump and land properly, how to safely lift heavy objects from the ground and more.
"It's a way to get them to become more aware of their bodies," Poches said of her workouts. "We know a lot of kids learn through playing, but as a society, we just sit more today. Kids aren't getting those opportunities to do lot of things that should come naturally. The running, the jumping, the climbing — we offer kids the chance use their bodies in ways they were meant to be used."
Joe Poches — Tracy Poches' 13-year-old son — participated in the summer program at CrossFit last year. He's hooked, he said before a workout Thursday, and he'll officially join the gym next week when he turns 14 — CrossFit's minimum age for membership.
You have free articles remaining.
"It's a chance to work out and focus on my strength and mobility," said the seventh-grader from St. Mary's Catholic School. "I like it better than regular lifting because it works your muscles and cardio at the same time."
CrossFit — which hass about 70 total members — combines weightlifting, cardio endurance and gymnastics in every workout, said Smith. Its varied approach and high intensity ensures that your body "never adapts" to the workout and has proven to be popular among the local youth training for football, wrestling and other sports. Her summer class for children is, unsurprisingly, less intense than the class Poches offers to teens, which itself is less intense than the classes for adults, coaches said.
Smith said she offers many games in her workouts for children "because when you make fitness fun, they won't realize how much work they're actually doing."
Most importantly, CrossFit offers community to its young participants, Smith said — the program's overall effectiveness being a matter of culture. "You just develop relationships with the people around you. We support each other."
Head trainer Ben Brindley "coaches the coaches" at Portage CrossFit, he said.
Brindley, who competes regularly in Olympic-style weightlifting events, is not involved in the gym's summer youth programming but sees it as a means to "build healthy habits" and address childhood obesity in the Portage area.
"If youth see the value of exercise, then it's a win," Brindley said. "If they potentially develop a love for exercise, that's an even bigger win."