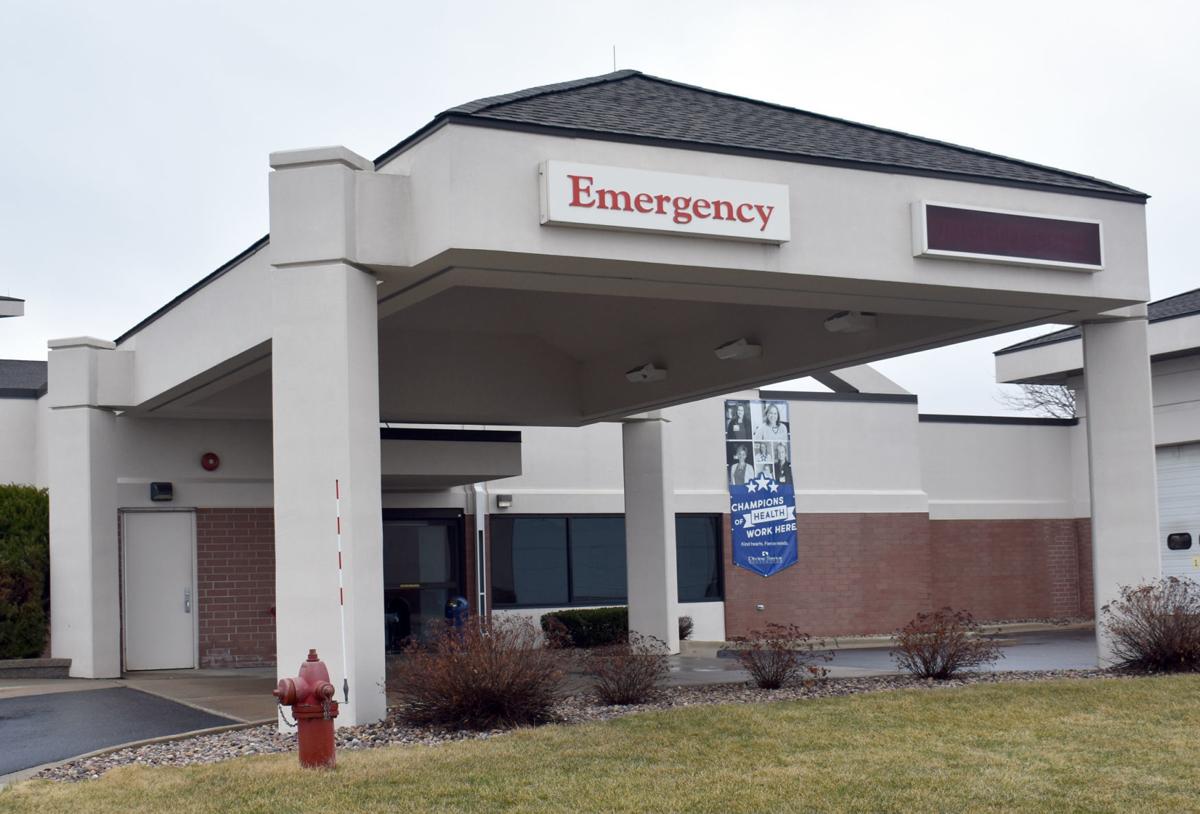 Divine Savior Healthcare in Portage is preparing for a possible surge in COVID-19 infections by cross-training its employees to treat the disease.
Chief Medical Officer Dr. Michael Walters said the hospital and leaders from its parent company, Aspirus, spent the past few weeks getting ready for the state's peak of infections, which the Wisconsin Department of Health Services projects will occur between April 23 and May 23.
If necessary, the cross-trained employees would most likely be deployed from other areas of the hospital into the intensive care unit, the inpatient medical/surgery unit and emergency department, Divine Savior spokeswoman Haley Gilman said.
A few weeks ago, the hospital set up a respiratory care clinic where patients are screened, assessed and tested for COVID-19. The hospital, at this time, is not releasing how many employees work in the respiratory care clinic or the number of patients it treats, but Walters said the staffing is "flexible depending upon the number of patients we care for" and it has been able to "adequately and safely staff" the clinic and care for those patients with no prolonged waits.
Walters said the hospital currently has enough personal protective equipment to meet the local need and "we are encouraged by updates of continued upcoming arrivals of additional equipment." Hospital staff is using PPE "preservation techniques" to ensure they will be protected moving forward, he added.
In Columbia County, 23 people have tested positive for COVID-19 with one death and 454 have tested negative as of Thursday. But Health Officer Susan Lorenz — who reported "community spread" in the county March 27 — said the number of local and statewide infections could be much higher than what's been reported since patients with mild symptoms are "most often directed to self-monitor at home without testing."
The hospital continues to test patients for COVID-19 according to Center for Disease Control and Prevention recommendations and the turnaround for those tests varies, Walters said. The CDC, he pointed out, recommends that the top priority group for testing are the patients who are hospitalized for their symptoms and health care workers who show symptoms.
In the second priority group for testing are patients in long-term care facilities with symptoms, patients 65 years old and older with symptoms, patients with underlying conditions with symptoms and first responders with symptoms.
In the third priority group are critical infrastructure workers with symptoms, individuals who do not meet the above categories with symptoms, health care facility workers and first responders without symptoms and individuals with mild symptoms in communities experiencing high numbers of COVID-19 hospitalizations.
The hospital is not yet releasing other information concerning its testing including the number of tests it has performed or the types of tests it uses.
With increased precautions, Divine Savior's emergency department and birthing center have remained open for patients and other vital services are continuing such as dialysis and critical surgeries, Walters said. Some hospital visits are being handled via teleservices.
"We still have visitor restrictions and we are screening everyone who enters the building, including our employees, for signs of illness," Walters said. "Our housekeeping team always does an incredible job of keeping our facility clean. We have added additional staff who are cleaning high-touch surfaces on a regular basis — door handles, switches, chairs — as an added precaution.
"We have hand sanitizer throughout the facility for patients and staff usage as well. With CDC now recommending universal masking, you will see patients and non-patient care staff also wearing non-N-95 masks as an extra precaution."
'Stay the course' for Easter
Walters and Lorenz urged the community to continue following the state's Safer at Home order for the Easter holiday and beyond.
"There have been stories shared regarding some early indicators that we may be flattening the curve," Walters said. "We want to make sure people who are encouraged by this and may want to relax their social distancing behaviors over the upcoming holiday and with the return of nicer weather, do not do so at this point. Staying home is still recommended at this time and we need our community to stay the course."
Said Lorenz, "We look forward to the day we can again allow in-person gatherings to take place. In the meantime, we ask that you stay connected with one another through phone calls, video chats, text messages and other ways."
Lorenz pointed out the state's ban on gatherings of 10 or more people includes indoor gatherings but also any defined space such as parking lots and festival grounds.
Follow Noah Vernau on Twitter @NoahVernau or contact him at 608-695-4956.
Concerned about COVID-19?
Sign up now to get the most recent coronavirus headlines and other important local and national news sent to your email inbox daily.