As memory fades, it may not change who we are, but it can drastically alter how we relate to the rest of the world and even members of our family.
These challenges are shared not only by Alzheimer's patients, but also their families, in a journey that will be joined by an entire community Sunday during the annual Alzheimer's Walk.
The Columbia and Marquette County Alzheimer's Walk at Riverside Park in Portage will be part of the 20th anniversary commemoration of the annual walks hosted throughout Wisconsin.
The event has become an annual family gathering for Mitzi Gerstenkorn and her two older sisters, Colleen Kutchin and Kathy Roadt, and two younger brothers, Don and Dan Garrigan.
The family has been selected to serve as an honored guest and to chair the event in honor of their father, Gerald Garrigan, who died March 1, five days before his 82nd birthday. The Portage resident suffered from Alzheimer's and was the reason the family took part in the annual walk.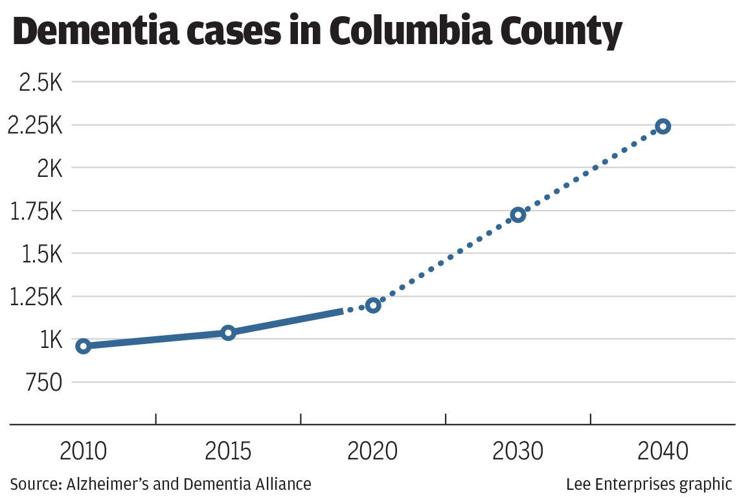 Gerstenkorn said she had wondered in the past if the family would be asked by local organizers to share their story.
"I remember answering the email and saying that it was bittersweet," she said. "It's an honor to be asked, but it is sad to be asked, because that means it has affected our lives."
Sharing those intense experiences is something family members said they will do without hesitation.
"As I talk to people about it and things come up, the more that I smile and it reminds me that it's OK," Gerstenkorn said. "You would be so surprised how many people say, 'Yeah, it affected me this way.'"
Kutchin said Don Garrigan's wife, Kelly, got involved with the Alzheimer's Walk and the rest of the family quickly joined.
"There was comfort in that and also we would take Dad to it. Even though he didn't know who a lot of people were — family included — it was still an outing for him," Kutchin said. "It was a place that was safe where we could be with people going through the same thing."
Many affected
According the Alzheimer's and Dementia Alliance, Columbia County was home to 1,035 people with dementia in 2015, a number that is expected to continue growing as the county's population ages.
When Dan Garrigan first learned of his father's condition, he said he had been a healthy, active member of the community after overcoming prostate cancer.
"It was during some of those times that he showed more signs of dementia," said Garrigan, who also serves as a lieutenant with the Portage Police Department. "His inability to recall someone, someone's name or a situation."
Garrigan said his father's slide into dementia was a slow progression that others often attributed to natural aging, but suddenly was punctuated by a precipitous decline.
Breaking point
Things changed when a routine trip to take recyclables to the dump didn't go as planned for Gerald Garrigan.
"My mom didn't think much that he was gone for longer than usual, and what happened was that he ended up coming back home and frightened himself, and that was when he recognized something wasn't right," Dan said.
The younger Garrigan said he believed his father drove right past the recycling center and ended up lost in Madison. While he was able to make his way back to Portage, the event changed things for the family.
"I remember he was shaking and frightened, and he didn't keep it a secret," Dan said. "Those mowing trips and recycling runs stopped."
The family became ever more involved in providing care for Gerald as time passed.
Providing care
Eventually, Kutchin started taking Gerald Garrigan to memory cafes hosted by the Alzheimer's and Dementia Alliance of Wisconsin, where they met Janet Wiegel.
Despite support from a large family, even the Garrigans found a need for support from beyond their family, help they found through the memory cafe.
"I just had someone this morning who called to say, 'We are looking at placement, so what do we do now?'" Wiegel said. "I was a caregiver 20 years ago and we didn't have all the resources that are available (now) back then."
Wiegel said more than 120 types of dementia have been discovered and groups like the Alzheimer's and Dementia Alliance of Wisconsin work to educate the public about them and provide assistance for those who feel overwhelmed.
On Labor Day weekend in 2017, Gerald was placed in assisted living.
"I think it saved my mom's life," Dan Garrigan said. "To find out really what kind of care she was providing day in and day out was extremely eye-opening and I think that probably relates to something my family learned the most from the whole experience — the value of caregivers."
Even as he struggled to remember family members' names and required full-time care, Gerald remained upbeat.
"Jerry had it all figured out," Dan said. He said his father kept returning to the phrase, "Keep a smile on your face and a song in your heart."
"He never skipped a beat on that," Dan said.
While there is no cure for Alzehimer's or other dementia, care is improving.
"The concept we work with is prevention by delay," Wiegel said. "The earlier we can get something diagnosed the better. So if we can prevent it by dietary changes, exercise, staying social, staying involved, and doing things that are healthy for you — if we can delay it 10 years, we could eliminate 70 percent of the cases."