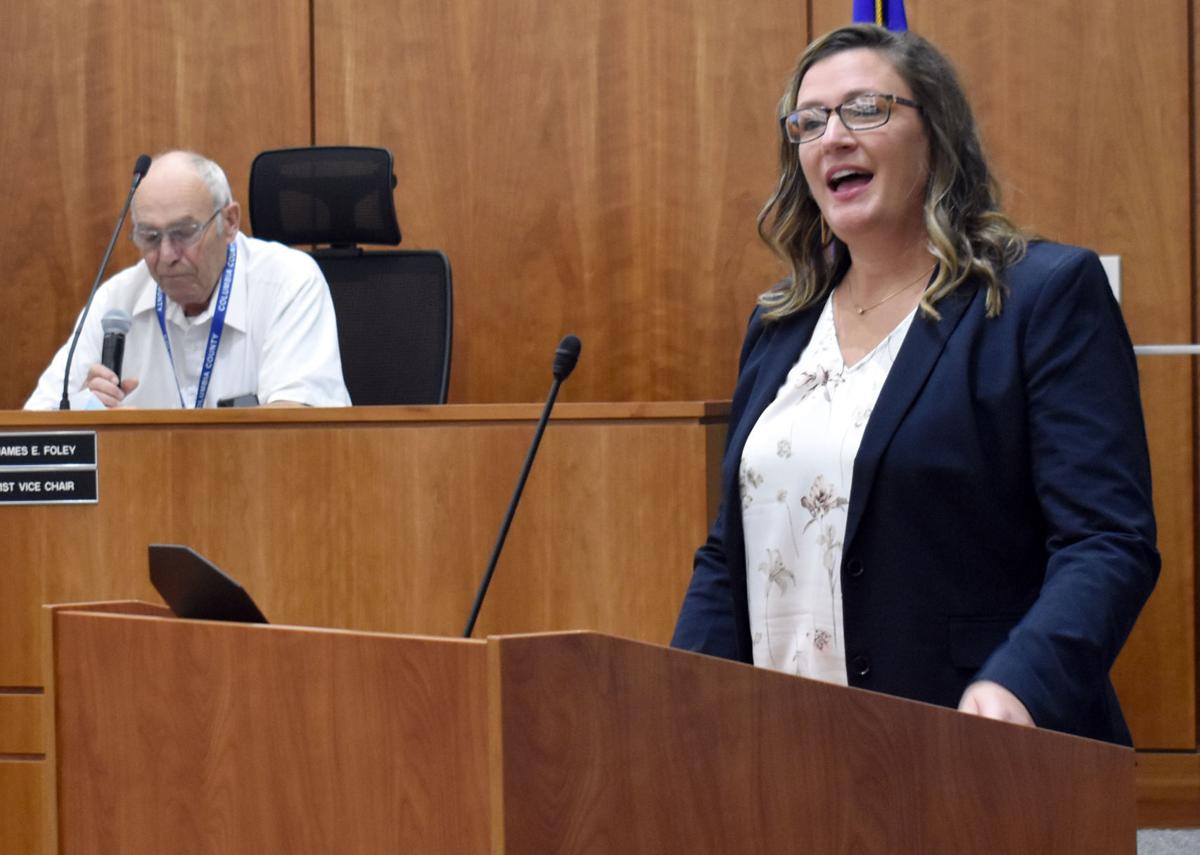 Heather Gove was approved to serve as Columbia County's new Health and Human Service (HHS) director in a 23-0-1 vote at Wednesday's board meeting.
Gove, a licensed social worker and professional counselor, most recently worked at Aspen Family Counseling in Portage. Gove was formerly employed as a social worker in the county's HHS department.
"I just want to thank the county for this opportunity, the opportunity to come back to Columbia County," said Gove said. "I'm really excited about it and look forward to working with each and every one of you and getting to know people in the community and HHS."
Gove is the daughter-in-law of board Chairman Vern Gove, of Portage. Vern Gove handed over chairmanship of the hiring committee to First Vice Chairman James Foley, of Arlington. Vern Gove left the boardroom during discussion and abstained from voting on the subject at Wednesday's meeting.
Foley said Vern Gove did not participate in the hiring process and handed leadership of the process to Foley while his daughter-in-law was being considered for the position.
"When he learned that his daughter-in-law Heather was one of the applicants, Chair Gove immediately stepped aside and passed the chairmanship of the HHS department head interview committee to me," Foley said. "The committee met a total of four times to screen applicants, interview candidates, debate and select a candidate for appointment, Chair Gove did not attend any of those meetings or otherwise participate in any way in the HHS director's interview and selection process."
Vern Gove congratulated his daughter-in-law at the end of Wednesday's meeting.
"I just want to congratulate Heather, I wish you good luck and I think you're going to do a great job," he said.
Supervision of the HHS director potentially raises questions of nepotism in the county. When asked for comment, Columbia County Corporation Counsel Joe Ruf recently said, "in the specific case of the HHS Director, Code of Ordinances secs. 11-6-4 and 11-6-5 establish that the HHS director is supervised by the HHS Board and the County Board."
Ruf also said recusal from voting and discussion on the matter and hiring process would ensure Vern Gove was not violating the county's personnel policy on nepotism, which states "no person shall be employed, promoted or transferred to any department, division, or work unit when, as a result, the employee would be directly supervising or receiving direct supervision from a related person."
The policy includes in-laws as a related person in its definition of the term.
"It is not a violation of the county code of ethics for Heather Gove to be employed as county HHS director while her father-in-law is county board chair," Ruf said. "In situations where county board supervisors, including the county board chair have potential conflicts of interest, our office advises those board supervisors not to participate in discussions and to abstain from voting."
Vacancy
The HHS director position was left vacant in January after former director Dawn Woodard resigned. Prior to her resignation, Woodard was briefly placed on administrative leave, pending an investigation of the department.
Results from the pending investigation were never released, with no comments from county officials on the cause of the investigation.
Public records requests filed by the Daily Register regarding the investigation of the department and Woodard were denied.
Finalists
A hiring committee was designated to handle the application and interviewing process which included Supervisors Foley, Barry Pufaul of Pardeeville, Matt Rohrbeck of Columbus, Adam Field of Portage and Eric Shimpach of Portage.
The committee interviewed over 20 applicants, naming Heather Gove and Jessica Gilbert, behavioral health program coordinator for the county, as finalists, with Heather Gove getting the final recommendation.
Ruf said other finalists asked not to have the county reveal their names publicly and the county was honoring that request.