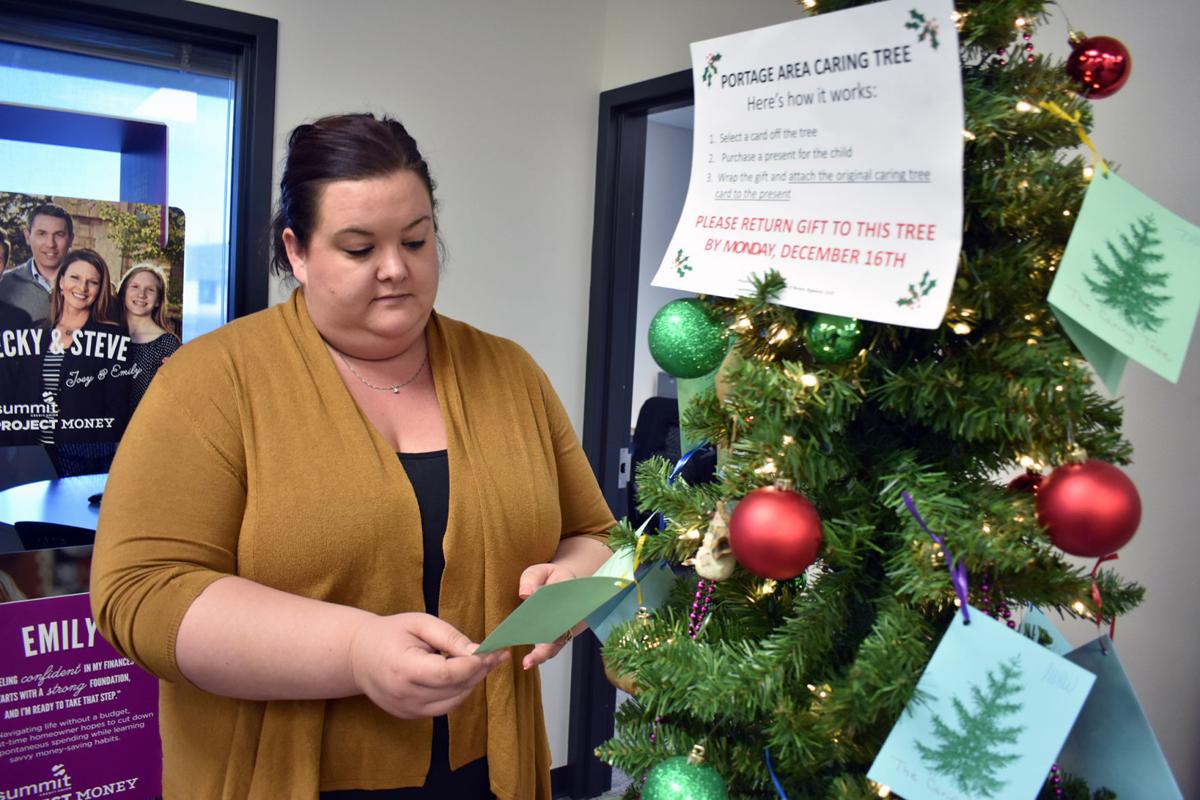 Time is running out to contribute to the Portage Area Caring Tree program in its 29th year.
Organizer Vickie Greenwold estimates that more than 200 tags still need to be taken from the Christmas trees at six local banks and only 11 days remain to return them with gifts for area children.
"We're in a time crunch this year due to Thanksgiving being so late (in November)," Greenwold said Tuesday. "It's a really short turnaround time this year, for a lot of people, and the applications are still coming in."
Greenwold said her band of 20 volunteers "will do everything we can" to make sure every tag gets fulfilled in 2019, even as they arrive well past the Nov. 22 deadline.
"I just received another 20 tags in my mailbox (Monday) and took three more calls over the phone (Tuesday)."
Helping everyone will require an 11th-hour surge from an already generous community, Greenwold said. Last year the Caring Tree volunteers provided about 500 gifts for children and this year Greenwold expects at least 600. Similar operations in the surrounding areas, such as in Lodi, have seen a "heavy influx" of requests for gifts this year, she noted, "and we really can't say why."
A higher-than-normal demand for gifts means that donations are more important than ever before, Greenwold said. Caring Tree volunteers use donations to purchase about 70 gifts for leftover tags, each year, and they will likely exceed that figure in 2019.
Gift requests often include basic necessities for children such as boots, blankets, pillows and warm clothes, volunteers said.
"I think everyone needs to understand the value of giving from the heart and knowing you could be providing something really meaningful to the person you're sitting right next to," said volunteer Nancy Ziegler, who recently retired after 34 years of working in the Portage Community School District, her most recent stint as a health science teacher at Portage High School.
Prior to her June retirement, Ziegler led the high school's Future Health Professionals student organization that aids the Caring Tree every year. Since the Caring Tree's inception, she and her husband, Kevin Ziegler, have purchased gifts for it, but, she said, 2019 is her first year volunteering behind the scenes.
"I'm excited to be more involved with the organizing part of this, and I can tell you from working more closely with Vickie (Greenwold) that this truly is a year-round thing for her," Ziegler said. "Her garage is plumb full (of gifts) and she really does dedicate so much of her time and efforts to looking for the things children need. It's remarkable."
Why does Greenwold do it?
"Seeing the gratitude on the parents' faces when they receive the gifts makes it all worthwhile," Greenwold said and thanked her team of volunteers for accomplishing tasks that include sorting and packing the gifts, shopping for gifts, delivering the gifts and working the phones to make delivery arrangements.
Greenwold also thanked the O'Brion Agency of Portage for printing the tags and Seubert Dental of Portage for donating the toothpaste and toothbrushes that will be distributed to the children.
"There are so many people who play a part in this," Greenwold said. "Things really are difficult at Christmas for a lot of people and knowing these kids will have some gifts under their Christmas tree, that's the reason we're doing it."
Follow Noah Vernau on Twitter @NoahVernau or contact him at 608-695-4956.
Be the first to know
Get local news delivered to your inbox!