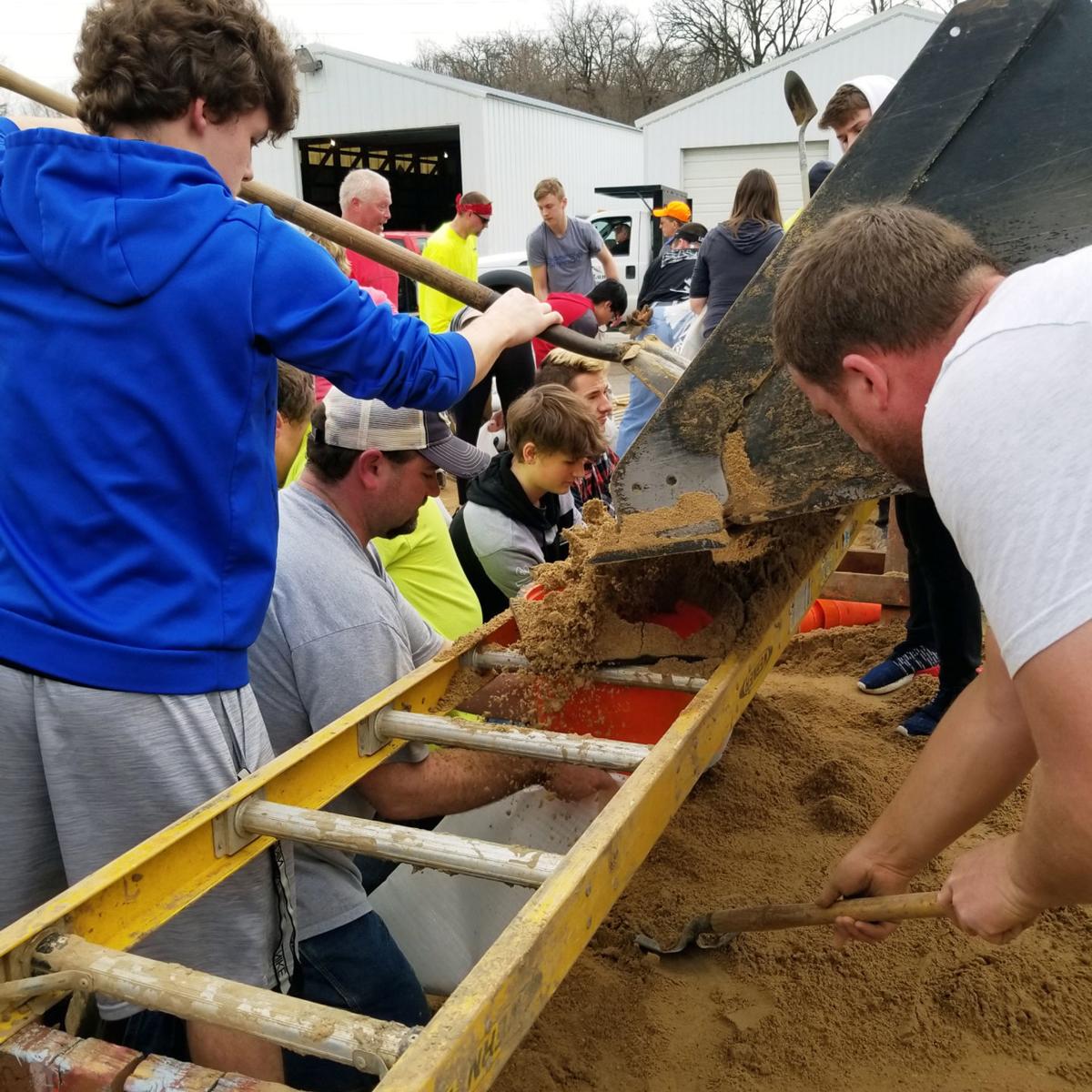 LODI — As historic flooding displaced some people, triggered a gas leak and shut down Main Street on Thursday in this Columbia County community, local high school students answered their community's call for help.
Lodi High School teachers and coaches loaded about 20 students onto buses around 1 p.m. and took them downtown to help fill sandbags outside the city's public works department amid a "crisis situation," said Lodi High School Associate Principal Joe Jelinek.
About 25 more students from the track and field team came after school from about 4:15 to 6 p.m., and some students chose to stay as late as 10:30 or 11 p.m. to continue to lend a hand," Jelinek said.
Many other students wanted to help, but authorities and school officials had to coordinate smaller groups to keep the operations safe for everyone involved, said Lodi High School Principal Vince Breunig.
According to the National Weather Service, floodwater from Spring Creek crested at a record-breaking 9 feet on Thursday, and the river had dropped to 8.4 feet by 5 a.m. Friday. Flood stage there begins at 6.5 feet.
Breunig said the city saw a great turnout of volunteers, and students were able to jump in and give other people a break before the volunteers ran out of sandbags and heavy rains poured in around 2 p.m.
"I think it was a big help," Breunig said. "Plus it was young bodies. They can bend and twist better than us older folks can."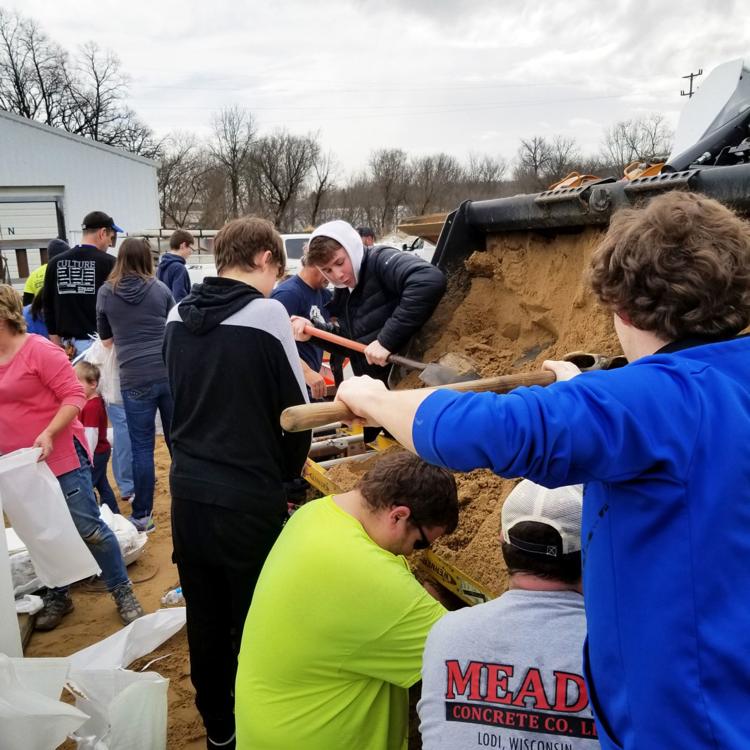 He said the students who wren't immediately needed at the scene felt disappointed, but every person's intent and efforts speaks volumes to the local residents of all walks of life who came together during a dire situation.
Thursday's flood recovery effort was an opportunity for students to to learn outside the classroom and exercise their civic virtue by volunteering, Jelinek said.
"They just knew it was necessary," Jelinek said. "It's a good feeling for yourself, but you're also helping families and businesses in the downtown. It makes us realize how special Lodi is."
Michelle Puls, Karen Goheen, Randy Skellenger and Dave Puls were among the school staff who helped coordinate Thursday's student volunteer efforts.
"It was refreshing to see," Columbia county Sheriff Roger Brandner said of the students and community members who collaborated with law enforcement.
Lodi schools remained open during the flooding because the campus was not directly affected, since it's located away from the downtown area, said Lodi Schools Superintendent Charles Pursell.
Though the schools faced no active threat, school officials were in constant contact with police to verify they were safe to continue normal procedures, Pursell said.
"There were neighbors helping neighbors," Pursell said. "Anybody and everybody that felt they could lend a helping hand. It's just a natural course of action."
School officials and Red Cross staff had prepared an emergency shelter Thursday inside Lodi Elementary School to offer help to senior residents who had been displaced from their apartment building on Water Street.
Pursell said while the shelter was prepared and safe in case they needed it, affected senior residents were able to stay with friends or family members until it was safe to return home.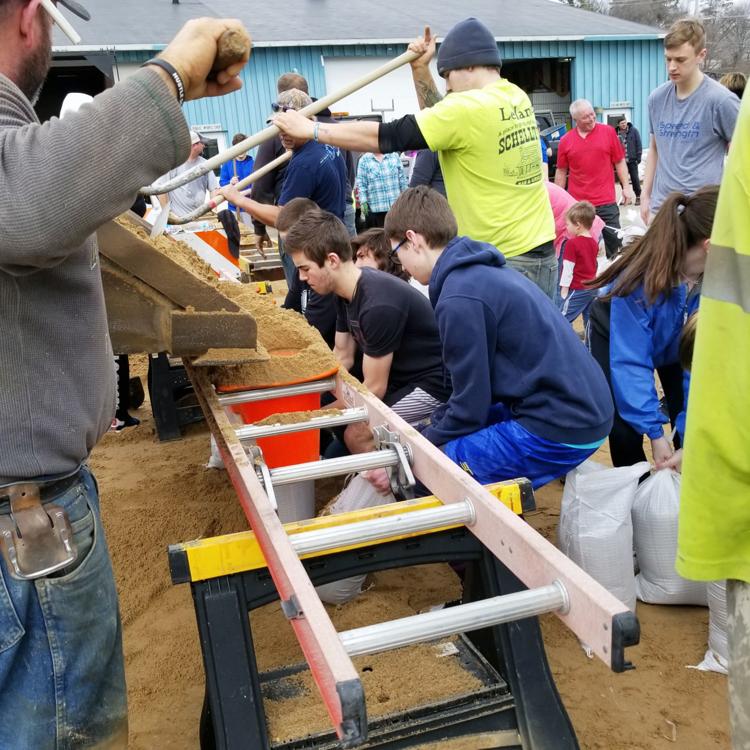 Lodi Emergency Medical Services Director Russ Schafer estimated 12 senior residents had been displaced Thursday. Electric power and gas services have been restored to the building.
Lodi Police Chief Scott Klicko said no homeowners in the city were displaced, and said the displaced senior residents were beginning to return home Friday.
As floodwater gradually receded overnight and early Friday, Klicko said Lodi police have regained access to their downtown police station again and have returned a mobile command center provided by the Columbia County Sheriff's Office.
Schafer said a large portion of the downtown area is still without power, but authorities and public works are checking each building in the area.
"It is unknown at this time when all power will be restored, but we are diligently working on it," Klicko said.
Main Street and all other flooded roads have been reopened in Lodi, but Schafer said any unneeded traffic should steer clear of congesting the downtown area.
"We're just kind of in the recovery phase right now," Schafer said.
Updates on road closures throughout Columbia County can be found online at co.columbia.wi.us.
In a press release Friday, Brandner advised people throughout Columbia County to be cautious on the roads, as some flooded roads aren't yet marked by signs and could be hazardous for any traffic.
"Columbia County is experiencing extreme flooding with over 100 different areas where there is water moving across the roadways," Brandner said.
In a separate release, the Columbia county Emergency Management Office said free sandbag pickup is available in the cities of Lodi, Portage, Columbus, the village of Pardeeville and at the Columbia County Highway Shop in Wyocena.
The Wisconsin Department of Natural Resources recommends for private well owners watch for possible contaminants in their drinking water.
Be the first to know
Get local news delivered to your inbox!