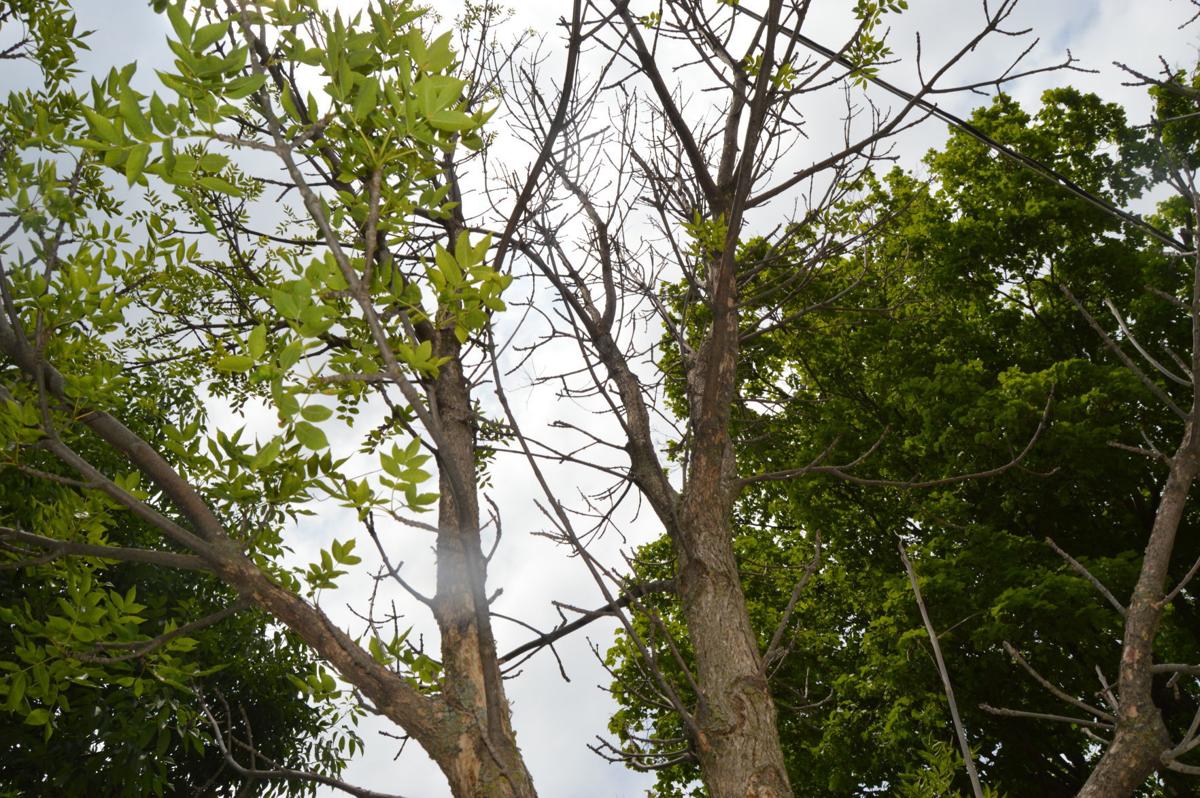 As communities battle to slow the spread of emerald ash borer and delay the death of their ash canopies, homeowners also may wonder what they can do to spare their ash trees.
Like cities, homeowners may choose to treat their trees to prevent the ash borer from killing them. The insecticide treatment, offered by some landscaping companies, can be expensive and must be repeated every few years to keep the invasive species at bay.
For this reason, many cities like Portage and Baraboo have developed plans to sparingly use treatment on key trees while slowly replacing them with other species for the long term.
Portage resident Jean Ellis said she wanted to treat a favorite tree in her yard that serves as a centerpiece for her property's landscaping.
"It's a beautiful tree," Ellis said. "I didn't want to lose the shade of the tree. It's been there for about 20 years."
Ellis said she uses TruGreen to address many of her lawn care needs and learned the company also provides the ash borer treatment.
Ellis said she likes to think of the chemical injection as a vaccine of sorts, preventing her ash tree from a quick and certain death.
The emerald ash borer kills ash trees as worm-like larvae infest the tissue beneath the bark and pilfer nutrients from the plant, cutting off water and nutrients meant for the tree. State Department of Natural Resources Forestry Specialist Brian Wahl said in previous comments about the pest in Portage that emerald ash borers cannot be stopped. They likely will wipe out all ash trees eventually.
However, Baraboo City Forestry Specialist Matt Hess said he has had at least one report from a city resident who has treated his ash tree every other year for the last six years and it has been thriving. He added that the cost for the city at roughly $6 per diameter inch for treatments every three years may be lower than a likely $9 to $10 per diameter inch for a homeowner looking to treat just one or two trees.
You have free articles remaining.
According to entomologists R. Chris Williamson and PJ Liesch of the University of Wisconsin-Extension Horticulture division, there are a number of insecticide options for homeowners attempting to control the spread of the ash borer. They wrote in an April 4 pest alert that the extent of damage in early infestation can be hard to identify and may call for treatment rather than removal to postpone tree deterioration.
Columbia County UW-Extension Agriculture Agent George Koepp said homeowners don't need a company to manage the insecticide injections.
"You can treat the trees yourself," Koepp said.
A 64-ounce jug can be purchased for about $20 at a local store. The person administering the treatment simply has to mix the powder and liquid together and pour it around the base of the tree.
Wahl said Tuesday that those types of treatments do not kill all of the larvae of a tree already infested, just a major portion. For an area already dealing with the ash borer, injections are a better option, he said.
Homeowners should consider the value, health and location of the tree, according to Williamson and Liesch. Especially the value, given that there is an annual expense for insecticide treatments. If a tree has more than 50% of its leaves thinned out due to infestation, it shouldn't be treated, but removed.
"Some of the trees have been infected so badly it's not worth it to save the tree," Koepp said. But if someone wants to take on the expense of chemical treatments each year, or in some cases every other year, they can. He conceded the value in saving a lone shade tree in a yard that means something to the property owner.
Though the presence of the ash borer weakens the tree, there is no certainty regarding when it would die, Koepp said.
"You want to find a certified person," Koepp said if more detail regarding the tree's health is needed.
A state certified arborist could offer an initial inspection and also would be reliable for insecticide treatments. Certified individuals can be located through the Wisconsin Arborist Association website, which breaks down arborists by county. Though there are none in Sauk or Marquette counties, Wahl said Kevin Hamm, the owner of Hamm's ArborCare Inc. of Pardeeville, is certified and has provided services to the city of Portage.
K&B Trees, Lawns, & Landscaping in Dodge County is listed as a certified arborist on the WAA website. There are also 10 options listed from Dane County.