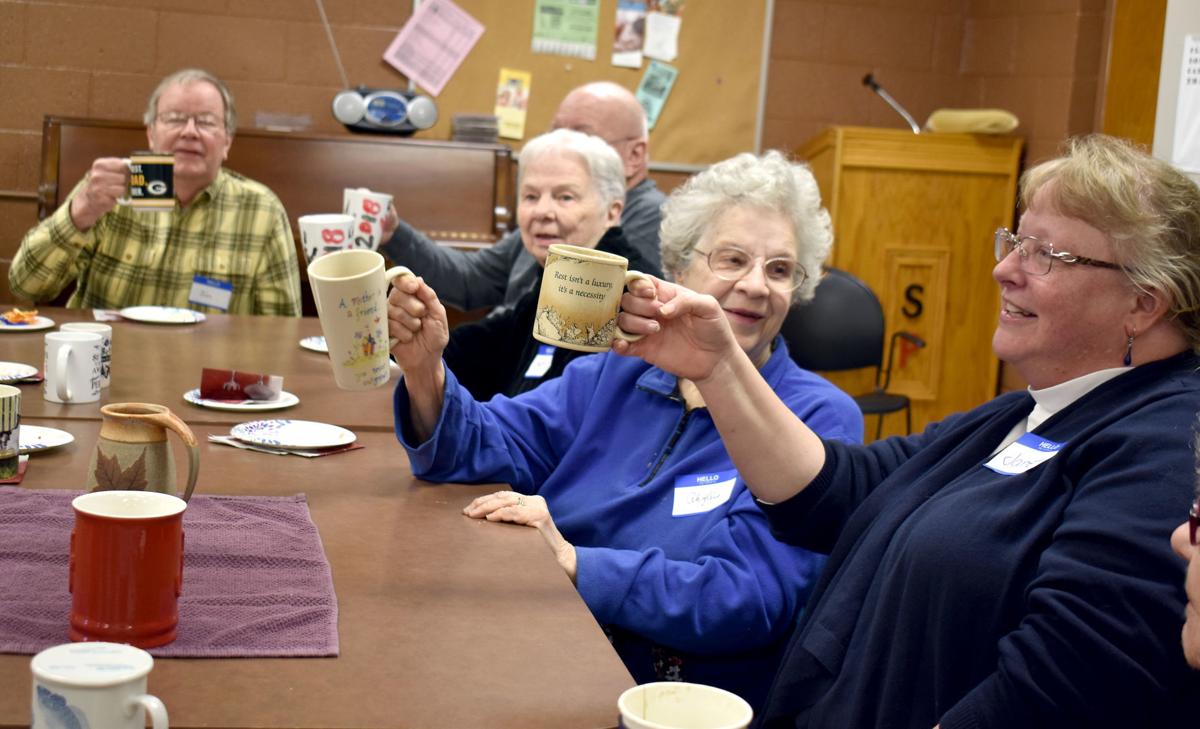 It was a gloomy winter Thursday morning, but the aroma of chocolate and spices brightened up the memory cafe's atmosphere.
All of the people who filed in to the Sauk Prairie Community Center carried a cup of some kind — not only for the hot chocolate that would be served later, but mainly for a sort of show-and-tell.
Janet Wiegel, outreach specialist for the Alzheimer's and Dementia Alliance of Wisconsin in Columbia and Sauk counties, had sent out postcards to the regular attendees of the memory cafe in Sauk County, and also the memory cafe that meets on the fourth Wednesday of each month at the Portage Public Library. She informed them the January theme would focus on people's favorite cups.
The cup theme, and the hot chocolate bar where people were invited to choose the flavorings to add to their cocoa, would have been the focus of the Jan. 23 memory cafe in Portage, Wiegel said. However, the library was closed that day due to inclement weather.
Just in case someone didn't bring a cup to the Sauk County memory cafe, Wiegel had about a dozen of her own arranged on the table around which people could gather.
But as 12 people took their places around the table, each had his or her own cup — and his or her own story.
A man named Jim proudly showed his Green Bay Packers cup emblazoned with these words: "Best. Dad. Ever."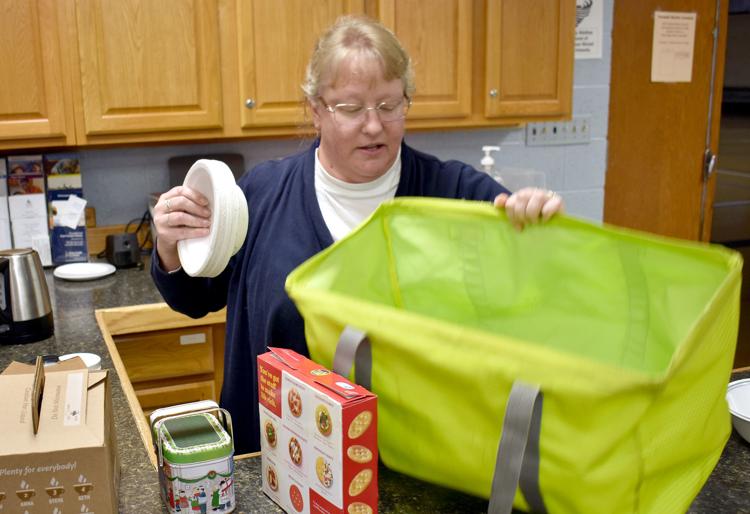 Another participant, also named Jim, showed his cup with the familiar red label and logo of a famous condensed soup company, but parodied with the words "Cream of Lutefisk Soup." Many of the memory cafe participants knew exactly what lutefisk is — a Norwegian dish, consisting of codfish soaked in lye as a preservative, and served over potatoes with melted butter. That led to a round of lutefisk-tasting stories, and occasional admissions of "I like it."
When a woman named Mary Jane showed a cup with an elf, another participant, Phyllis, quipped, "It looks like Elf-is" — prompting one participant to add, with perfect timing and a Presley-esque voice, "Thank you, thank you very much."
Growing cohort
In at least one respect, Wiegel said, memory cafes are misnamed. Although they're primarily for people who experience mild memory loss — possibly the early stages of cognitive and neurological conditions such as Alzheimer's disease — no one is monitoring how sharp a participant's memory might be, and the terms "memory loss" or "dementia" are not part of the conversation.
Memory cafes are designed to offer people with memory loss an opportunity to get out of the house and connect with other people, something they need to live in their communities for as long as they possibly can.
One of the participants in the Sauk County memory cafe, Betty, said she attends partly because, as she gets older, she worries about memory loss, although she said she's not experiencing it.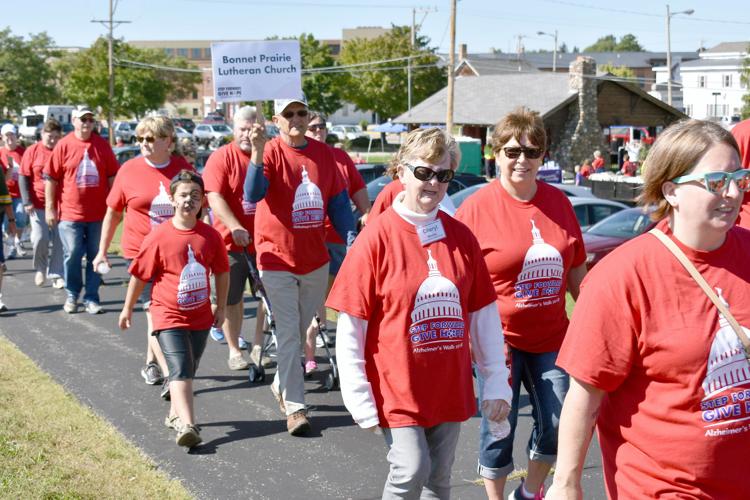 Rob Griesel, dementia care specialist for the Dodge County Aging and Disability Resource Center, said one out of nine people age 65 and older experiences some form of dementia.
In a group of people 85 or older, Griesel said, the incidence increases to one in three.
"It's not that everybody is going to develop dementia as they get older," Griesel said. "But a lot of the reason why dementia is increasing is because people are living longer."
Although dementia isn't restricted to older adults — people in their 40s or younger have been known to experience early-onset memory loss — the rapidly aging population of Columbia, Dodge and Sauk counties has prompted officials in all three counties to pursue the development of dementia-friendly communities.
Brianna Wipperfurth, dementia lead for the Sauk County Aging and Disability Resource Center, said dementia-friendly community training entails educating people from all walks of life — business owners, health care providers, public safety workers and anyone who deals with the public — to recognize the signs that someone may be struggling with memory, to learn what life looks like to people with dementia and to practice constructive ways to come to their aid.
"Sometimes, it's as easy as asking, 'Hey, can I do anything to help you?'" Wipperfurth said, "They might make 20 laps around the grocery store, and forget what they came for, but they may not know they can ask for help."
Fostering empathy
One key aspect of dementia-friendly community training is to help people experience what the world often looks like to people with memory loss.
For example, Wipperfurth said trainees might be invited to put on headphones, which would play all kinds of noise, such as multiple conversations combined with traffic noises or blaring TVs, and then ask the person to perform a task with all that cacophony in their ears.
"You may be able to tell who or what is doing all this, but to a person with dementia, it's disastrous," she said.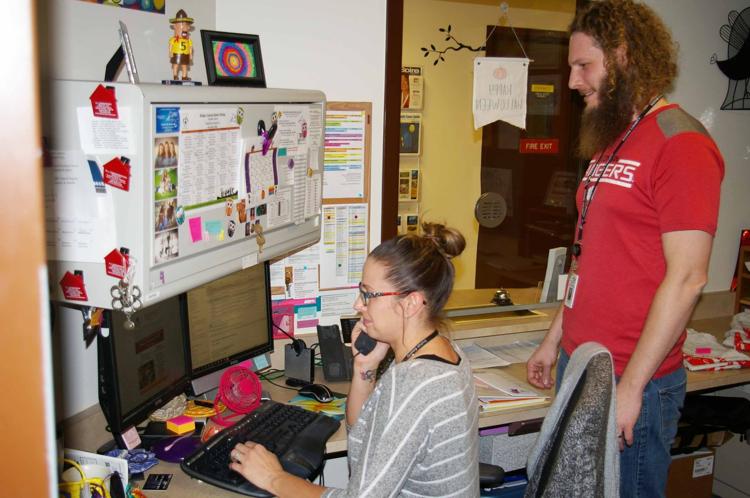 Another activity involves wearing gloves that diminish tactile sensitivity, or goggles that lessen peripheral vision.
Griesel said short-term memory loss is the most common symptom of early dementia, but even people who experience no trouble with short-term memory may have other cognitive challenges.
Some of those challenges could include diminished judgment, or difficulties interpreting what the senses perceive. To a person with dementia, a dark-colored carpet in a business could look like a deep hole, or a shiny floor could look like a pool of water, Griesel said.
You have free articles remaining.
The Wisconsin Department of Health Services offers a publication designed to serve as a tool for fostering dementia friendliness in communities.
"A diagnosis of dementia doesn't mean that a person has lost their dignity, nor should it mean that they give up those daily routines or practices that make life fulfilling," wrote former DHS Secretary Kitty Rhodes in the publication's instruction. "Dementia-friendly communities are designed to help people with dementia do things such as … go to their favorite coffee shop and order an espresso, even if they can't remember why they are there."
Ahead of the curve
Columbia, Dodge and Sauk counties are early adopters of the dementia-friendly communities concept.
Middleton, in Dane County, was the first community in the state to undertake the process of becoming a dementia-friendly community. Columbia County's efforts began a year later. By 2016, 37 groups in the county had received the training, Wiegel said.
Portage still is the principal location in Columbia County where business people and others have received training, and sometimes re-training, in awareness of dementia, Wiegel said.
Presentations about dementia-friendly communities also have also been offered at Pardeeville's Hometown Pharmacy and Angie Williams Cox Library.
People in smaller, rural communities need this kind of training, Wiegel said.
The isolation of rural communities, and the close-knit family ties of the people who live in them, can result in delayed diagnosis of memory problems, she said.
"We're trying to do outreach in all communities," Wiegel said. "Often, if information and services aren't right there, people aren't going to drive to bigger communities."
Available resources
Columbia County's Aging and Disability Resource Center does not have a staff member focused on dementia-related programs like its counterparts in Sauk and Dodge counties do. But eventually, Wiegel said, every county and tribal ADRC in Wisconsin should have someone on staff who focuses on dementia-related issues.
In the meantime, Wiegel said she works closely with Columbia County ADRC Director Becky Mulhern on programs for people with dementia and their caregivers. The ADRC offers outreach, case management and caregiver training and support.
In Sauk County, according to Wipperfurth, Baraboo has had a dementia-friendly communities task force active for about two years. Reedsburg started one in December.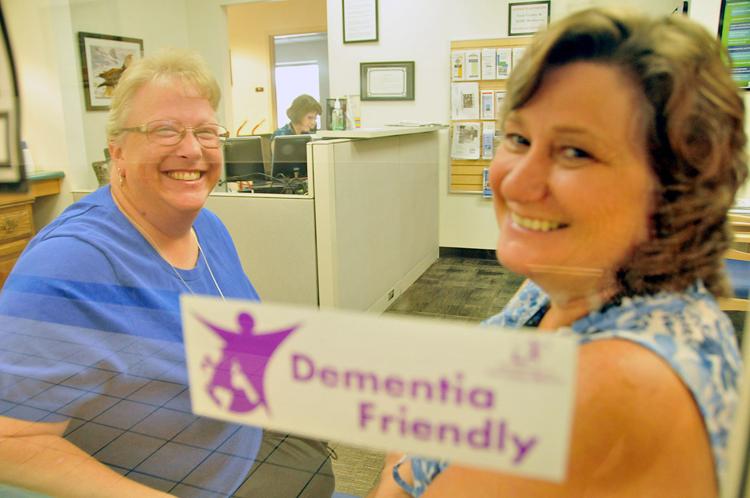 In Dodge County, the effort started last year, and about 25 people and two businesses have received the training, Griesel said.
Memory cafes have not caught on in Dodge County to the extent that Griesel would like, although efforts are ongoing to start new ones.
But Dodge County offers a program called Spark, which is designed to connect people with memory loss not only with other people, but also with art and nature.
Spark meets the second Friday of every month at one of three locations — the Horicon Marsh, where activities focus on the natural world; Juneau, where the Dodge County Master Gardeners offer hands-on experience in working with plants; and in Beaver Dam, where an art therapist leads art-related activities.
To Wiegel, the essence of creating a dementia-friendly community entails keeping people connected to their home communities and the outside world as long as possible.
"Once you experience it," she said, "you want to keep coming back."
Personal connection
Wipperfurth said her experience with a great-aunt, who eventually died from complications related to dementia, showed her the importance of human contact — and why people need to keep in touch with loved ones who experience memory loss.
"They may not remember who you are, but they're still people," she said. "They're human, and they need to know people care about them."
Wiegel, too, has had firsthand experience with a loved one's memory loss. Both her parents had dementia, but each had a different form; her father had Lewy body dementia, which often is associated with Parkinson's disease.
"When I started this journey with my father, there was so much I didn't know," she said. "I didn't even know where to begin for resources."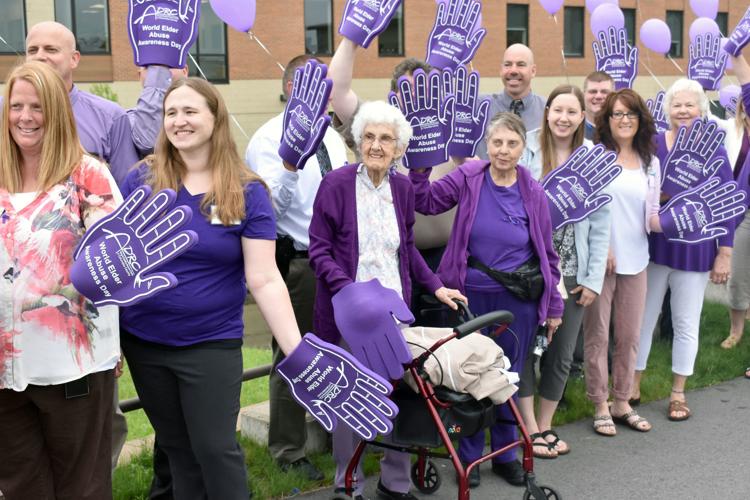 Griesel said dementia-friendly communities are part of creating a climate where everybody, regardless of the challenges they face, feels included.
"We should be treating everybody better, not just people with dementia," he said. "But people with dementia are a more vulnerable population, and we have to understand them, and develop things so that everybody is a part of the community."
Follow Lyn Jerde on Twitter @LynJerde or contact her at 608-745-3587.