Every day, Portage Police Sgt. Ben Neumann's son asks his K-9 partner, Ares, to help drop him off at school.
At home, Ares could be mistaken for a house pet. The police K-9 is amiable with children, enjoys toys and food, and hopes every stranger will pay attention to him.
But like other police dogs, when handler Neumann means business, so does Ares.
Acquiring a police dog can run anywhere between $9,000 and $15,000, depending on the supplier and which tasks the dogs are trained to do. Add in tens of thousands more total dollars for equipment, vehicle modifications, food and medical upkeep, and footing the bills can quickly grow beyond what most police departments can afford.
For this reason, community donations and fundraising efforts play a crucial role in successful K-9 programs, especially among smaller departments.
Columbia County Sheriff Roger Brandner said his office spent $15,000 apiece to acquire, train and initially certify all three of its dual-purpose German shepherds. Dual purpose dogs handle drug and missing persons searches as well as apprehensions, whereas single purpose dogs are used solely for locating drugs or missing people.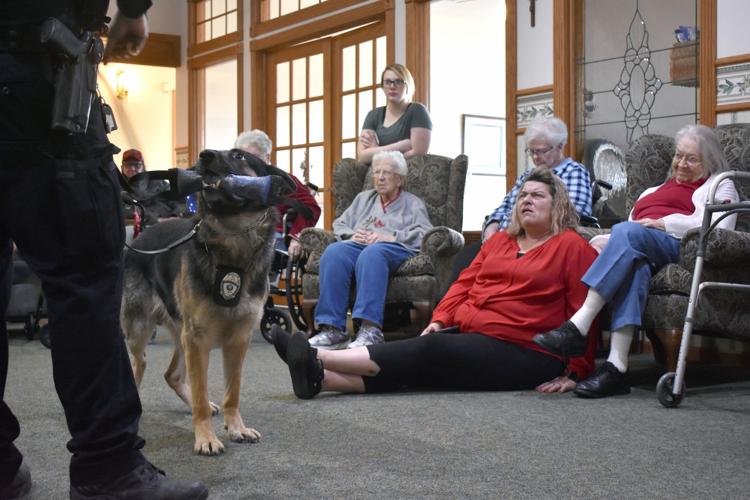 Jax, Mattis and Recon come from Jessiffany Canine Services in the Dodge County village of Iron Ridge.
Ares, a dual purpose German Shepherd, came from Steinig Tal Kennel in Campbellsport.
It's important to find a kennel with integrity that is properly maintained, and having a nearby provider saves time and money, Brandner said.
The city of Portage didn't have room in its 2014 budget to purchase Ares, but $30,000 in donations from the community helped make it possible, Neumann said. In 2015, Ares became the city's first police dog in 20 years.
Life as a handler
With the exception of occasional apprehensions and even rarer bites, most K-9 work involves drug sniffs and searching for missing people.
In cases of criminal activity, having a K-9 team on scene serves as an effective deterrent to prevent resistance.
"A lot of times when the dog shows up, you get compliance," Brandner said. "That's exactly what we want."
Liabilities can surround appropriate use of force with a K-9. Deploying a dog for an apprehension is viewed in a manner similar to using a Taser.
Mike Stoddard, a captain at the Sauk County Sheriff's Office, said one of the county's two police dogs was deployed 275 times in 2017, and only eight of those deployments involved apprehensions.
"Our apprehensions are extremely, extremely low with our K-9s. And you're going to find that most places," Stoddard said.
Beaver Dam police officer Kevin Hall works night shifts, and said having a K-9 along provides officers more security and availability to separately patrol different parts of the city.
"Every move I make, he's watching out the window to make sure I'm not in danger," Hall said.
Since April 2016, Hall said his dog, Yeti, has logged 400 deployments and helped apprehend two subjects, both in August 2018.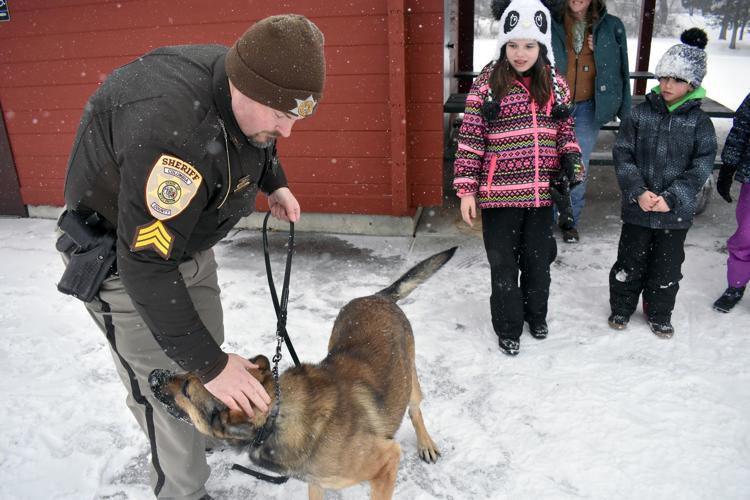 In one of those incidents, a man had barricaded himself in a hotel room by piling mattresses in front of the door. Hall said the man was throwing objects at police officers. Police then used Yeti to bite and apprehend the man, and only then did he comply and apologize for his actions, Hall said.
"That helped me calm him down a little bit," Hall said. "We were only doing our job, and that's what needed to happen to do it effectively and safely."
Police dogs can double as therapy dogs for children in traumatic situations, Hall said.
Sgt. Ben Weise with the Wisconsin Dells Police Department said his dog, Rocky, behaves differently at home than on the streets.
"He's a lot more relaxed at home. He knows the difference," Weise said.
Because Wisconsin Dells sees a fair amount of drugs coming through, Weise said he likes to conduct foot patrol with Rocky in the downtown during the summertime. He said this helps establish a police presence and initiate positive contact with community members and tourists.
"Everybody loves the dog," Weise said.
His department even hosted a birthday party for Rocky in November.
Community outreach
Beaver Dam police officer Nathan Keener said K-9 teams speed up drug searches and help establish probable cause. They also help with public relations in jails and schools.
"Officers with dogs are very approachable," Keener said.
Columbia County Sheriff's Office Deputy Sgt. Mike Schultz recalled a K-9 demonstration at a Rio elementary school where the kids were supposed to ask questions about police dogs but instead ended up talking about their own pets.
"It's relatable to have dogs in the community," Schultz said. "It's more of a positive contact for K-9 officers."
Schultz said having a K-9 adds new responsibilities to an officer's daily duties, because officers are responsible for their dogs every minute of every day. Even when police dogs retire, they often still live with their handlers for the remainder of their days.
Neumann said he's allowed to bring Ares on vacations, too. Some handlers take their dogs on personal trips, while others ask family members to watch their dogs while they're away.
Baraboo police officer Mark Creighton said his drug detection and rescue K-9, Whelen, has completed four successful tracks since 2010.
Dogs can help tremendously during rescue missions. Key factors handlers look for are confirming last known locations with witnesses, seeking odors from clothes or finding footprints.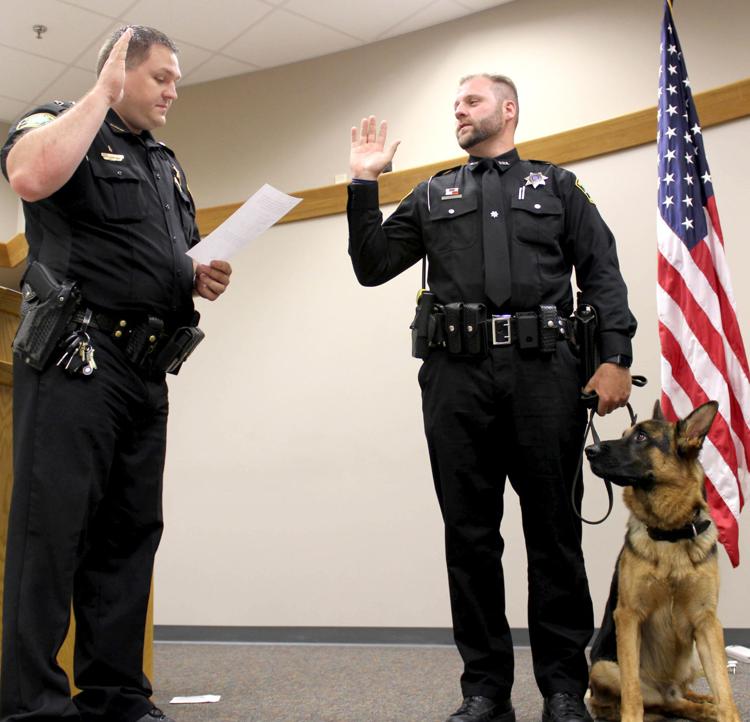 Creighton recalled a memorable first track as a new handler several years ago. A man with a mental illness had wandered from home and gotten lost during winter.
Creighton picked up the search after another handler broke off pursuit to avoid getting frostbite. Creighton guided Whelen through a wooded area, combing tracks leading to and from a highway and back into the tree line.
A Sauk County Sheriff's Office deputy asked him, "What now?"
"I said, 'I'm just gonna let the dog do his thing,'" Creighton said.
Whelen took the lead and found the man sitting on a fallen log. He was unharmed and happy to be found.
"I just remember calling the chief and saying, 'We saved a guy's life today,'" Creighton said.
The Sauk County Sheriff's Office helps nearby communities by sending dogs to assist police upon request.
"It's just basically another tool in the belt," Stoddard said. "A human doesn't have the ability to smell like a K-9 does."
Nonstop training
Hall said K-9 handlers put in a lot of time to keep their dogs trained and healthy.
"It takes a certain officer to handle a K-9," Hall said. "It's a lifetime commitment for the life of this dog."
Stoddard said police hope to get at least seven years of service out of their dogs.
Weise, a self-described "dog guy," said he thought being a handler would be easy. The sergeant from Wisconsin Dells said his four-week training experience at Jessiffany Canine Services was an intense but worthwhile learning curve.
Jessie Smith, owner of Jessiffany Canine Services, said his staff actively trains 10 to 12 dogs at all times.
Police dogs need to be sociable, have a hunting drive, environmental awareness and survival skills, Smith said.
Some people want to know if the dogs are fed treats, or why they look thinner than the average house pet.
"It's not because we don't care about them," Smith said. "It's because we do."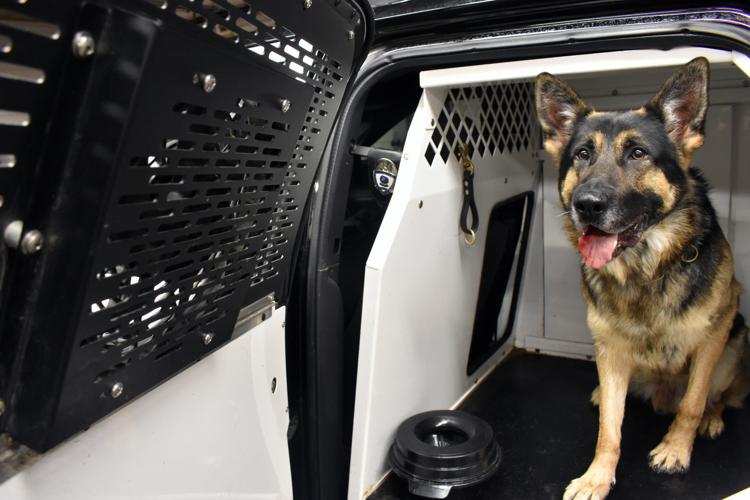 If dogs are heavy or docile, they get tired easily and are unable to handle the rigors of the job.
Weise trains 16 hours a month with other handlers, including Neumann and Schultz. They routinely switch between closed schools, old farms and vacant businesses to challenge their dogs and keep them alert.
Larry Filo, owner of Steinig Tal Kennel, said he brings in 60 different teams each year to train and get re-certified and keep up with new standards.
"It's one thing to train them, but they're not machines," Filo said. "Training methods change all the time."
Training doesn't end after a dog retires.
Blade, a retired Beaver Dam police dog, is 7 and lives with Keener, who often takes him hunting or to play fetch. Police dogs always need a purpose to stay sharp, or they'll get depressed, Keener said.
Expensive programs
The Portage Police Department spent $13,500 to acquire Ares and train him at Steinig Tal Kennel. Neumann said training equipment cost thousands more dollars.
It cost another $12,180 to upgrade a squad car with a cage, remote access and a heating alert system with controlled cooling.
Portage police will pay $1,200 to keep Ares trained and healthy in 2019.
Purchasing K-9 equipment is a one-time fee, however, and Brandner said vehicles and equipment often can be reused with new police dogs to save money.
But in the event of injuries, upkeep costs can skyrocket.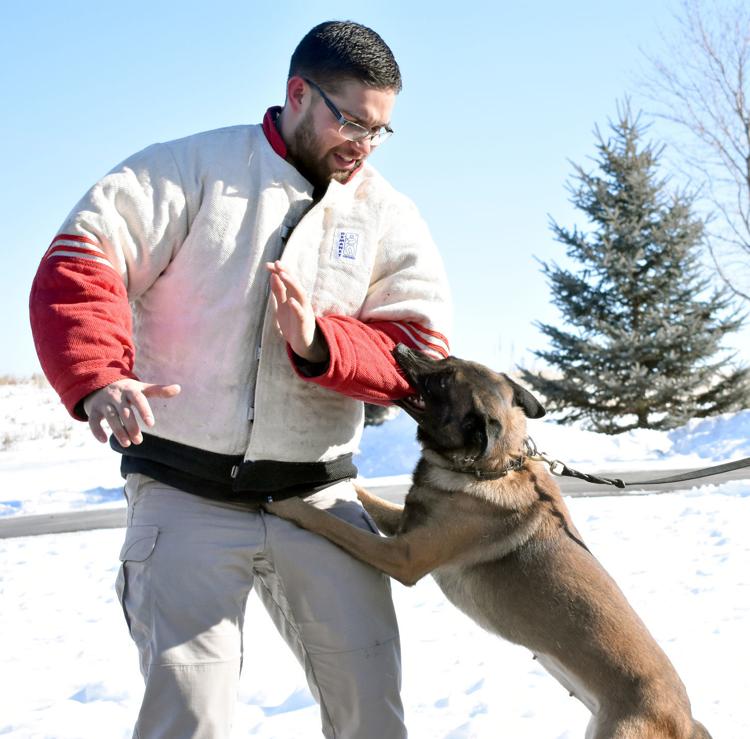 Brander said Deputy Greg Kaschinske's dog, Recon, once broke a leg during training exercises, requiring an expensive trip to UW Veterinary Care in Madison, which offers discounted surgery rates to the sheriff's office.
Many law enforcement branches invest in heating alert systems, which notify handlers if their vehicle is too hot for dogs to remain safely inside.
Keener said police dogs are a lifelong investment and responsibility.
"You quickly learn to recognize their abilities," Keener said. "These dogs will earn their keep in the first half a year of patrol."
Public support crucial
Brandner said many local K-9 programs would not exist without community support, and various fundraising efforts in the region go a long way.
Columbia County's annual K-9 golf fundraiser raised $25,724 in 2015, $19,267 in 2016, $15,980 in 2017 and $16,127 in 2018.
"The support from the community is incredible," Brandner said.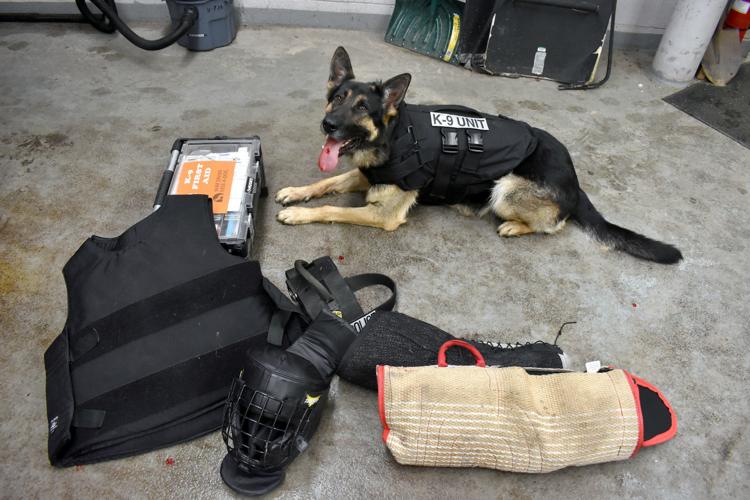 The next golf fundraiser will be Sept. 14 at Kestrel Ridge Golf Course in Columbus.
Every year, the Baraboo Police Department hosts a dog wash fundraiser, in which people can donate $10 to give their dog a bath and help the police department in the process.
Creighton said roughly $1,200 to $1,500 in annual proceeds cover each year's operating costs.
Jessiffany's Smith said 98 percent of police departments fundraise to get a K-9.
Creighton said it might feel like the public is asked to donate all sorts of money, and then they seldom see the dogs.
"It doesn't mean we don't appreciate and welcome the support they give us," the Baraboo officer said, noting handlers actively work to keep the public safe.
Portage residents continuously help police by purchasing stuffed animals that resemble Ares, who Neumann says is necessary to protect citizens and take drugs off the streets.
Business partnerships
Business partners also play an important role in successful K-9 programs.
Donna Morgan, founder of Wisconsin Vest-A-Dog, said her volunteer-run nonprofit has raised roughly $750,000 and donated at least 578 bulletproof dog vests. More than 200 K-9s in Wisconsin have a vest.
An episode of "America's Most Wanted" that originally aired in 2002 inspired Morgan to launch the nonprofit in 2005. A police dog named Kai in Idaho was shot and killed on duty in 1994, and his handler desperately tried but couldn't resuscitate him.
"You could hear that dog when it took the bullet," Morgan said. "I was a basket case."
She called around that weekend to see how she could donate money to local police for a protective vest. After turning up no concrete results, she decided to build her own initiative from the ground up.
"I never thought it would get to where it is now," said Morgan, who lives in Janesville. "It started in my living room. It's still in my living room, actually."
In 2018, Morgan spoke to Kai's former handler, and he was moved to tears by her initiative.
Many local veterinarians help their local police departments, and Portage Veterinary Clinic provides free checkups and shots for Ares, Mattis, Jax and Recon.
"Our services are minimal compared to what they give to our community," said Portage Veterinary Clinic Manager Shannon Straka. "His safety really turns out to be our safety."
Amy Pappas, who co-owns Bird Crazy Gun Dogs, said she and her husband, Steve, donate two bags of dog food per month to Portage police and both the Columbia and Marquette County sheriff's offices.
"We jumped at it. We met Ben, met his dog, and it's kind of been history ever since," Amy Pappas said of Neumann and Ares. "It all kind of comes full circle. To us, it's very rewarding to help police out."
Steve Pappas said he noticed Ares' coat was shinier and his muscle tone more defined after he and Amy began feeding him a five-star rated brand.
"He looked like a whole new dog," Steve Pappas said. "He's a beast."
While serving in Vietnam, Steve Pappas said his platoon used a tracking dog to guide U.S. soldiers through the jungles. This in part inspired him to help police.
"It's a way for us to be more involved in the community in a way no one else can," he said. "Sometimes, you just do things because it's the right thing to do. We can help these young officers with their dogs."
This article was updated to correct the spelling of Columbia County Sheriff's Deputy Greg Kaschinske's name.
Do you believe local police departments receive a worthwhile value from investments in K-9 programs?
Be the first to know
Get local news delivered to your inbox!