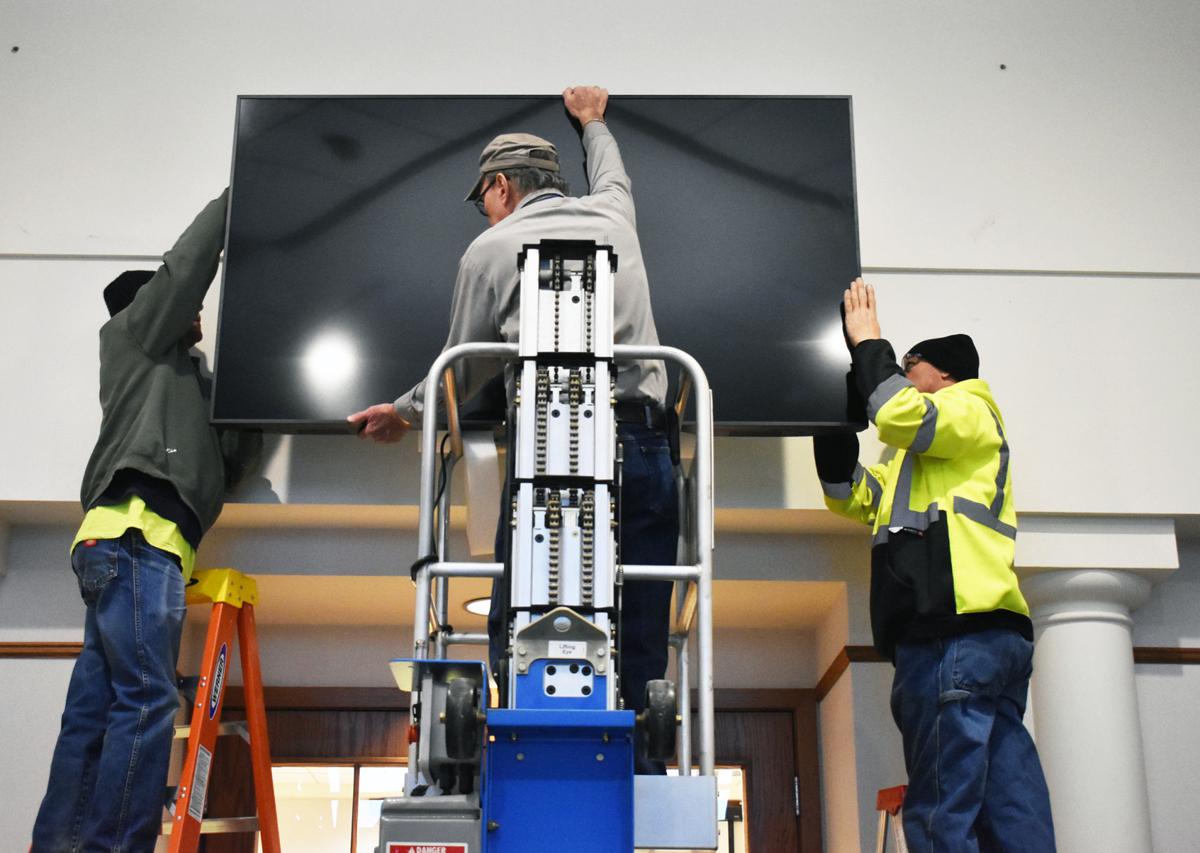 New technology is helping Portage Public Library make good first impressions on patrons and local businesses.
Last week the city installed a 75-inch digital signboard above the Bidwell Room near the library's front entrance and library staff completed training on a 75-inch Smartboard.
Library Director Debbie Bird said the signboard lists times and locations of daily events, publicizes upcoming programs, alerts staff to library news and more. The touchscreen Smartboard, placed on a wheeled cart for use in all its rooms, will be used as a whiteboard, for Power Point presentations and Office Suite and eliminates the need to print dozens of bulky packets.
The Portage Library Foundation purchased the Sharp equipment from Rhyme, which itself donated $1,000 toward the total bill. The signboard cost $3,400 and the Smartboard cost $7,400.
"I put this on my wish list and the foundation unanimously agreed to fund it in November," Bird said of the new technology. "We're very excited about offering the Smartboard to the businesses in the community who book our rooms.
"They can create whatever they want on the screen and make corrections. They can change colors, add backgrounds, circle things. They can save it all on a flash drive and take it home with them."
Bird said she envisions herself creating columns of notes and ideas when the library board holds its budget meetings, for example. She'll scroll up and down through the documents just as anybody would with a touchscreen or computer program.
You have free articles remaining.
"It's almost like show and tell," she said. "I don't think I'll be sitting in a chair anymore."
The Smartboard has so many features that Bird expects her staff will need to keep learning about its capabilities for weeks to come.
"It's almost overwhelming to figure out everything it does, but that's a great problem to have," she said of the Smartboard, which will also be used for teen gaming, children's education activities and adult learning programs.
Foundation President Jim Dalton said of the Smartboard, "It helps business to avoid the cost of purchasing one for themselves. We want them to use ours."
"We truly believe that if we can assist in the growth of our community, that helps everyone," Dalton continued. "Quite frankly, we want more people to be aware of the work-related and social occasions that are happening here rather than just coming in and borrowing a book. We've become such a computer-oriented society and we're keeping up with the tools to help our citizenry."
Bird said not more than three other libraries in the South Central Library System offer the same technology to their users. "It's really state of the art. We know that universities and schools have invested in this same technology, but it's very uncommon for a library to be able to afford this kind of equipment."
The new technology arrives after the city spent $248,000 to upgrade the library's fire sprinkler system — a two-month construction project that limited patron access in the building but meanwhile helped staff to assess services and make appropriate changes in the fall, Bird said. The library rearranged furniture, added a comments basket for user input and made its highest-circulating items more visible by rearranging the furniture and shelving and removed items that were not checked out in a long time.
"This is about being progressive," Bird said of the digital signboard and Smartboard. "Sometimes libraries are in the position of playing catch-up due to their budgets, but what the foundation gave us is the opportunity to stay ahead of the curve and give our users something to utilize."
Follow Noah Vernau on Twitter @NoahVernau or contact him at 608-695-4956.