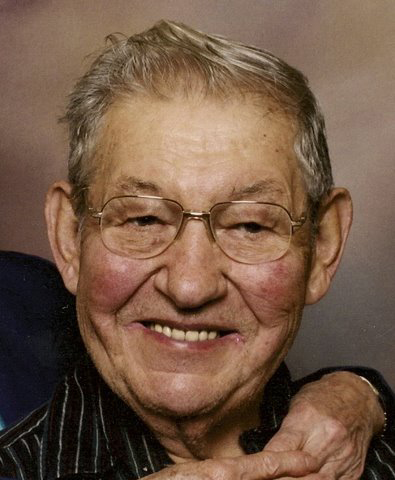 PARDEEVILLE - Mel Englebretsen, 83, passed away peacefully at his home Wednesday, July 6, 2011.
He was born June 4, 1928, in Portage. Mel served his country in the Coast Guard and Army. He often mentioned his time as a paratrooper and was proud to honor veterans in the Pardeeville American Legion and Veterans of Foreign Wars post honor guard.
On Jan. 29, 1949, he was united in marriage to Margaret "Marge" Balzer. Five daughters blessed their marriage.
Mel and Marge lived in Pardeeville for many years and moved to Madison before Mel "retired" at age 50, bought a farm and returned to Pardeeville. The farm became the place where his children would gather for family celebrations and his sons-in-law and grandson "helped" with hunting season.
Mel was active in his community and was generous with his time and expertise wherever it was needed. He started a Boy Scout troop, was village president for two terms and engineered a new dam for Park Lake. He also served on the School Board and Library Board and was the union president for the Sheet Metal Workers Local 279 in Madison. Mel was awarded the Melvin Jones Fellowship for his service to the Lions Club. He was a member of PABA, 40-n-8, and the Pardeeville American Legion Post #215. Mel was active in the Pardeeville VFW and enjoyed showing his Model T and participating in Antique Auto Club activities. He also served many church dinners at St. Mary's Church in Pardeeville and worked at many village festivals over the years at Chandler Park.
Mel was dedicated to the Democratic Party and enjoyed a lively political discussion. Mel gave of himself. He taught by his example. Above and beyond all of the organizations and groups he was part of - Mel was a man that served others with an open heart. Giving, sharing, loving and teaching; are words that describe Mel.
He is survived by his wife of 62 years, Margaret "Marge"; his five daughters, Kathryn (Bill Barden) Englebretsen of Madison, Ann (Gary) Klapper of Oregon, Jane (James Piper) Englebretsen of Middleton, Brenda Englebretsen of Madison and Ruth (Kurt) Carlson of Eau Claire; four grandchildren, Brian (Jessica) Klapper, Ben (Kenia Rivas) Klapper, Mia Robidoux and Zou Zou Robidoux; a sister, Jeanette (Eliot) Elliott; a brother, James Wruck; sisters-in-law, Joan (Don) Corning, Agnes Balzer and Dianna Balzer; and brothers-in-law, Robert (Joyce) Balzer and John (Jan) Balzer.
He was preceded in death by an infant daughter, Rita Mae; his mother; and two brothers.
Funeral services will be at 6:30 p.m. Tuesday at St. Mary's Catholic Church. Visitation will be held at the church from 4 p.m. until the time of the service. Full military rites will be conducted by the Pardeeville American Legion and VFW Posts. In lieu of flowers, memorials may be made in his name.
Mel often remarked that he lived the words of Thomas Paine, "The World is my country, all mankind are my brethren, and to do good is my religion." Mel clearly left his mark on Pardeeville and many of its people.
Smith Funeral Home in Pardeeville is serving the family.