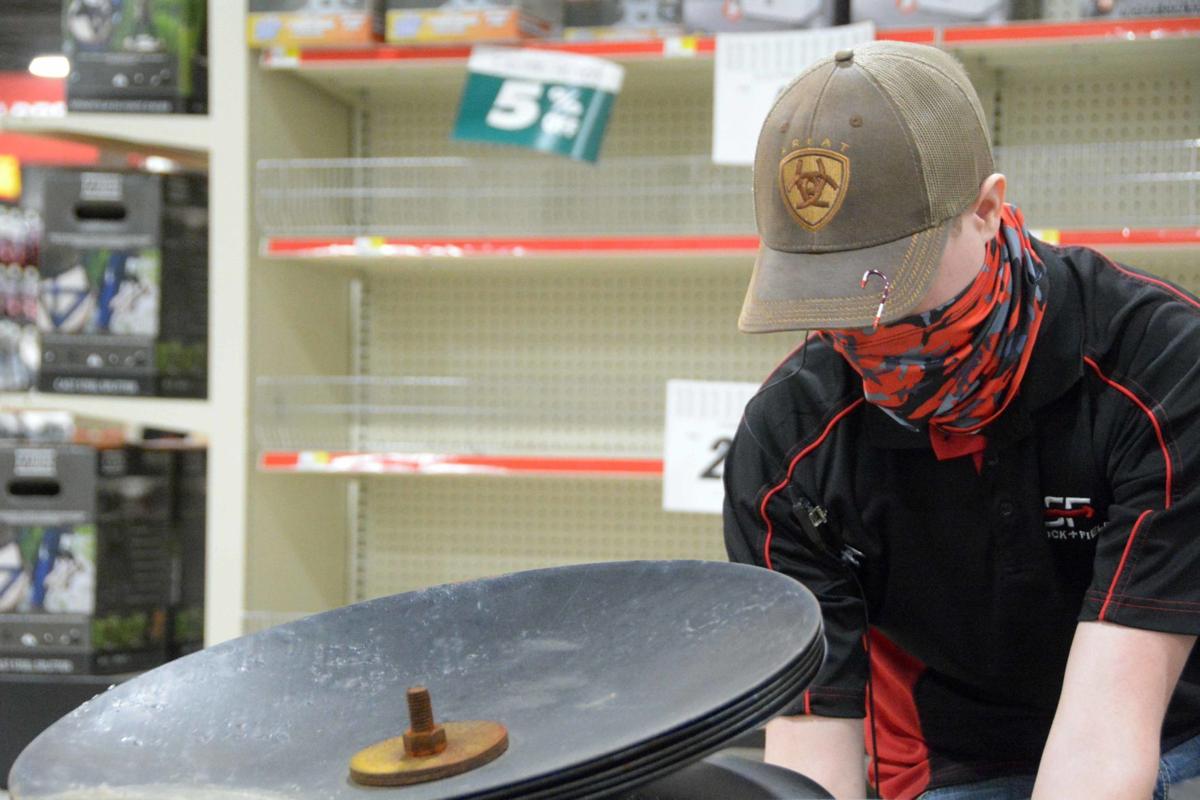 Though Stock+Field in Portage will close its doors in March after its parent company filed bankruptcy, Steve Sobiek, director of the city Business Development and Planning Department, remains hopeful the retailer could return to the city.
"I have a lot of history with Stock+Field and with Big R, and to be real honest, I'm more optimistic about that than I am in other retails (that could come in)," Sobiek said. "It's got a great business plan, it's a Midwest store chain and I think they would continue to do very well."
Parent company Tea Olive I, LLC of Eagan, Minnesota, filed a Chapter 11 voluntary petition Jan. 10 with the District of Minnesota U.S. Bankruptcy Court in St. Paul. The corporation, formerly called Big R stores, announced the next day via its website that all of its currently operating 25 stores will be closed.
Despite this, Sobiek said once its financial problems are organized, the company could reopen at 2935 New Pinery Road, the site of the former Kmart store. Sobiek said one of the reasons he remains optimistic about the possibility of the store reopening is due to Portage being the first store opened after Big R reorganized that last time.
If not, the site has been revitalized in recent years with the creation of Tax Increment Finance District 10, which means the city could attract another business to the site, Sobiek said.
"If we were trying to recruit a new retail store to that site, we could provide potential TID assistance for eligible project expenses," Sobiek said. "The lifetime on that TID extends to the year 2046…. So we have a tool that the city, I think, was very on top of it in trying to provide this."
TID 10 was established in January 2019 as a blight elimination zone. Other businesses have been established there since. The incentives are part of a Paygo TID, which means the city only provides tax breaks if the business meets its goal values. Because the city didn't spend any money to create infrastructure for the site, it will not lose any funds unless the site sits empty for a number of months or more than a year, Sobiek said.
The store at one time employed 24 people. While it affects those individuals because they will lose their jobs, Sobiek said he has had conversations with other businesses that have already been actively recruiting those workers due to shortages.
Sales Associate Samuel Windus was working his final shift at the store Saturday. He said he already had a new job lined up. He taped signs to equipment as shelves around him sat empty and people meandered aisles half full of merchandise, looking at sales prices.
Windus said employees found out at the same time the public did that the parent company was filing bankruptcy and the store would close. So far, most of the part-time workers have already left while full-time employees are being given as much overtime as possible, he said.
When the store opened in August 2019, Manager Gabe Weldy was glad to see the retail outlet welcomed by the public and said they planned to emphasize their community involvement. Sobiek said the element being lost is a "huge blow" to the city.
"They've been an incredible corporate citizen, they've been extremely generous and magnanimous in supporting all charitable nonprofit organizations, including the Portage Police Department," Sobiek said. "It's very sad."
Sobiek said he believes the closure would not be happening if it weren't for the economic affect of the COVID-19 pandemic.
During its short time open, the retailer had donated to support local safety crews and been the site of charitable organizations dropboxes for donations.
As for whether the 86,000-square-foot building will house the business in the future or another one will move in, Sobiek said the city will simply have to wait and see.
"It's going to be up to a bankruptcy judge and bankruptcy court as to how they come out the other end," Sobiek said. "But it is very clear, they have indicated they hope to come back in another form and open stores, which could include Portage."
Follow Bridget on Twitter @cookebridget or contact her at 608-745-3513.