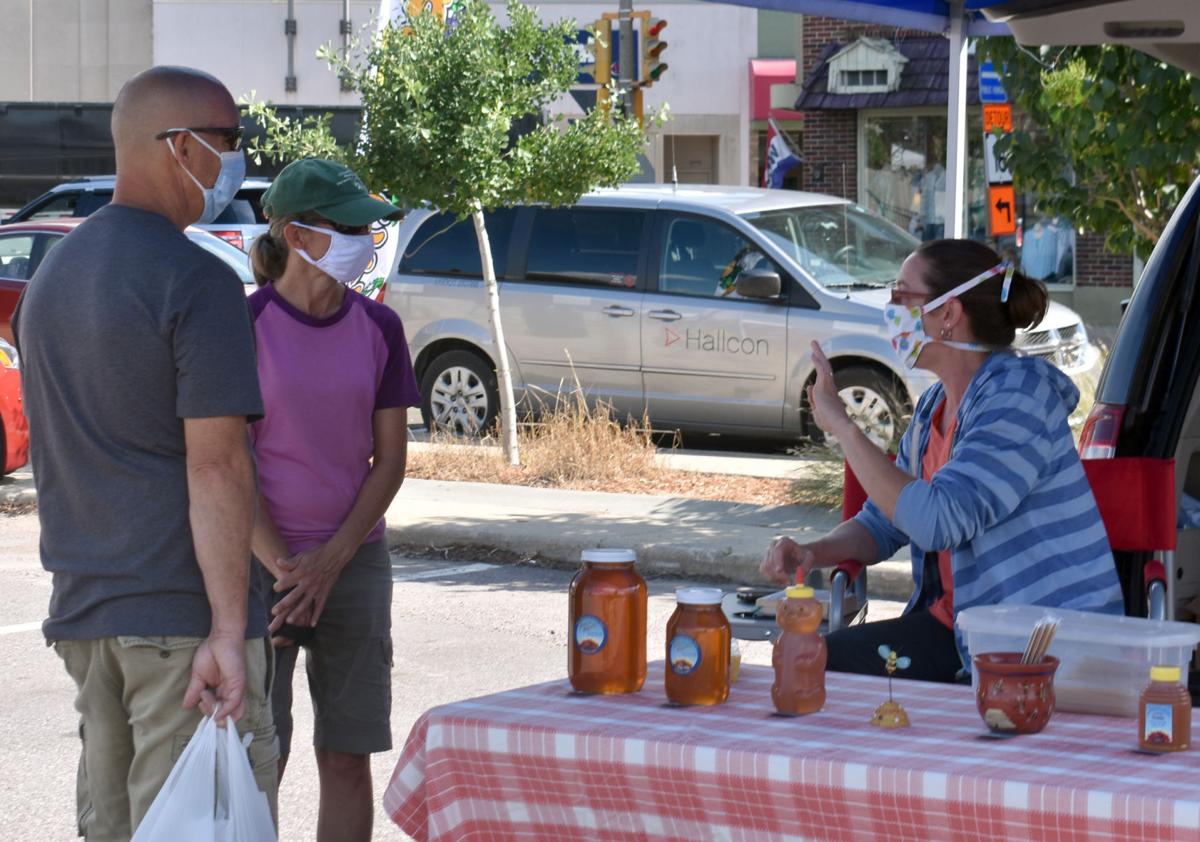 Local officials are deciding what actions to take after Gov. Tony Evers issued a state-wide mask mandate Thursday afternoon.
The order, set to start Saturday, says everyone over the age of five must wear a mask while indoors. Municipalities cannot enact less restrictive orders, but may have more restrictive mandates.
Portage Mayor Rick Dodd said the city does not expect to pursue a more restrictive mandate.
"The level of infections within the two census tracts that cover Portage is fairly stable," said Dodd.
Dodd said the city currently does not have a specific plan to handle and enforce the mandate, but will likely handle it similarly to how it handled COVID-19 shutdowns in March. At that time the city held meetings via teleconference and shut down city buildings, in compliance with the state's safer at home order.
Portage City Administrator Shawn Murphy said, "We will seek to educate residents on the Governor's order and the reasons for wearing masks."
At its July 9 meeting, the Portage Common Council voted 7-2 to extend its emergency declaration until the end of September. The order allowed the city's boards, committees and commissions to continue meeting via teleconference.
Dodd said city staff and officials have been required to wear masks in public buildings, while working and when serving the public since June.
Baraboo Mayor Mike Palm said Thursday that officials were still reviewing the order, but the city would "obviously follow the governor's order."
"It's a lot to digest," Palm said, noting he had been reading the order roughly an hour after it was released Thursday around 1 p.m.
Palm said they won't know what it looks like to operate under such an order until it is put into practice.
Baraboo's Common Council had voted to consider a mask mandate during its meeting Tuesday after hearing dozens of opinions from residents during public comment, which included those calling for freedom of choice, people suffering from a disease like cancer that makes them more susceptible to death if they contract COVID-19 and doctors beseeching the public to wear masks to prevent the wearer from spreading the novel coronavirus to others.
Council members decided to move forward with consideration of a city law, or ordinance, requiring mask wearing unless a person qualifies for a medical exemption, like mental health issues related to trauma or when taking part in exercise, much like the governor's order. It was slated to be discussed and voted on at a future meeting.
Columbia County Health Officer Susan Lorenz said that wearing a mask is essential to stopping the spread of coronavirus.
"Wearing a mask or face covering is a simple, effective way to protect our neighbors and in return protect ourselves," said Lorenz. "In combination with physical distancing and regular handwashing, masking is an essential component in preventing the spread of COVID-19."
Baraboo City Attorney Emily Truman said in an email Thursday that she was also still vetting the order, but an "initial review" shows the compliance of the order would be required within the city. She deferred to Baraboo Police Chief Mark Schauf as to how the city would ensure compliance.
Schauf said he also hadn't "had the chance to look at all of the details," but said Sauk County police agencies are working with the Sauk County District Attorney's Office and the Sauk County Health Department "to determine the best course of action."
Schauf said it's likely to be an educational opportunity for people rather than a penalty of enforcement, with compliance being the end goal. He compared confusion surrounding the order to the previous stay at home order that ended in mid-May and said all Baraboo officers will work to respond properly to complaints or observed violations of the order "that ensures the safety of the community."
"I would ask people be patient and understanding of their neighbors as we all push through these difficult times," Schauf said.
Portage Assistant Police Chief Rich Hoege said the department was still assessing the mandate, and did not have a specific plan to enforce it, but would also likely focus on education to ensure residents wear masks.
"I don't know for sure how this will work, I haven't had a chance to sit down with the stakeholders or the people involved yet," said Hoege. "We just got hit with it, I think from the get go anything like enforcement would rely heavily on education and understanding."
The mandate states that the mask order is enforceable through a $200 citation.
The mandate lists a number of exceptions when people over the age of five years old would not be required to wear masks:
While eating or drinking.
When communicating with an individual who is deaf or hard of hearing and communication cannot be achieved through other means.
While obtaining a service that requires temporary removal of the face covering, such as dental services.
While sleeping.
While swimming or on duty as a lifeguard.
While a single individual is giving a religious, political, media, educational, artistic, cultural, musical or theatrical presentation for an audience, the single speaker may remove the face covering when actively speaking. While the face covering is removed the speaker must remain at least six feet away from all other individuals at all times.
When engaging in work where wearing a face covering would create a risk to the individual, as determined by government guidelines.
When necessary to confirm an individual's identity, including when entering a band, credit union, or other financial institution.
When federal or state law prohibit wearing a face covering.
This article was edited at 6:58 p.m. July 31 to correct the vote count for the Portage emergency order extension. 
Bridget Cooke contributed to this article.