Larry Crowley, pharmacist at the East Cook Street business, said the pharmacy is partnering with MAHN to offer two types of COVID-19 rapid tests: the Carestart antigen test, which determines if someone is currently infected, and the Healgen antibody test, which shows whether someone has been exposed to the virus within the past three to six months.
"I think pharmacies are just a good resource for the community for some point-of-care services, and there's a need in the community, so it seemed like the right thing to do," Crowley said.
Anyone — with or without symptoms or known exposure — can make an appointment at the pharmacy for either test between 8 a.m. and 6 p.m. at a cost of $50 per antigen test and $30 per antibody test. Crowley said each test comes with a medical consult provided by the MAHN.
Results take about 10 minutes, though Bridget Wilson received hers in less. The Platteville woman sat in a back office at Wilz and presented her finger for Crowley to prick Monday afternoon. He waited for a bead of blood, which he dropped onto an antibody test.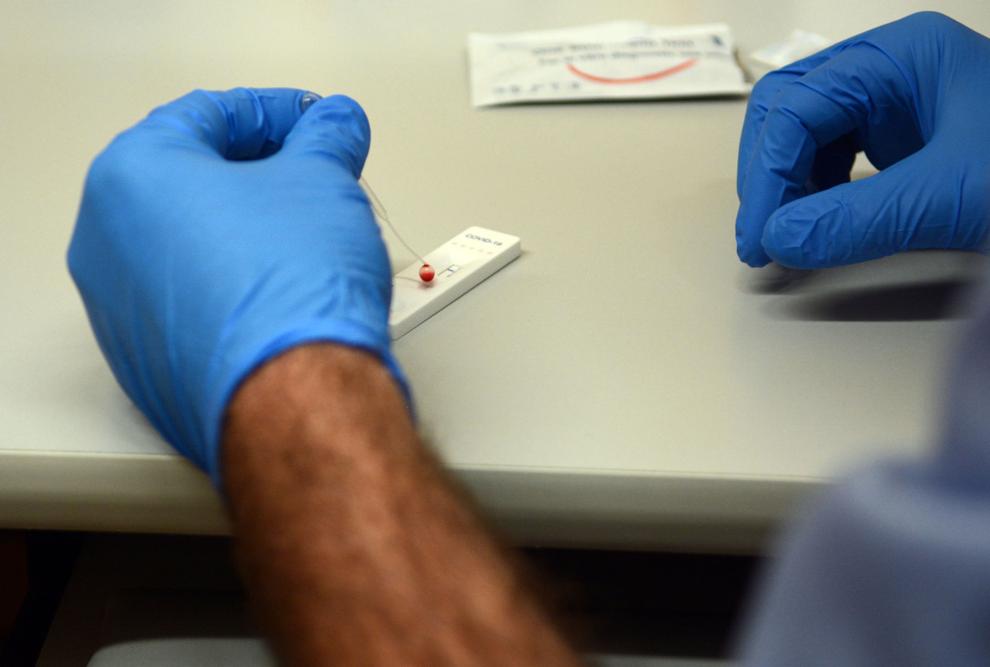 She works at a different Hometown Pharmacy and in occupational therapy and long-term care. As a health care worker, Wilson said she learned yesterday that she would have the opportunity to receive a COVID-19 vaccine in the coming days.
But she also suspected that she might already be immune. She became ill in February — before coronavirus testing was widely available — suffering from a fever, joint and muscle pain.
"I don't remember being that sick for a long time," Wilson said. Flu and strep tests at the time came back negative.
Even if her illness was caused by the novel coronavirus, the Centers for Disease Control and Prevention recommends vaccination; while reinfection is rare so far, it has happened. Much also remains unknown about how much protection COVID-19 antibodies provide and how long that protection lasts, according to the CDC.
When she heard the Portage pharmacy was offering antibody testing, she decided to make an appointment to help her decide whether to get the vaccine. Though her illness was more than six months ago, she still wanted to know if she had antibodies. Wilson said she also has had patients with COVID-19 and been exposed to people with known exposure.
"I want as much information as possible, so I can just make good decisions and things like that," she said, noting that she seeks out and trusts people, like Crowley, who have researched the coronavirus and vaccine. She also follows the health guidelines, including masking and social distancing. "The more I do, the more confident I am."
Those precautions, as well as the fact that she lives in a rural place, are why Crowley guessed that Wilson doesn't have antibodies. Minutes after dropping her blood sample onto the test, it showed he was right.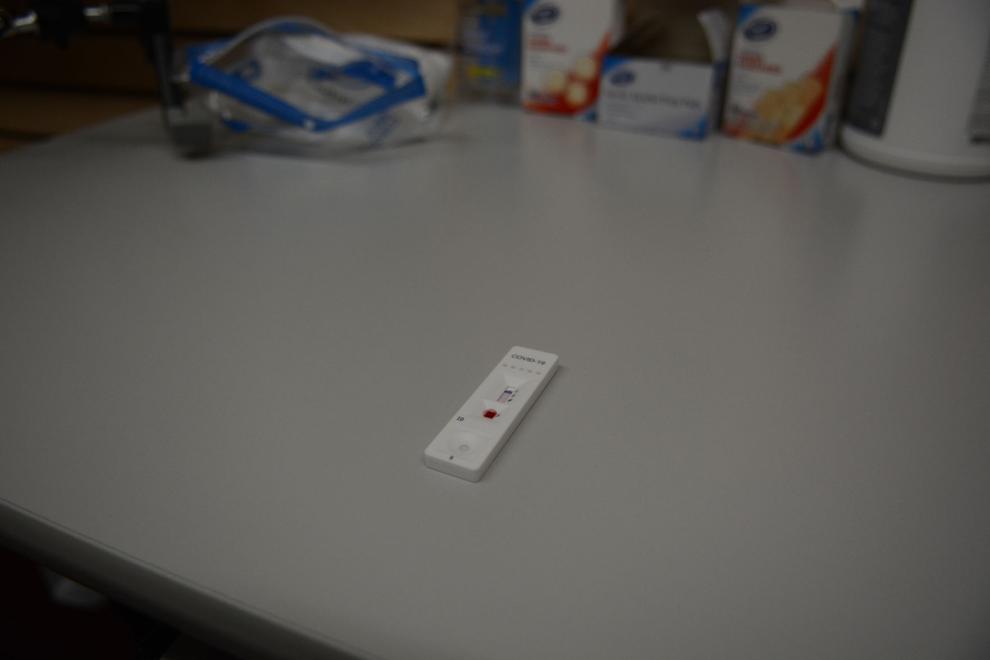 Wilson said she feels good about the negative result, because it meant the precautions she's been taking have been working, and she feels more confident now about getting the vaccine.
"I'm grateful that a vaccine is available," Wilson said, adding she's excited about how the vaccine will impact her long-term care patients and their families. "I'm most excited for them because they've been separated for so long that I'm excited for them to have that opportunity to finally see each other again."
Antigen testing started at the Portage pharmacy about two weeks ago, a week after it started offering antibody tests, Crowley said. Fourteen people have received an antigen test so far.
The antigen test, conducted outdoors, is meant to be taken within the first 14 days after potential exposure or the start of symptoms, while the antibody test can be taken after that. They offer rapid results, but can give false negatives, depending on timing and accuracy of the sample, so an MAHN clinical team will follow up with each patient, according to the program proposal. All COVID-19 positive test results are forwarded to the public health department for contact tracing.
Crowley said the testing is especially helpful for people who are asymptomatic but know they've had contact with someone who tested positive.
"Test, don't guess," he said.
Editor's note: This story was updated Jan. 7 to clarify that a COVID-19 infection does not guarantee immunity to the disease. The CDC recommends people who have recovered from COVID-19 to be vaccinated.
Fave 5: Reporter Susan Endres shares her top stories of 2020
We reporters at Capital Newspapers have been asked to share our five favorite, most memorable or otherwise noteworthy stories from 2020, a year I think many of us would prefer to forget. As tempting as it was to choose only stories from the before (COVID) times, I compiled a list spanning the year that ranges from education in Baraboo and Portage to the local impacts of the coronavirus pandemic. This year has been nothing if not historic.
And yes, of course I chose more than five. I wouldn't be Susan Endres if I was decisive. 
We've seen dramatic changes to our daily lives, but through it all, we continue to report on the important happenings in our community and hold the powerful to account.
Here's hoping for a better 2021.
Follow Susan Endres on Twitter @EndresSusan or call her at 745-3506.