Police officers shot and killed a wild sandhill crane in a Portage neighborhood Sunday after authorities said they had no remaining non-lethal options to address the nuisance animal.
Portage Police Chief Ken Manthey said two officers responded at 4:40 p.m. on Sunday to a complaint about a male sandhill crane with a broken beak near Brittingham Court and Hamilton Street.
Various neighbors disagreed about whether the crane was welcome, Manthey said, and some objected to the bird being killed.
Doug Iverson, who lives on Brittingham Court, said he spoke to the police officers Sunday and told them he did not want the crane shot on his property. Police then waited until the bird moved off his land and shot it.
The crane reportedly was causing damage to property in the neighborhood for at least a year, and police said in a news release Tuesday that local residents had exhausted all non-lethal methods to deter the bird.
Manthey said previous attempts to scare the crane away included displaying balloons and spinning devices, but the bird was not frightened and continued to return.
The Portage Police Department in April received a permit from the U.S. Department of the Interior, U.S. Fish and Wildlife Service to harvest no more than two sandhill cranes in the neighborhood between April 29 and March 31, 2020.
Manthey said the two police officers used a 28-gauge shotgun to dispatch the bird Sunday. They chose that weapon because it has less stopping power than other shotguns and would be safer to use in a public area. The officers fired two shots in total.
Police "did their due diligence" and ensured no people were in the background, he added.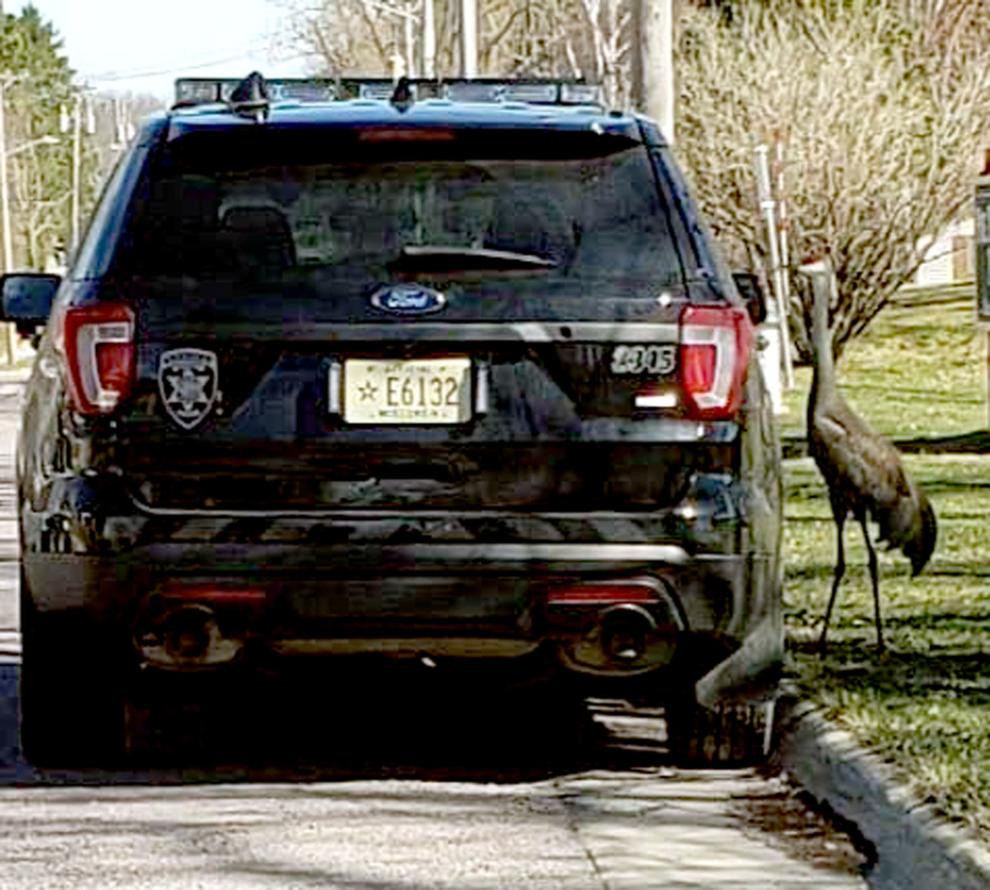 Anne Lacy, Crane Research Coordinator at the International Crane Foundation in Baraboo, said cranes cannot be easily moved or captured because they are territorial animals.
In her past experiences, she's seen many cranes dispatched by wildlife agents if the birds were struck by power lines or hit by cars.
"It is very difficult to watch," Lacy said.
While a gunshot can be a quick and humane death, Lacy said the foundation would have recommended authorities to instead ask citizens to use car covers.
Cranes can get aggressive if they see their own reflection, Lacy said, and this likely caused the crane to peck at vehicles. Covering the cars would have removed that stimulus altogether, she said.
"It really is a tragedy that the whole thing came down like this. That is one crane that did not need to be shot," Lacy said. "There is a way that we can successfully inhabit spaces that other animals inhabit."
Wild crane populations have made a comeback in Wisconsin in recent years, Lacy said, and the International Crane Foundation can offer assistance in future circumstances, she added.
Iverson objected to how officers handled the situation. He said although the crane had broken its beak four years ago, it was still in good physical condition and had a family in the nearby area.
He said his current greatest concern is the safety of the dead crane's mate, which is still in the area.
"She's got a target on her head," Iverson said.
Brittingham Court resident Chris Lindner said it was distressing for her and other residents to witness the bird being shot by police Sunday.
Lindner questioned why police decided to act on the permit on a Sunday afternoon during Labor Day weekend when some families were visiting nearby Pine Meadows Park.
"We have children. We have families," Lindner said, adding police did not notify community members ahead of time nor evacuate citizens.
Dawn Beard, another Brittingham Court resident, said her neighbors enjoy living there because of the natural area nearby and "live peacefully" with the wildlife.
Beard said she has not seen significant damage to cars in the neighborhood. While she added the cranes are shy around humans, some of her neighbors put out bird feeders for the cranes to visit.
Iverson added that although the cranes use the bird feeders sometimes, they still naturally forage for food in the ground, too.
Beard said the federal permit allows police to kill one more crane in the area.
Brittingham Court resident Jamie Gohde said some community members want federal authorities to revoke the permit and protect the female crane and her young.
Manthey said he hopes this is the last time police have to be involved in dispatching wildlife.
"We were stuck in the middle on this one," Manthey said. "We certainly regret anyone having to watch this."