On a Sunday evening, in the midst of an April snowstorm, a Portage woman saw a police officer had been injured while responding to an arrest and decided to get involved.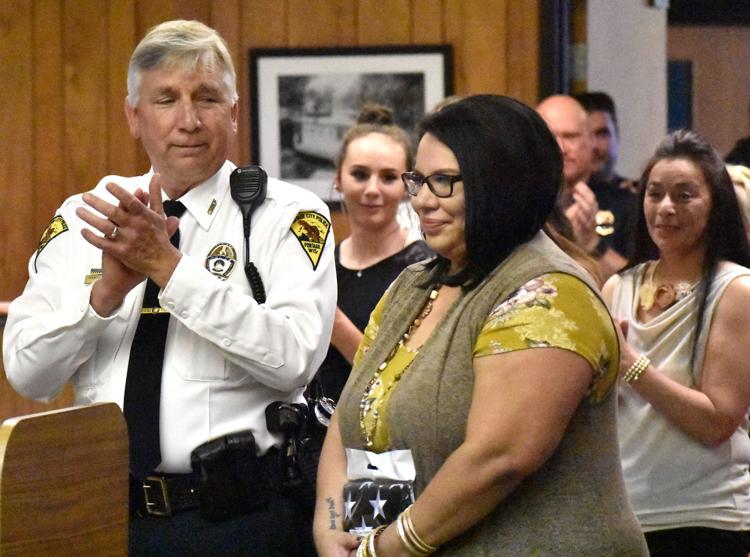 Last week, Portage Police Chief Ken Manthey presented a Recognition of Citizen Bravery and Assistance to Vanessa Guerra for her actions.
"Disregarding your own safety, you stepped in to help protect the officers," Manthey said in front of the Portage Common Council on Thursday. "You placed the female (suspect) against the wall and held her there until Sgt. Walters resumed consciousness and handcuffed the female."
A video of the incident from Sgt. Eric Walters' squad dashboard camera was projected on a screen at the back of the council chambers.
Manthey gave the context as the video loaded on the computer. On April 15, Officer Brian Lowenhagen responded to a report of disorderly conduct and threatening behavior in a motel parking lot. The suspect, Jacob Hellenbrand Bell, 21, of Waunakee, was later seen at the Kwik Trip station on the north side of Portage.
Lowenhagen responded and found Hellenbrand Bell there with Olivia Boomsma, 21. He walked them out of the station to talk to them and as he took Hellenbrand Bell into custody, Boomsma allegedly hit him in the face.
The video shown Thursday started with Walters arriving to help Lowenhagen and pulling Boomsma to the ground. Before he could handcuff Boomsma, Hellenbrand Bell allegedly turned and kicked Walters in the side of the head.
The room watched from the squad view as Walters fell to the ground and lay motionless for more than a minute. Guerra then could be seen coming out of the store and into the parking lot, toward the northwest corner. She saw Walters and attended to him.
You have free articles remaining.
An off-duty nurse who police say subdued a suspect who had attacked and injured an officer d…
According to the report and later criminal complaint, Boomsma went on to threaten Lowenhagen, saying she would stab him. At that point, on the video, Guerra could be seen getting up and grabbing Boomsma and holding her against the wall as Walters regained consciousness and finished the arrest.
Guerra formerly worked at Columbia Correctional Institute. She now works as a nurse at Divine Savior.
"You had to respond to Divine Savior yourself to be treated for an injury to your wrist and hand sustained by the physical contact with the female suspect and you also required follow-up treatment," Manthey said. "You are to be commended for your bravery and your assistance. There is no doubt that your training as a correctional officer came in very handy for this incident."
Both of the officers were taken to Divine Savior after the arrest, Walters by ambulance for a head injury.
Hellenbrand Bell, who at the time was awaiting the beginning of a one-year jail sentence for an April 6 conviction for causing injury with a vehicle while operating with a controlled substance, was charged with a felony count of battery to a law enforcement officer, two counts of felony bail jumping, a misdemeanor count of disorderly conduct and resisting an officer. On May 25, Hellenbrand Bell entered a plea of not guilty to each count.
Boomsma is charged with two counts of felony battery to an officer, two misdemeanor counts of resisting an officer and one count of disorderly conduct, standing mute to charges on May 23.
In front of the Common Council with a television camera recording, Guerra said nothing of the incident, as Manthey led a standing ovation, offering her official recognition and a hug.
"Our department owed you a great debt of gratitude," said Manthey.